The beauty of the stock market is that there are opportunities which appeal to a variety of different tastes. Now, in year seven and a half of a bull market, index funds are in vogue. I'd argue that this strategy will end up blowing up quite severely, but I'll save that for another time. Deep-value investors, like me, can find themselves sorting through the trash heap for opportunities. These are out-of-favor companies that might have short-term hurdles to get over, but that are offered at prices at a severe discount to intrinsic value. Such an opportunity resides in the common stock of MBIA (NYSE:MBI). Surely, there is no clear path to robust new business growth in the short term, and Puerto Rico will take at least a year to be resolved. That being said, there is a real opportunity to double or triple your money with a very reasonable amount of risk.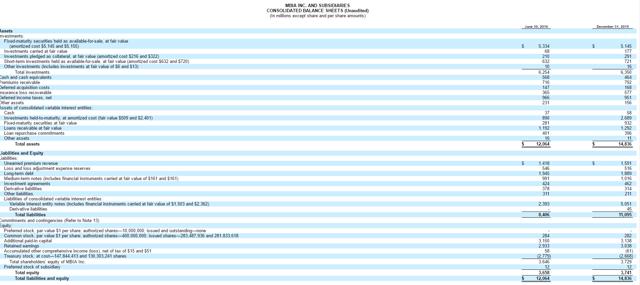 Click to enlarge

Click to enlarge
Source: MBIA second-quarter 2016 10-Q
Combined operating income in the second-quarter was $15MM, or $0.12 per diluted share, compared to $19MM, or $0.11 per diluted share, in the second quarter of 2015. MBIA has not been writing a great deal of new business, so its earned premiums are decreasing annually, but so are its insured exposures and leverage ratios. MBIA's adjusted book value increased by $0.68 per share during the second quarter and by an incredible $2.73 per share in the first half of 2016. Book value per share and adjusted book value per share stood at $26.88 and $32.42, respectively, as of the end of the second quarter. The majority of these gains were due to enormously accretive stock buybacks, which have been a pillar of MBIA's capital management program. Because MBIA has almost been in a runoff, as its exposures have been rapidly amortizing, the capital ratios have been reduced dramatically, leaving the company with excess capital. Since there is such a huge disconnect between the stock price and the value, management has correctly identified aggressive stock buybacks as the best way to grow shareholder value, without compromising the security of policyholders. As of the end of the second quarter, the company still had $88MM remaining on its approved buyback.
It is important to differentiate MBIA, the holding company, with MBIA Insurance Corp. A few years back, MBIA separated MBIA Insurance Corp. from its primary subsidiary National, which is the municipal-only holding company. National is still actively pursuing new business opportunities while MBIA Insurance Corp. is in a runoff. National's operating income was $34MM in the second quarter, down from $40MM in the prior-year period. Loss and LAE of $9MM was largely unchanged from the same period in 2015. National maintains a $4.4 billion investment portfolio, which is conservatively invested. Statutory capital and claims paying resources total $3.5 billion and $4.7 billion, respectively, as of June 30, 2016.
The major overhang for National is really its exposure to Puerto Rico's troubled credits. During the second quarter, the PROMESA legislation became law and the seven-member oversight board should be in place by September 15th. While the legislation is far from ideal, it does provide a means to resolve issues and the law does require that any restructuring respects the priorities and liens provided for under Puerto Rico law. The impediment to this is that the stay on litigation has allowed Puerto Rico's erratic and incompetent Governor Padilla to issue orders that will likely be deemed illegal when they are judicially reviewed. Despite the ability to pay a much larger portion, Padilla issued orders that caused defaults on $911MM of July 1st debt service payments, including $779MM of constitutionally guaranteed general obligation bonds. This suspension of debt service payments totally disregards the existing lawful priorities and liens that PROMESA specifically states must be respected. In July, National paid $173MM of insurance claims on Puerto Rico bonds, of which $169MM was paid for principal and interest on GO bonds. The other $4MM was related to the Highway and Transportation bonds. Before year end, another $2.5MM of payments will come due, and then on January 1st, another $73MM will come due. As I've written about before, MBIA's Puerto Rico exposure is to many of the strongest credits. There is a proposed deal in place with its largest exposure, PREPA, where MBIA would not take any losses. This deal has taken forever to be finalized and there are still hurdles, including getting an investment-grade rating in lieu of Padilla's illegal actions, but ultimately I believe it will get done as it makes sense for everyone.
At MBIA Insurance Corp., the company's objective is to maximize the margin of safety towards policyholders and to maximize the long-term returns for its surplus note holders. In the second quarter, losses and loss adjustment expenses were $60MM. Claims paying resources of $2.2 billion are still significantly higher than loss expectation for the MBIA Corp. insured portfolio. Statutory capital ended at $755MM after the second quarter, down from $885MM as of year-end 2015, largely due to increased loss and LAE expense. The big issue for MBIA Insurance Corp. is liquidity due to the disastrous Zohar I and Zohar II deals. MBIA has senior positions on these transactions, but while they are being restructured in and out of court, the company must make payments when due, which are substantial. Ultimately, the company will likely recover a good portion of these funds, but it will test liquidity severely. MBIA Corp.'s liquid assets totaled $288MM as of Q2 2016, up from $264MM as of the end of the year. The Zohar III maturity on January 20, 2017, is $772MM. To meet these liquidity needs, the company is in discussions to sell its MBIA UK operating subsidiary. A very logical buyer would be Assured Guaranty (NYSE:AGO), which would likely come in at a discount to statutory capital, as it has done on several similar transactions. If MBIA Corp. cannot make the payments, there is the risk it will go into receivership, but this would not have recourse on National due to the separation that occurred.
In terms of new business production, National insured $209MM of gross par during the second quarter, up from $158MM in the first quarter of this year. National has insured deals on 59 deals for the first six months of this year versus 14 deals at the same point last year, so the company is making headway in reaching out to new clients. The bond insurance industry has proven to be quite viable with instances such as Detroit and Puerto Rico, although the current low interest rate environment does greatly reduce the utilization of insurance on new issues. During the second quarter, National's insured portfolio reduced by $12 billion of gross par and record $138 billion of gross par outstanding. National ended the quarter with a leverage ratio of 40 to 1, down from 48 to 1 at year-end. This is nearly 1/3rd of what the ratios were prior to the Financial Crisis and there are very few troublesome credits outside of Puerto Rico, so once we get more clarity there, shareholders should benefit.
Yesterday, a client asked me why the bond insurance companies trade so cheaply. In my opinion, there are a few reasons. Firstly, financials as a whole are out of favor and are by far and away the cheapest area of the market. At T&T Capital Management (TTCM), we don't specialize in financials only, but when we are looking for value, they stick out like the Grand Canyon, as the market as a whole is far from cheap. Secondly, low interest rates hurt investment returns, lower discount rates, and reduce new business volume. This is reflected in the income statement and balance sheet though, so it's not like it is some hidden issue. Puerto Rico is a major source of anxiety for market participants, but when you look at reserves and settlement talks that have been disclosed, it seems highly likely that these fears are overblown. MBIA realistically shouldn't be trading below $15 in my opinion, so the opportunity is still considerable. In my last MBIA article, I wrote that in addition to buying the stock, income investors could sell the January 2017 $6 puts for $0.95 per contract, targeting an 18.8% return in 250 days. Those options are going for about $0.26 now, so we've made about 73% of our target profit in less than 90 days. The stock has run up quite a bit so I'd look to dollar-cost-average, or sell puts at the money with the intent of being exercised.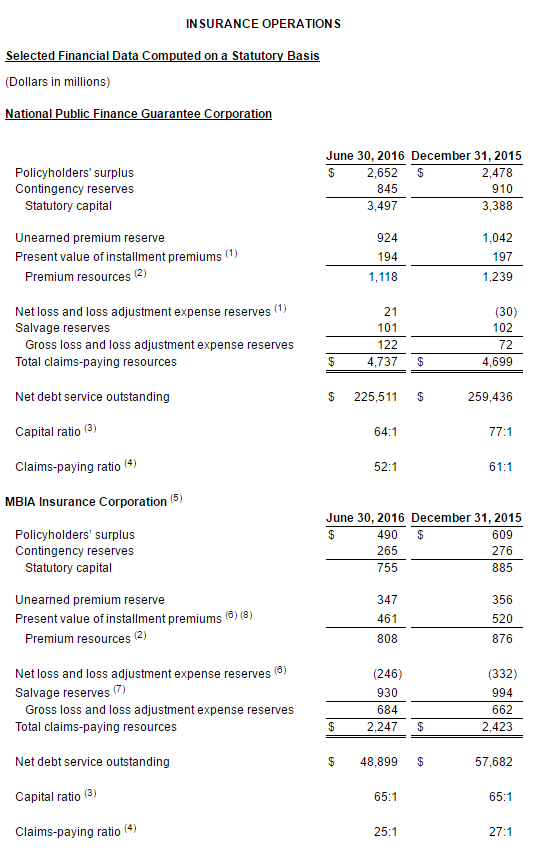 Disclosure: I am/we are long MBI, AGO.
I wrote this article myself, and it expresses my own opinions. I am not receiving compensation for it (other than from Seeking Alpha). I have no business relationship with any company whose stock is mentioned in this article.