While not exceptionally bullish, this weekly report is actually more constructive to oil prices that the reports that have been released during the last couple of weeks. For this week, gasoline and distillate inventories decreased, and so did domestic production. However, this report follows a period of questionable bullishness in the oil markets.
Crude oil prices (NYSEARCA: USO) rallied in anticipation of the report, then dropped $0.90 compared to yesterday's close.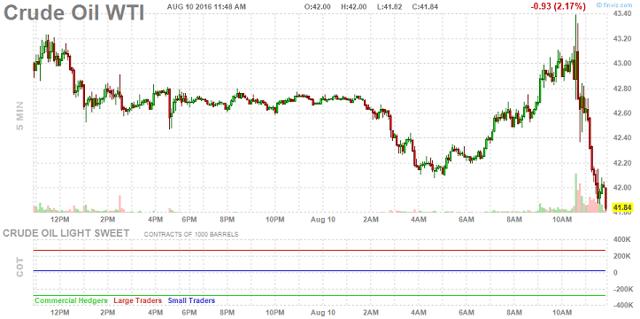 Click to enlarge
Source: Finviz.com
Stocks:
* Crude oil inventories increased by 1.1 million barrels.
* Gasoline inventories decreased by 2.8 million barrels.
* Distillate inventories decreased by 2.0 million barrels.
A nice fall in gasoline and distillate inventories, which should be expected for this time of the year, but that is nevertheless reassuring given that gasoline inventories had been accumulating recently.
Crude oil inventories increased by a relatively small amount.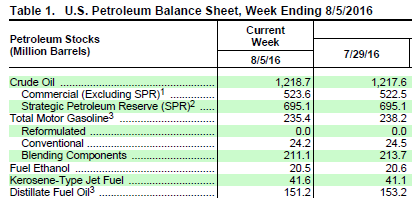 Source: EIA
Production and Refinery Utilization:
* Domestic production decreased by 15,000 barrels per day; almost all of it from the Lower 48. Despite the headlines over the last four weeks, where three out of four reports showed an increase in domestic production, volumes in the Lower 48 have fallen every week since the beginning of the year except for last week when production was flat. Although in the long run, Alaska production levels are also relevant, in the short term, domestic production in the Lower 48 is more representative of what can be expected as recurring production.
* Production in the Contiguous United States (excluding Alaska) decreased by 13,000 barrels per day. A small, but meaningful decrease in production given the large number of horizontal rigs that have been added during the last couple of months and the fact that last week production in the Lower 48 was flat.
* Net imports decreased by 334,000 barrels per day, which would mean that inventories would have increased substantially more if imports had remained flat; at least that would be the analysis if we trusted EIA's import / export data. However, as we have mentioned before, this line item of the EIA report is almost meaningless since it is modeled after data that is several months old.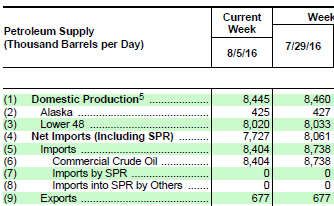 Source: EIA
* Refinery utilization decreased by 110 basis points, which accounts for about a quarter of the inventory drop in gasoline and distillates. Utilization in the Gulf Coast was very high during the week.

Source: EIA
Cushing, Oklahoma:
* Cushing, OK inventories increased by 1.2 million barrels. Given that we are now only month away from the end of the driving season, we believe Cushing will exit the summer at near maximum operating levels.
* Gulf Coast inventories increased by 2.5 million barrels more, a very large number and much more problematic that inventories at Cushing.

Source: EIA
Conclusion:
The report itself was not particularly bad despite the crude oil inventory build since inventories of crude oil + gasoline + distillates fell and domestic production decreased, although by a small amount. We think the market is simply reassessing the unreasonably bullishness during the last week that was triggered in part by monetary policy. Having said that, inventory levels of both gasoline and refined products are still very high for the season and domestic production seems to be bottoming out.
Disclosure: I/we have no positions in any stocks mentioned, and no plans to initiate any positions within the next 72 hours.
I wrote this article myself, and it expresses my own opinions. I am not receiving compensation for it (other than from Seeking Alpha). I have no business relationship with any company whose stock is mentioned in this article.