This revisit updates my initial look at Armour Residential REIT (NYSE:ARR) from my May 4, 2016, article,"Armour Residential REIT Viewed Through The Eyes Of A Preferred Investor"
Although it is my hope that you will read the entire article, for which I have provided the link above, my bottom-line assessment and buy recommendation at the time were as follows:
My bottom line decision most often is to look at charts of the past few years' performance of the company's common shares, coupled with whether or not said company is, over time, prospering or losing market value. Ultimately, I have to decide how safe this company is from an existential standpoint rather than how well its share price will perform over the next quarter or the following year. My bottom line is whether or not I believe in the long-term survivability of ARR, which I do not, although for some reason I believe companies such as this are like cockroaches that will even survive a nuclear war.

As a bonus for being a patient audience, I worked out the math below, which takes into account today's prices, although they might change tomorrow and accordingly the best choice might change. You know the formula, it might be wise to do the math prior to placing your bid.

ARR Preferreds

| | | | | | |
| --- | --- | --- | --- | --- | --- |
| Symbol | Yearly Dividend | Cost | Dividend/Cost | Yield | Best |
| ARR-A | 2.0625 | 23.34 | 2.0625/23.34 | 8.84% | |
| ARR-B | 1.96875 | 21.40 | 1.96875/21.40 | 9.20% | Best |

Hands down the B Series is the best investment because it offers the best effective yield and the most profitable upside should it be called. However, this is not a preferred I would recommend buying. There are much better buys out there, offering less risk and equal yields. This one's a dog.
Let's see how those preferreds have performed since then:
| | | | | | |
| --- | --- | --- | --- | --- | --- |
| Symbol | Yearly Dividend | Price | Dividend/Price | Yield | Best |
| ARR-A | 2.0625 | 24.48 | 2.0625/24.48 | 8.43% | Best |
| ARR-B | 1.96875 | 23.69 | 1.96875/23.69 | 8.31% | |
Well, boys and girls, I'm sad to say I got this one completely wrong. This cockroach not only survived, it appears to have prospered. The A is up $1.14 and the B is up $2.29. At least I got it right that the B was the best buy. This, in a way, confirms my belief that mREIT's are difficult to kill and that an investment in their preferreds appears to be a safe bet.
Now let's review how ARR commons have performed over the past quarter: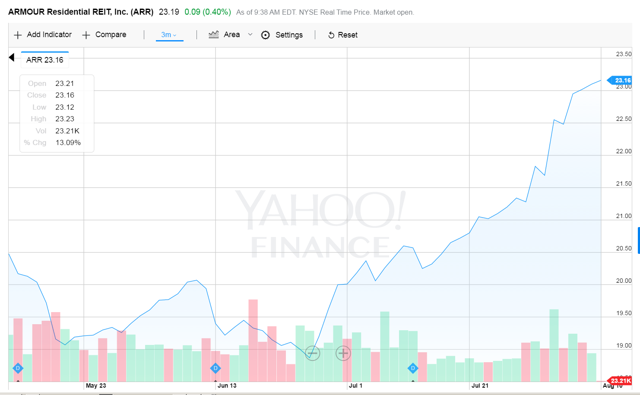 Click to enlarge
According to the above Yahoo three month interactive chart, ARR commons moved up from $20.48 on 5/11/16 to its present $23.18, a $2.70 price jump. Also, during this time, it paid 0.44 in dividends or 0.22 each month (it pays out again tomorrow, August 11). Although both the preferreds and commons were profitable investments, the preferreds were more profitable during this time frame.
Now for a little forward guidance:

Click to enlarge
According the Finviz summary of ARR's financial highlights: This company valued at $847.61 million has lost $200.80 million on minus 331.00 million in sales (someone has to explain this to me), yet is up a nice 23.86% for the year. Notice YTD it is only up 6.16%, which means it was losing big time at the start of the year. In my opinion, this company is representative of a market that makes little sense. This company continues to lose money, and at an accelerated pace, yet the price of its commons and preferreds continue to rise. The only bright spot beside share price increase is that ARR has reduced its current D/E from the last report's 9.44 to its current 7.0.
Because this is an update I will not go into the details of their latest conference call and financial statement beyond mentioning that it was not a profitable quarter; in fact, it reported an EPS miss of -0.08 and a revenue miss of -$71.21 million.
In conclusion, I might have been wrong about this company's prospects from strictly a share appreciation standpoint, but I must stand by my original assessment that this company does not appear healthy as it continues to lose money and market value.
Disclosure: I am/we are long NM-G, NM-H, SB-D, GSL-B, NRF-B, GST-A, CMRE-C, CMRE-D, PPHMP, ARR-A, ARR-B.
I wrote this article myself, and it expresses my own opinions. I am not receiving compensation for it (other than from Seeking Alpha). I have no business relationship with any company whose stock is mentioned in this article.