Bank of America (NYSE:BAC) has outperformed its peers over the past month as the stock has stunningly surged 15% while the financial sector ETF (NYSEARCA:XLF) has been only up by 5%. A combination of factors led to outperformance which include the valuation gap shrinking compared to peers, and more importantly, the optimism-inspiring takeaways from Q2 2016 financial results.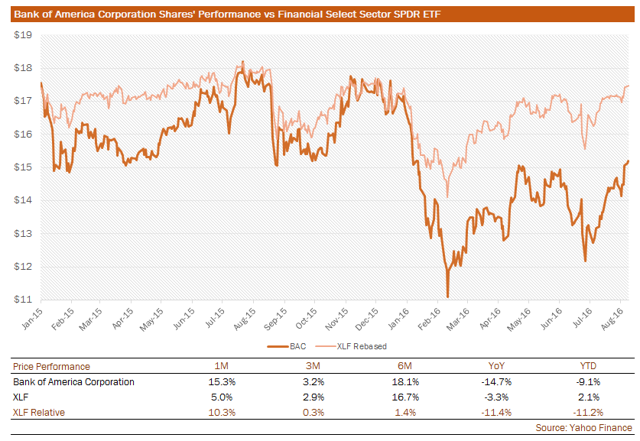 Click to enlarge
In my most recent article about BofA which was published in April just before 1Q 2016 earnings announcement, I noted that the bank had plenty of room for efficiency improvement. With regard to this, this expectation seemed to be materialized during Q2 earnings. For 1H 2016, the bank managed to lower its personnel expenses by 5.3% y/y which resulted in total noninterest expenses being reduced to $28.3 billion for the same period from $29.8 billion in 1H 2015. We saw improvement almost every line in expenses. For 2018, the management targets annual expense number of around $53 billion in total expenses. Given four-quarter trailing expenses of $56.3 billion, there is probably more cost savings measures ahead. Regarding to this matter, I should also highlight that the bank has been doing a terrific job in increasing its digital business. The bank just crossed over 20 million active mobile users who logged into their accounts over 900 million times during the quarter. The bank will rely increasingly on digital channel to serve the growing population of consumer who rely on multiple devices to conduct daily business online, therefore maintaining a digital transformation is essential for any bank. I believe there are some many efficiencies for BofA to be gained by growing digital business.
The efficiency ratio stood at 62% in 2Q 2016 when normalized for net interest income adjustment (negative impacts of market-related adjustments and debt valuation adjustments). This means an improvement of 200 basis point on annual basis. This is still very high when compared to the peers which means the bank still have plenty room for expense optimization. Other than the expenses front, we should see a margin acceleration as the NIM remaining slightly above 2% may be signaling the end of the malign cycle for loan yields. With loans and deposits growing at their current pace, the bank could record significant core earnings increase thanks to higher yields. Also, remember that the bank's loans to deposits ratio is around 75% which builds a supportive case for faster lending growth. However, I do not expect BofA to become more aggressive on lending as it may be focused on asset quality, liquidity and capital position.
There are no signs of major asset quality deterioration for BofA. Non-performing loans accounted for 0.37% of the total outstanding loans and has remained below 0.4% over the past ten quarters. The bank has experienced some improvement in both energy losses and exposure, since the price of oil and gas was more stable in Q2. With the exception of direct/indirect consumer loans, we saw average booked FICO scores going up in consumer banking. The management guided for provision expenses remaining roughly equivalent to net charge-offs. I expect BofA to build provisions around $4 billion for 2016 and 2017.
Here I reduce my 2016 EPS estimate from $1.50 to $.1.23 primarily due to the absence of rate hikes. I had foreseen two hikes for 2016, however, there has been a shift to more dovish Federal Reserve which proved me wrong. On the other hand, I expect BofA to record an FY 2017 EPS of $1.60 which is slightly higher than consensus estimates. Thus, I estimate that the bank would post a ROATCE of 10.4% for FY2017, leading to a target P/TBV of 1.1x or a share price of $19.8 on a forward-looking basis, which implies 30% potential upside from the current price. Ultimately, I continue to see BofA as an attractive play.
Disclosure: I/we have no positions in any stocks mentioned, and no plans to initiate any positions within the next 72 hours.
I wrote this article myself, and it expresses my own opinions. I am not receiving compensation for it (other than from Seeking Alpha). I have no business relationship with any company whose stock is mentioned in this article.