Shares of Yelp (NYSE:YELP) shot up 10.5% to a 52-week high after the company reported a better than expected quarter. It was the second consecutive quarter in which Yelp beat estimates and raised guidance, and the investment community has grown more bullish on the outlook. However after taking a closer look at the results you will find that familiar issues still plague the company, and while we think the stock has potential in the long-term, investors should not expect meaningful improvements in the short-term.
Yelp did well in some key metrics during the second quarter. Net revenues increased 30%, driven by 41% growth in local revenue and 37% growth in transaction revenue. The company once again showed strong progress in building key first mover advantages with local businesses in an effort to drive network effects. Reviews increased 30%, app unique devices grew 27%, and local ad accounts grew 32% as the company added 5 new platform partners. Management raised its full year revenue outlook to $700 - $708 million, the midpoint of which equates to 28% growth over last year.
The problem is that Yelp is still having trouble turning a profit, as the costs of acquiring customers is eating up a huge chunk of sales. Yelp reported a net profit in the second quarter, which surprised investors, but it didn't have anything to do with improved productivity or lower operating expenses. Sales and marketing expenses as a percentage of sales increased from 50.8% to 54.4% year-over-year as the company invested heavily in its sales force and increased stock-based compensation (23% in Q2 vs. 21.8% last year). This caused total opex to edge higher y/y on a percentage of sales basis, leading to a higher loss from operations compared to last year (Figure 1). The y/y increase in net income from a $1.3 million loss to earnings of $0.4 million in the latest quarter was the result of a $1.3 million benefit from income taxes compared to last year's $1.7 million income tax expense.
Figure 1: Loss From Operations Increases (Line Items as % of Sales)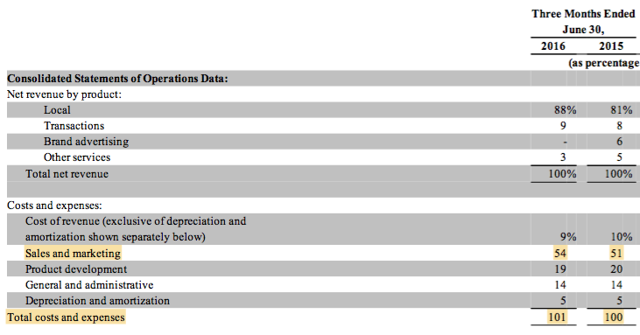 Click to enlarge
Source: 10-Q
Management likes to focus on adjusted EBITDA (Figure 2) to measure profitability, which adds stock based compensation and D&A back to GAAP income. While operating income fell y/y, adjusted EBITDA increased 23.8% in Q2. This metric is misleading because it leaves out stock-based compensation, which is one of Yelp's biggest expenses. Stock-based compensation expense involves estimates, which means it is subject to manipulation. It also allows management to justify the use of "adjusted EBITDA" while at the same time paying fewer wages (the higher the amount of pay tied to stock, the lower the wage packet), creating a downward bias in reported workforce costs. Stock-based compensation is a non-cash expense, but investors should not ignore it because it represents a real cost to shareholders. The dilutive effect of stock-based compensation reduces the value of existing shares, and shares outstanding increased 2.5% y/y due to the exercise of various options and grants. To get a feel for how Yelp is doing from a core profitability standpoint, investors should emphasize operating income rather than net income or adjusted EBITDA.
Figure 2: Adjusted EBITDA

Source: 10-Q
Conclusion:
Shares of YELP shot way up after the second quarter, but the increase is not justified when you consider that things haven't really changed. Yes the company added more partners and users to its platform, but it came at the cost of lower operating income, which is the true measure of profitability for YELP. We think Yelp is smart to prioritize customer acquisition and first mover-advantages, which could eventually create a wide moat due to network effects, and the company can always focus on cutting costs later. But investors should not be fooled by the "improved" profit metrics put forth by management.
Disclosure: I/we have no positions in any stocks mentioned, and no plans to initiate any positions within the next 72 hours.
I wrote this article myself, and it expresses my own opinions. I am not receiving compensation for it (other than from Seeking Alpha). I have no business relationship with any company whose stock is mentioned in this article.