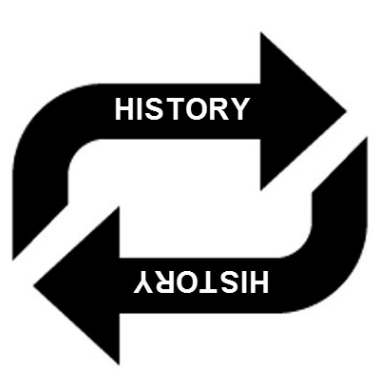 1999 comparisons seem to pop up quite regularly. I just read a Seeking Alpha article from July 2013 warning readers the party is coming to an end. People seem to wrongly focus on valuations and price action in one market [the S&P500 (SPY)], when examining all the moving parts reveals so much more.
Occasionally history repeats to create more than just a chart pattern; sometimes events, fundamentals and technicals combine in such a way that markets correlate and move in very similar ways to a specific historical period. Such a repetition seems to be happening now; many markets are repeating 1999.
1) The Dollar and rates
The way the dollar (UUP) reversed a seven year downtrend in the 1990s is very similar to how it reversed the 2001-2008 downtrend. Interest rates may be significantly different, but the emergence from recession and a change in Fed policy in both cases led to a >20% Dollar rally.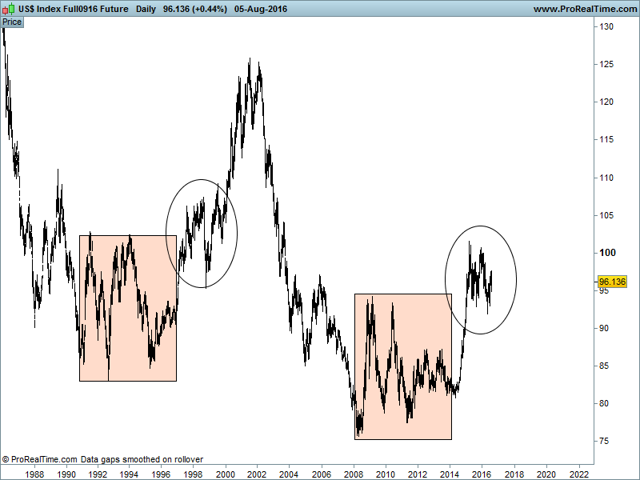 Click to enlarge
The current pullback and consolidation seems to equate to that of 1998-1999. In '98 the Fed cut rates by 75 basis points due to strains in the financial sector and the Asian crisis. We haven't seen cuts in 2016, but there has been a strong shift away from the forecasted hikes. In March of this year all but 1 member expected 2 hikes this year. That number has risen to 6. Median expectations have also fallen from 4 hikes in 2017 and 2018, to 3.
In both cases the market expected more hikes and were disappointed as the Fed changed course due to global concerns.
What drove the market back up after the 1998 pullback was a renewed hiking cycle, as Greenspan again raised rates from 4.75% to 6.5% by 2000. We won't see 6.5% again in a hurry, but more hikes look almost certain at some point in the next two years.
A strengthening Dollar will affect many other markets. How they responded in 1998-1999 (and the years after) can be used to guide current expectations.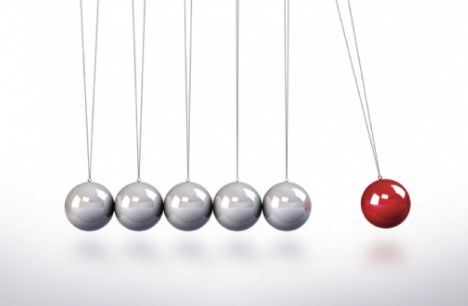 2) Oil
The collapse of oil (USO) over the past few years is synonymous with the 1990s. At first you have a bubble (both 1990 and 2007-2008 saw enormous >100% rallies), which pops and gives back all its gains.
The next stage is a series of failed rallies, giving investors hope of a recovery back to the old highs. This is followed by the final capitulation stage.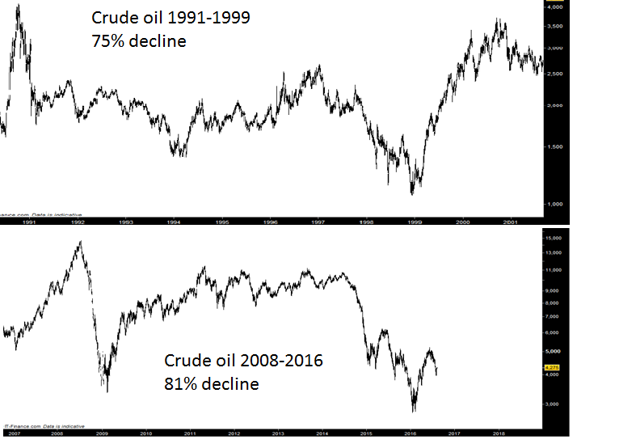 Click to enlarge
As much as the fundamental drivers of the oil market may have changed, the actions of the participants are the same. Such a large decline puts strain on many oil producing nations and companies.
The lows of both 1998-99 and 2016 were accompanied by a long running saga between Saudi Arabia and other OPEC nations. Speculation on production freezes / cuts prompted thousands of headlines. Will they, won't they? In 1999 they did, in 2016 they did not. But in the end it seems to have made little difference.
Oil rallied for two years following the 1999 reversal. During this time the Dollar continued to strengthen; not what most would expect given the mostly negative correlation. I wouldn't be surprised to see this happen again over the next few years.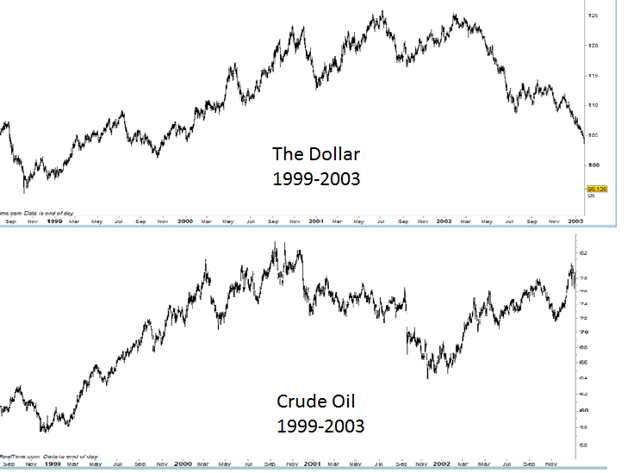 Click to enlarge
3) Gold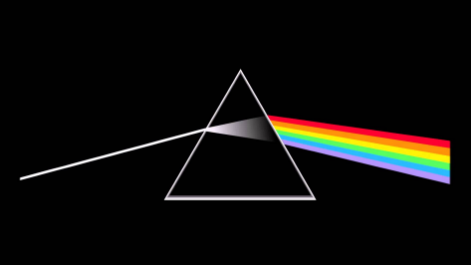 Although gold (GLD) is not a driver of the market, it seems to reflect the drivers very well. It's almost like all the different markets are fed into a prism and combine to give you gold price action at the other side.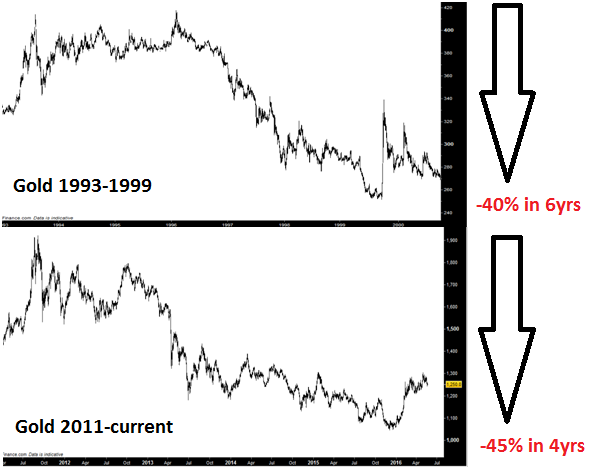 The very sharp reversal of a long decline is present at both the 1999 and 2016 lows. The reversal faded in 2000 as equities and the Dollar surged.
A similar re-test of the lows is a reasonable expectation for 2016-2018, especially if related markets (Dollar and equities) move and correlate in the same way.
3) Equity Markets
In one simple sentence you could describe both the '98-'99 and '15-'16 periods as 'the long awaited correction after a huge bull run'. The S&P500 pulled back 21% in 1998 and 15% in 2015-2016.
One of the greatest problems we face when using technical analysis is our own bias. There are so many patterns, techniques and indicators that you can always find something to justify a view.
In light of this, I do question if equity markets are a good match for 1998-1999. The 1998 analogy was perfect at the August-October lows in 2015, and the S&P500 reversed and rallied just like the analogy suggested it would.
However, it should really have taken off and never looked back. When it fell at the beginning of 2016 I began to doubt the correlation. Yet the fractal nature of the markets never cease to amaze, and it has since repeated the same pattern yet again.
I am still using 1999 price action as a guide, and barring the Brexit spike, the patterns are quite consistent. If the similarity continues we could see a top in mid 2017 at around 2400, which is pretty much what I expected anyway and wrote about here (2370-2400 in Q1 2017). When the same conclusion is reached by two different methods, it adds confidence.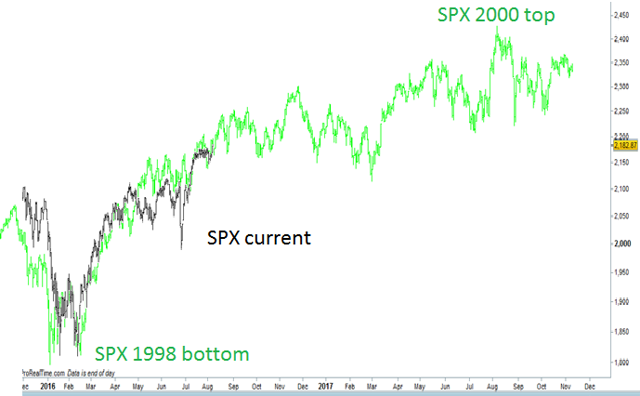 Click to enlarge
One thing I do like about the current equity configuration is the current weakness in Europe, particularly in a market I follow very closely, the German Dax.
The relative weakness of the Dax was also present in 1998-1999. By Christmas '98 the S&P500 had already made new highs while the Dax had to consolidate a whole year longer before finally breaking out around Christmas 1999.
Also worth noting is the S&P500 and the Dollar rallied together in 1999. When equity bears tell you the S&P500 can't rally with the Dollar so high, remember this chart.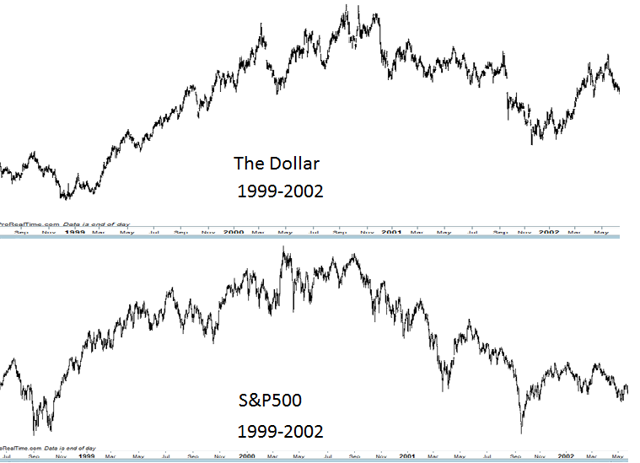 Click to enlarge
But also remember what came after the 1999-2000 rally. Higher Dollar and rates eventually hurt equities, and I don't think 2016-2017 will be any different.
4) Asia
There is always a crisis somewhere, but the 1990s Asian crisis was particularly severe and memorable. By 1998 'The Asian miracle' had reversed into recession, with 3 countries requiring IMF support.
Now the focus is on again on Asia, with China and Japan in the spotlight. Although the underlying causes of the current crisis are unique, the risks to worldwide markets are much the same. Investors across the world will certainly know (or should know) there are problems in Asia and this will affect their decision making.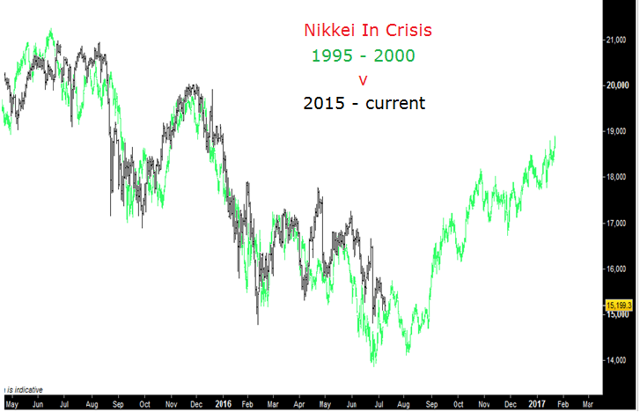 Click to enlarge
The chart above shows how Nikkei (EWJ) traders responded to the Asian crisis of the 1990s, with the rally from the 1998 bottom significantly lagging that of the S&P500. While U.S. equities were making all time highs, Japan only managed a bear market rally.
The current Nikkei cycle is very similar, as is the relative weakness compared to the U.S. This suggests the top is in for the Nikkei and any rally will make a lower high.
Conclusion
No matter your trading style or time frame, it always helps to have a bigger picture view. Historical price action give you this and much more; you not only know of direction and targets, but how different markets may interact.
The period of 1998-1999 has many parallels with 2015-2016 and has already proved how powerful analogues can be. No-one knows if the similarities will continue, but if comparison breaks we can adapt our strategy. There's always a fractal trade setting up somewhere.
Disclosure: I am/we are long SPY.
I wrote this article myself, and it expresses my own opinions. I am not receiving compensation for it (other than from Seeking Alpha). I have no business relationship with any company whose stock is mentioned in this article.
Additional disclosure: I am short TLT and SLV, long BAC, GS, AMZN