Key Issues
SUPERVALU, Inc. (NYSE:SVU) is one of the largest grocery wholesalers and retailers in the U.S. with annual sales of $18 billion. It serves customers through a network of 3,342 stores, of which 1,773 are stores run by wholesale customers. SVU also supplies 1,368 Save-A-Lot stores, of which 896 are operated by licensee owners and 201 are traditional company-owned retail grocery stores.
SVU is trying to transform itself from a supermarket retailer into a food wholesaler by spinning off or selling Save-A-Lot, 41% of the June 18th store count. SVU has two very good reasons for pursuing this metamorphosis: profitability and valuation.
The company's Supply Chain Services (wholesale) revenue has grown at a slower 24.2% clip over the past four quarters than its two grocery store segments Save-A-Lot (up 31.3%) or Retail Food (up 31.0%). But the reverse is true with respect to operating income where wholesale has outstripped grocery store operations. Supply Chain Services' operating income has grown 30.6% vs. 21.9% for Save-A-Lot and the Retail segment's operating income declined 20.0%.
Moreover, the increase in revenue at the two grocery store segments is a mirage: an overall increase in store count from a higher number of company owned stores has pushed overall revenue higher, but same-store sales at both Save-A-Lot and Retail Food stores have been running negative. See Table 1 below (Segment & Operating Data):
Table 1: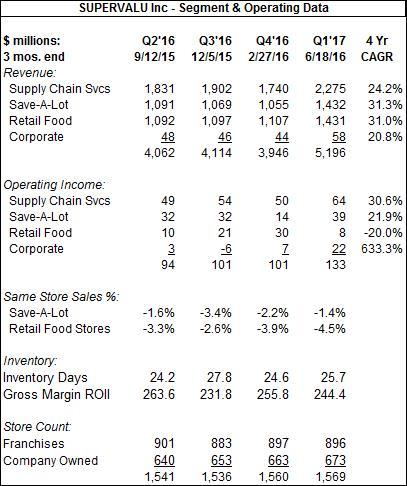 SVU's profitability has been hurt by the decrease in gross margin return on inventory investment within its two grocery store segments. Recognizing these trends, SVU's management has engaged in a year-long discussion centered on spinning off or selling Save-A-Lot. This idea was first announced in July 2015, then reiterated in January of this year. Management said on its Q1'17 earnings conference call that it expects to have updated carve-out financials soon and will file a second amendment to Save-A-Lot's comprehensive performance report (SEC Form 10) later this summer.
Save-A-Lot's stores are generally smaller, 11,000 square-foot units. A spin or sale transaction would remove from the total 3,342 store count all of Save-A-Lot's 1,368 groceries (a figure which includes 896 franchises and 201 company-owned units). Cutting out the Save-A-Lot stores is a "lose-win" proposition, to suggest my own term of art. Here's why. At present, SVU is valued at a two-year blended forward P/E multiple of 7.3x and Enterprise Value/EBITDA multiple of 5.1x. Comparable supermarket businesses trade at a much higher average two-year blended forward P/E multiple of 18.6x and Enterprise Value/EBITDA multiple of 7.6x. If management succeeds in offloading Save-A-Lot either to its shareholders or, much better, to someone else, the remaining SVU business will be a primarily wholesale operation. Food wholesalers in general trade at an even higher two-year blended forward average Enterprise Value/EBITDA multiple of 9.0x. You can understand why management is eager to transform the company. See Table 2 below (Supermarket and Wholesalers Multiples Comparison).
Table 2: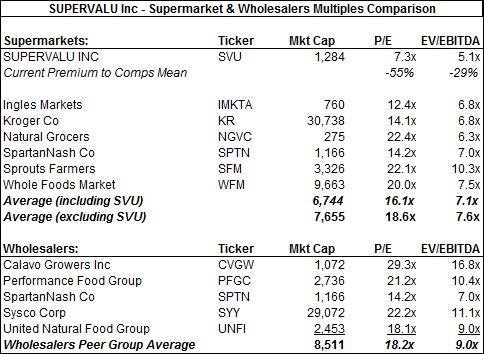 Recent operating results confirm the need for SVU to change direction even if it sticks with the supermarket business. In Q1'17, SVU reported $5.196 billion revenue, $222mm Adjusted EBITDA, and $47 million of net income for continuing operations. The revenue figure missed consensus estimates by 1.5%, the company's fourth miss in its last four quarters. The Adjusted EBITDA figure was $24 million lower year over year, also missing consensus estimates, even if it was in line with management's projections.
Management cut FY'16 Adjusted EBITDA guidance to $759 million, 1.5% less than the $771 million booked in FY'16. The guidance revision was attributed to reduced optimism about H2'17 revenues and the fact that Save-A-Lot's deflation has now run longer and more intensively than management expected at the end of FY'16.
Net income from continuing operations included $6 million in after-tax charges and costs primarily related to amending SVU's term loan and the potential separation of Save-A-Lot, net of favorable sales and use tax refunds. Excluding these items, net earnings from continuing operations were $53 million and earnings per diluted share were $0.19. See Table 3 (Financial Summary) below.
The biggest chunk of SVU's revenue miss in Q1'17 was, paradoxically, driven by contract losses within wholesale, the segment which management wants to focus on going forward. During FY'16, the wholesale segment lost Albertsons' southeast stores business, most of the volume from Haggen stores in the Pacific Northwest, and Gordy's business in the Midwest. Effectively, FY'17 started with a wholesale revenue base about $185 million lower than where it was at the start of FY'16. It has not been all bad news for SVU's wholesale business as larger customers recently agreed to a lengthy extension of their supply agreement and SUPERVALU entered into a long-term supply agreement with Indiana-based Marsh Supermarkets. SVU will serve as Marsh's primary grocery wholesaler. Marsh operates 70 stores across Indiana and Ohio. Wholesale operating earnings for Q1'17 were $64 million or 2.8% of sales vs. last year's $77 million or 3.1% of sales, a result of the revenue drop and higher employee-related costs.
Save-A-Lot's operating earnings for the quarter were $39 million (2.7% of sales) compared to $51 million in Q1'16 (or 3.6% of sales). New corporate stores drove higher employee-related costs, occupancy costs and shrink. Deflation - particularly in the prices of proteins like milk, eggs and ground meat - continued to make the grocery store side of SVU's existing business unattractive in Q1'17. With deflation running at 5% in the quarter, Save-A-Lot's same-store sales dropped 1.4%. Adjusted EBITDA was $62 million or 4.3% of sales, $10 million lower than in Q1'16, when Adjusted EBITDA was 5.1% of sales. The drop was attributed to running 50 more Save-A-Lot corporate stores this year and 50 basis points higher shrink. SVU still plans to open 75 more Save-A-Lot stores in FY'17.
The Retail segment did worse. It includes larger 40,000 to 60,000 square foot stores under the Cub Foods, Shoppers Food & Pharmacy, Shop 'n Save, Farm Fresh and Hornbacher's, plus two Rainbow and two County Market stores. Retail operating earnings for Q1'17 were $8 million or 0.6% of sales compared to $33 million or 2.2% of sales in Q1'16. The $42 million decrease in sales, lower gross margins, lower pricing, and higher promotional activity all played a role in causing the operating income decline as the Retail segment same-store sales dropped -4.5%. Customer accounts were down 4.1% and basket size fell 40 basis points.
Despite the very unattractive dynamics of running grocery stores while deflation causes price and gross margin declines, it's still imperative for supermarket operators to spread costs over a larger store base. SVU agreed in July to acquire 22 Food Lion stores in northern West Virginia, western Maryland, south central Pennsylvania, and northwestern Virginia. The Food Lion groceries were part of 86 stores which Ahold (AHONY) and Delhaize (DEG) sold following their merger. They'll be re-branded under the Shop 'n Save brand as SVU already supplies about 100 independently licensed Shop 'n Save stores in that area.
SVU was still able to generate $121 million in operating cash flow in Q1'17, higher than last year's $111 million. This was not a testament to better cost control as it was mostly due to cutting cash contributions to employee benefit plans, including SVU's corporate pension plan. FY'17 capital expenditures are still projected to be $325 million to $350 million.
Table 3: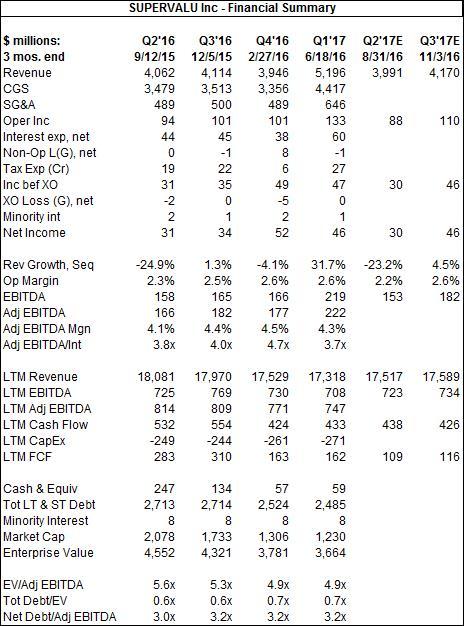 Bond Technicals
SVU has $2.5 billion of debt outstanding, of which the $1.3 billion L+450 First Lien Term Loans due '19 are the largest single component. The company has $196 million revolving credit debt outstanding on its $1 billion Revolving ABL Credit Facility due '21. The bank debt is secured and rated Ba3/BB-.
SVU has two bond issues outstanding: $400 million SVU 6.75s Senior Notes due '21 and $350 million SVU 7.75s due '22. Both are unsecured and rated B3/B+. The SVU 7.75s due '22 are smaller in size, priced higher, yielding less, and spreading tighter than the SVU 6.75s due '21, but they have also been traded more actively over the past two months. The SVU 7.75s due '22 last traded at $93.25 or 9.18% (+811 bps over US Treasuries) versus the SVU 6.75s '22 which last traded at $87 or 10.22% (+914 bps). Neither of these securities trade on a daily basis and neither of them are correlated with the underlying SVU common stock.
If you're looking for a debt-equity correlation, you'll have to trade the SVU five-year CDS. Over the past six months, the end-of-day price correlation between the SVU five-year CDS and the SVU common stock has run 71.6% r-squared.
Comments
SVU's leverage has been stable even as free cash flow generation slowed. Owning SVU bonds at 800 or 900 bps over US Treasuries and 3.2x net leverage looks like a reasonable long position. Your main worry is whether interest rates rise in general, but that's not much of a threat when your bonds mature in '21 or '22. You can hedge some of the rate rise risk with a short position against high-yield bonds generally. The SVU 7.75s due '22 are 64.3% correlated to the iShares iBoxx $High Yield Corporate Bond ETF (NYSEARCA:HYG) over the past six months. Meantime, HYG's pricing reflects a dividend yield of only 5.34% versus the 9%+ you'd be receiving on a long position in HYG 7.75s '22. If you don't like the interest charges on a short position in HYG, you can instead buy an inverse ETF like the ProShares Short High Yield ETF (NYSEARCA:SJB). You'll arrive at the same location.
I wouldn't want to be an SVU shareholder unless I was compelled to own equity in a food retailer with declining same-store sales and margins. True, management wants to exit 54% of the existing business in order to focus on the "better" 46% of its business, but it's also struggling to increase revenue within that "better" wholesale business. If this were a regulated utility with upside limited by regulatory authorities, at least you'd be getting paid a quarterly dividend. Not here.
From a shareholder perspective, it's far better if SVU sells Save-A-Lot versus spinning it off. This is why it's taking management more than a year to spin off Save-A-Lot. Giving shareholders two different securities for two different segments isn't likely to increase their equity value but is likely to give them a continuing price deflation problem.
SVU Term Loans, Senior Notes and Common Stock Prices:

Click to enlarge
SVU Senior Notes Z-spread vs. SVU Five-Year CDS

Click to enlarge
Disclosure: I/we have no positions in any stocks mentioned, and no plans to initiate any positions within the next 72 hours.
I wrote this article myself, and it expresses my own opinions. I am not receiving compensation for it (other than from Seeking Alpha). I have no business relationship with any company whose stock is mentioned in this article.