(Editor's Note: There is much greater liquidity on the TSE Venture Exchange under the ticker VML).
Viscount Mining (TSX-V: VML & OTCQB:VLMGF) is a prospect generator building a portfolio of high-quality precious metal properties within the United States. Viscount's two core projects are Cherry Creek (East Central Nevada) and Silver Cliff (South Central Colorado).
With a current Enterprise Value of ~$21m CAD, VML shares are a prudent (though not riskless) speculative bet on two highly prospective precious metal projects. Each of these projects has the potential to generate $75-100m CAD in value for VML shareholders, but results must be delivered on both fronts over the following 18 months.
The Partnership has held VML shares for close to one year, with an average cost of $0.33 CAD per share. As of August 8th, Viscount was trading at $0.62 CAD.
In this Featured Investment piece, I start by providing a primer on the "prospect generator" business model. Next I present my investment thesis for Viscount, starting with the company's background and management team. We then take a look at VML's two core projects: the Cherry Creek JV with Sumitomo Mining and the fully owned Silver Cliff Property. We conclude with Viscount's expected milestones over the coming months, so readers can keep tabs on the company alongside me.
What is a Prospect Generator?
Mineral exploration is a business fraught with risk and disappointment. In 2007, Rio Tinto estimated that of 1,000 greenfield targets approximately 1 becomes a profitable mine. Furthermore, only 1 target in 3,333 becomes a world-class deposit.
Despite these odds, most junior explorers will stake a single promising mineral property and then drill exploratory holes until one of two things happen: (1) they get lucky and hit a discovery hole or (2) the company runs out of cash. This is great news for those that get lucky, but these are long odds to say the least.
There is another approach however and that is the prospect generator model. In short, prospect generators maintain a large portfolio of grassroots properties and then create joint venture partnerships with other firms. These third parties (who are generally larger and more established) then spend their own money and time advancing the project in exchange for a majority ownership position.
Below you will find the basic process that prospect generators follow:
1. Stake prospective mineral licenses.
2. Partake in early stage exploration work, sometimes without drilling a single hole.
3. Package/market projects to larger players that may be interested in the jurisdiction, the target commodity, or the geology.
4. Sit back and watch the partner spend money on your behalf.
5. Reinvest working capital into new grassroots properties and repeat the process.
Globally there are roughly forty publicly traded companies employing this business model (with no more than ten focused on the United States). These companies enjoy multiple benefits relative to their "single-story" counterparts:
1. The risks are spread across multiple projects.
2. The lower "burn rate" means less dilution.
3. This model relies on intellectual capital, which gains value with time.
4. There are past success stories to lean on - with Reservoir Minerals being the most recent example.
There is really only one downside to the prospect generator model. If a JV partner finds something that ends up turning into a mine, the prospect generator will only own 10-30% of the project by the time production is reached.
That said, economic mineral projects can be worth hundreds of millions if not billions of dollars. Even a small sliver of ownership in a significant discovery can result in a tenfold return for early shareholders.
Investment Thesis for Viscount
Viscount Mining is one of the newest prospect generators on the scene. CEO Jim Mackenzie and Chairman Kaare Foye founded the company in late 2013 - an opportunistic move given the debilitating bear market that the junior resource space was undergoing at the time.
The two founders make a unique pair. While Jim Mackenzie is a new name to the junior resource space, he has multiple successes under his belt in tech and media. Jim brings boundless energy, unique charisma, and a bevy of strategic connections across North America. Kaare Foye has a more traditional mining background - having served as Executive Chairman at Great Panther Silver between 2003-2009. He brings operational experience, industry connections, and corporate governance credibility. While the two hadn't worked together prior to Viscount, Jim and Kaare have so far formed a formidable founding team.
In June 2016, the company closed an oversubscribed $2.3m CAD financing at $0.50. The deal brought additional strategic investors onto the shareholder register, including Toronto-based Gravitas Securities, Sprott Asset Management, and the CEOs of two North American silver producers.
The financing ensures that Viscount has an 18-24 month runway before requiring additional capital. This gives the company sufficient time to prove to the market that both Cherry Creek and Silver Cliff deserve substantial valuations. If VML is successful on either front, the company will be able to raise their next round of capital at a significantly higher valuation.
Cherry Creek JV with Sumitomo Mining
Cherry Creek has been the primary driver of Viscount's share price over the past 12 months. The story begins in early 2013, when Mackenzie took multiple trips to remote eastern Nevada. His mission was to unify a series of highly prospective mining claims, which hadn't been touched since the 1940's due to a history of bitter disputes between the landowners. Through persistence and deft negotiating, Jim was able to consolidate the claims in late 2013.
The project consists of more than 9,000 acres encompassing 400 unpatented and patented claims, and is located approximately 30 miles north of Ely, Nevada. From roughly the mid 1800's thru the early 1900's, Cherry Creek was host to more than 20 producing silver, gold, and tungsten mines (including Blue Bird, Chance, Filmore, Last Chance, Exchequer/New Century, and Ticup). It was this past production that attracted Mackenzie to Cherry Creek in the first place.
In the latter part of 2014, Viscount announced a landmark joint venture at Cherry Creek by partnering up with Summit Mining, a wholly owned subsidiary of global industry group Sumitomo. Sumitomo's mining division is a massive operation, with a current market capitalization of ~$8b USD. Their willingness to partner with a junior like Viscount demonstrates Sumitomo's belief that Cherry Creek has the potential to host a multi-million ounce precious metal deposit.
Sumitomo has the ability to earn a 75% ownership in the Cherry Creek project by spending a minimum of $10 million in direct exploration costs and delivering a full Feasibility Study (which can cost upwards of $25 to $40 million to complete). Once the Feasibility Study is delivered, Viscount retains the option to "put" their 25% ownership back to Sumitomo at a valuation determined by a mutually agreed upon third party appraisal firm.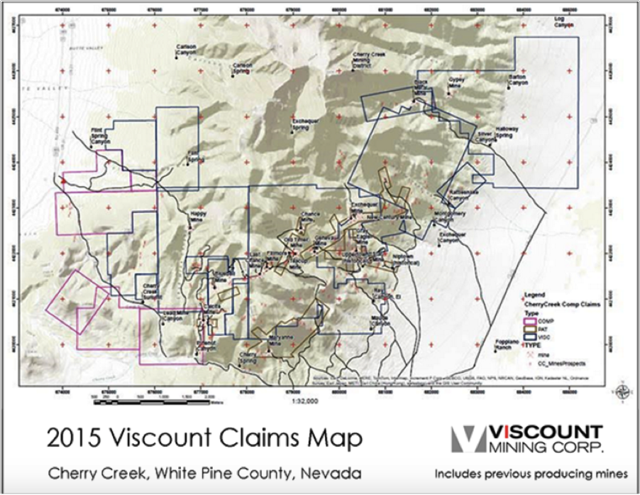 Click to enlarge
Sumitomo completed a comprehensive surface exploration program in 2015, which was followed up by a mid-level drill campaign to test the continuity of underground silver bearing structures in both the Ticup and Doctor's Cut zones. Assays from the program were announced in February 2016 but the results were largely underwhelming.
Undeterred, Sumitomo is currently following up the initial program with a much larger exploration program. Upcoming drill results are expected at the Exchequer, New Century, Star, and Grey Eagle mine complexes. Each of these produced significant amounts of gold, silver, and base metals pre-World War II. Sumitomo is attempting to discover the source of this mineralization and is hopeful that a deep-seated polymetallic deposit is resting below the legacy mining operations. We will receive results from this part of Cherry Creek by the end of the year.
Flint Canyon is another highly prospective zone within the Cherry Creek property. This zone is comprised of ideal gold-bearing Pogonip and Notch Peak formations; these rock sequences are known to host Carlin-type gold mineralization in east‐central Nevada. Additionally, mineralized jasperoid outcrops are common throughout the Flint Canyon zone. "Jasperoids" are significant pathfinders for the identification of large, disseminated Carlin-type gold deposits. Surface sampling at Flint Canyon has produced impressive results to date with large zones of anomalous surface gold occurrences, which has led geologists working on the project to believe that the Flint Canyon zone could be host to a large, near surface gold deposit.
On August 10th, Viscount announced a positive exploration update on Flint Canyon. According to the release:
The soil sampling combined with previously announced anomalous rock sample results (October 29, 2015) has yielded gold and pathfinder element anomalies for Mercury, Arsenic, Antinomy and Thallium similar in size and tenor to soil and rock geochemical sampling results at other mines and advanced properties in Nevada. These include Kinross Gold's Bald Mountain mine; Newmont Mining's Long Canyon project, Agnico-Eagle's West Pequop project and Pilot Gold's Kinsley Mountain project…. From the distribution of anomalous gold results, there are at least two major target areas that need to be tested by several drill holes.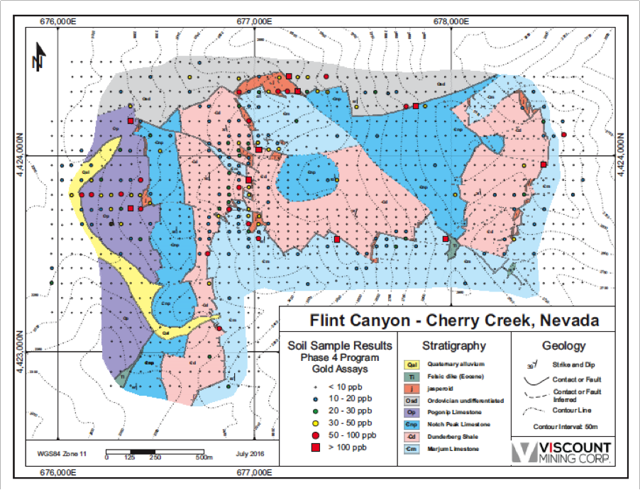 Click to enlarge
It's going to be a busy fall at Flint Canyon. Sumitomo is in the process of building an access road to the zone, which should be completed by the end of this month. The company has also committed to an additional 626 soil samples to extend the anomalous trends and fill in open priority target areas. Most excitingly, Viscount anticipates that a 4000m RC drill program will begin in early September. First assays should be reported before the end of the year.
Silver Cliff
Silver Cliff is the lesser known of the company's two core properties and, unlike Cherry Creek, is fully owned by Viscount Mining. However, VML management has stressed to shareholders that its goal is to stay true to the prospect generator model and find a JV partner at Silver Cliff within the next 6 months.
Silver Cliff consists of over 100 lode claims and is located approximately 40 miles southwest of Pueblo, Colorado. The project area is situated in a geological setting similar to Cripple Creek, a historic mining district in Colorado. Hecla Mining, a $3b silver producer, completed a non 43-101 compliant PEA on the property in the mid 1980's. For this study, Hecla used a historical resource of roughly 50 million ounces of silver. If Viscount is able to verify the accuracy of this 50 million ounce estimate, this is certainly a large enough deposit to move the needle for a major silver producer.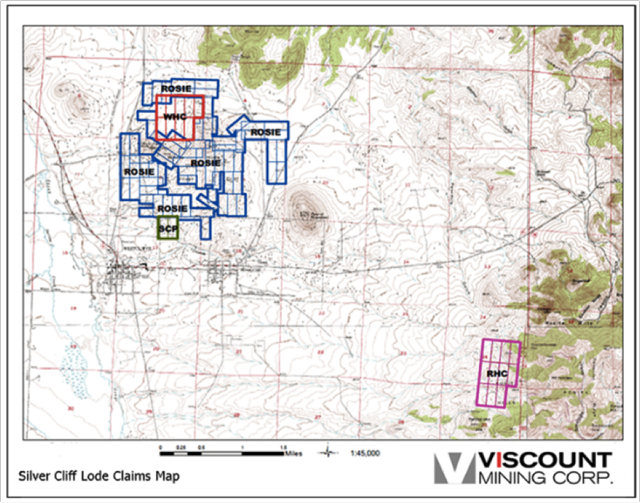 Click to enlarge
By the end of this year, Viscount plans to release the first assays from Silver Cliff in over twenty years. According to the company's website, past drill results include 13.4 meters of 2,125 g/t silver and 1.2 meters of 9 g/t gold.
The project is currently NOT baked into Viscount's ~$21m Enterprise Value, and positive results have the potential to catch the market by surprise. If the company is able to verify that the Hecla resource is indeed realistic, I would not be surprised to see a JV partner announced at Silver Cliff during Q1 2017.
It is difficult to determine a precise fair value for early-stage mineral exploration outfits such as Viscount. That said, some basic outcome visualization suggests that Viscount is a prudent speculative bet at its current valuation. Let's look at each project individually.
Cherry Creek
What constitutes a success? Viscount and Sumitomo are able to outline a high-grade gold deposit with at least one million ounces.
How much value would a success generate? Recent developments in Nevada indicate that the market would assign at least $525m CAD of project value to this outcome. Remember that Viscount will only own 25% of anything significant that is discovered.
What are the chances of a success? Out of conservatism, let's assume a 20% chance of success.
What is the speculative value of Viscount's stake in Cherry Creek?
$525m CAD x 25% ownership x 20% chance of success = $26.3m CAD
Silver Cliff
What constitutes a success? Viscount and their JV partner are able to confirm a high-grade resource of 50m ounces of silver.
How much value would a success generate? Recent silver buyouts have occurred at approximately $1.50 USD per ounce in the ground. This results in a $98m CAD best-case scenario for Silver Cliff. Remember that if Viscount indeed forms a JV at Silver Cliff, the company will own ~30% of the deposit.
What are the chances of a success? As a result of Hecla's previous work on the property, let's assume a 45% chance of success. This is not greenfield exploration.
What is the speculative value of Viscount's stake in Silver Cliff?
$98m CAD x 30% ownership x 45% chance of success = $13.2m CAD
If one were to fully accept the above assumptions, this results in a total speculative value of $39.5m CAD for both Cherry Creek and Silver Cliff.
This number is ~88% above Viscount's Enterprise Value, indicating that VML shares could double from current levels and the company would still be fairly valued. This is why I deem Viscount a prudent speculation at this time.
To conclude this piece, I've provided below my expectations as a VML shareholder over the coming months. The remainder of 2016 will be a pivotal period for both the Cherry Creek and Silver Cliff stories.
First drill assays at Silver Cliff by end September 2016
First drill assays at Cherry Creek's Flint Canyon by end October 2016
First drill assays at Cherry Creek's Exchequer/New Century by end Nov 2016
First drill assays at Cherry Creek's Star/Grey Eagle by end Nov 2016
Updated resource at Silver Cliff with ~50m ounces silver by end 2016
Joint Venture announced at Silver Cliff by end Q1 2017
Disclosure: I am/we are long VLMGF.
I wrote this article myself, and it expresses my own opinions. I am not receiving compensation for it (other than from Seeking Alpha). I have no business relationship with any company whose stock is mentioned in this article.
Editor's Note: This article covers one or more stocks trading at less than $1 per share and/or with less than a $100 million market cap. Please be aware of the risks associated with these stocks.