FireEye (NASDAQ: FEYE) has recorded operating losses each year since its incorporation in 2004. Their inability to bring down operating expenses has continued to offset their revenue.
Currently, FireEye is still trading around a reasonable ballpark of its all-time low. From a high of $85 in 2014, the stock now looks worse than a shadow of itself.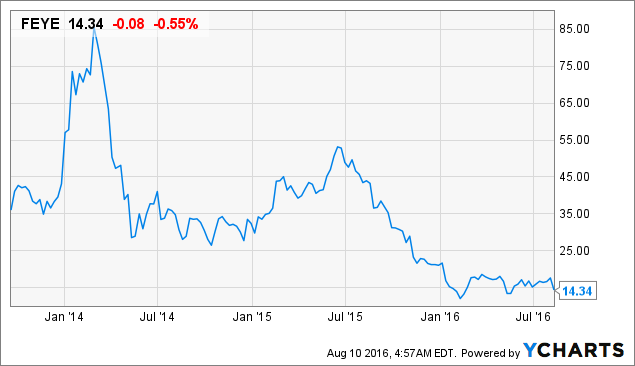 FEYE data by YCharts
Market research firms like Gartner still project attractive growth for the cyber security industry. The recent stock performance of the company does not reflect any of that. Investors are obviously no longer interested in lofty growth projections. They have had enough.
The rate of cyber-attacks also has been on the decline. The company reported earlier this year to have witnessed drops in attacks coming from China. The only increase found in countries like Syria, Taiwan and North Korea are on a smaller scale. It is possible that organizations are being more proactive by intensifying efforts to thwart cyber attacks before they happen. Due to this possibility, the drop in cyber attacks cannot necessarily determine the profitability of security firms.
Competitors
FireEye dominates the niche STAP (specialized threat analysis and protection) market with a share of 37.9% in 2014. Its closest rival had no more than 5.4%, according to a report from IDC. However, the market share owned by FireEye has been on a decline over the past two years.
The growing number of competitors in the cyber security industry has made it hard for any single security firm to command a large market share.
Tech giants like IBM (NYSE:IBM) and Cisco (NASDAQ:CSCO) keep expanding their cyber security division. They have been making strategic acquisitions to position themselves for the future demands for security products and services.
FireEye has been thinking in similar lines with the recent acquisitions of Invotas and iSIGHT. The problem is FireEye might not have the cash to continue growing inorganically.
The market also consists of several small security firms with various specialties. It is hard to make it as a local player, not to mention the possibilities of a global dominance.
Fortinet (NASDAQ:FTNT), a key competitor, grows revenue at a faster rate, making nearly twice as much as FireEye. FireEye competes with firewall solutions, a technology in which Fortinet derives most of its profit.
I do not think FireEye can rely on growth via the increasing cyber security market. Threats from competitors with similar product offerings are making it hard to make a bullish bet on growing revenue by taking market share.
Product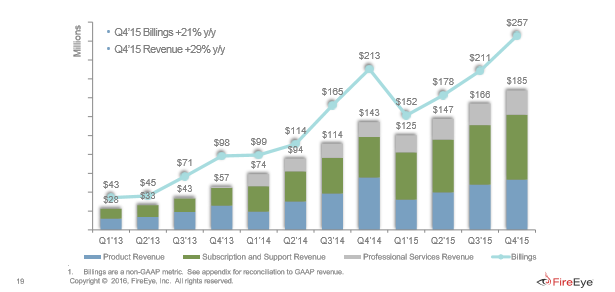 FireEye has witnessed a steady decline in the growth of its core products. On the other hand, the demand for FAAS (FireEye as a service) and other services such as cloud and mobile has witnessed a increase in demand, so much that the company just released FAAS 2.0.
According to a MarketsandMarkets research, the cyber security market will be worth $202B by 2021, up from $122B in 2016 at a CAGR of 10.6%.
BI intelligence estimated $655 billion would be spent on cyber security initiatives to protect PCs, mobile devices and Internet of Things (IoT) devices between 2015 and 2020.
This looks promising for FireEye if they can continue to attract more customers. However, the number of high value customers has not grown as much as expected. I feel FireEye can make more in sales if they push harder in the growing cyber security industry.
Financials
When a company is to achieve profitability, there are a number of financial metrics that play a huge factor. From revenue, profit margin, operating expense, inventory to management. Each metric is a nut that fits into the complex wheel of achieving profitability.
Revenue
FireEye's products are considered expensive relative to competitors. This outlines the difficulties FireEye is facing selling its products and services. The number of deals above $1 million has remained around 40 for quite some quarters with no deal above $10 million recorded in the last quarter. Growing revenue by increasing price per product, service offering or subscription will be a tightrope to walk.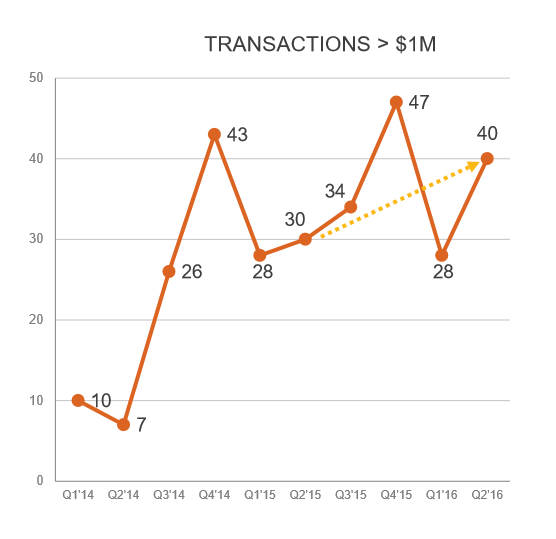 Source: 2Q'2016 Presentation Slide
Revenue for FireEye was driven by product subscription and cloud services. Product subscription stood at 65% of total revenue in 2015. The renewal rate for subscriptions stood at 90% in the first half of 2016. This high renewal rate has been driven by the incremental value added to their product and service offering, according to FireEye.
In the latest earnings report, revenue guidance came in at $716M - $728M. Gross margin was flat Y/Y at 73%. Operating margin guidance came in at -26% to -28%. This is a drop from earlier guidance of -22% to -24%. Revenue growth rate also declined YoY.
With a reduction in revenue guidance, a flat growth in gross margin and an increasing OPEX management has many questions to answer before the next earning release.
Operating Expense
This consists of R&D, sales and marketing and administrative cost. Of the three, R&D cost has the largest percentage relative to revenue. In their 2015 annual report, management expected R&D expense to continue to increase primarily due to full year impact of past investments as well as recent acquisitions. This also holds true for sales, marketing expense and administrative cost.
The recent spate of acquisitions has not helped matters as it has increased compensation, skyrocketing expenses.
However, the company has put plans in place to cut costs. Given that all was set to sell the company some months back, former CEO David DeWalt told analysts he believed the best was yet to come when asked why they made a U-turn.
Management
In his effort to turn the company around, new CEO, Kevin Mandia, is set to start a cost-cutting spree, laying off workers and reducing expense to achieve the much-needed profitability.
CFO Mike Berry outlined the proposed cost reduction effort to achieve as much as $30 million in cost savings, $7 million of which has already been realized in the first quarter.
It is obvious the company wants to achieve profitability as soon as possible.
However, cutting costs without thinking of ways to increase operating margin might not be the best strategy.
It is understandable that recent acquisitions have contributed to increasing expense. However, revenue has benefited from acquisitions. With declining sales of FireEye products, it is certain the parent company (FireEye) is not generating substantial revenue from core products and services.
It means service and subscription billings from the purchase of companies such as Mandiant and iSIGHT are the key revenue drivers. I believe we can learn a lesson or two from competitors like Palo Alto Networks and Fortinet that are not spending as much on OPEX to achieve a far healthier balance sheet.
In coming quarters, FireEye's ability to drastically cut cost will no doubt soften the blow from investors with a bearish outlook.
However, I feel management needs to perform a strategic restructuring of the product offerings to unlock more value for investors.
Disclosure: I/we have no positions in any stocks mentioned, and no plans to initiate any positions within the next 72 hours.
I wrote this article myself, and it expresses my own opinions. I am not receiving compensation for it (other than from Seeking Alpha). I have no business relationship with any company whose stock is mentioned in this article.