Yelpers all around the nation fondly remember the glory days of 2014 where their beloved company was trading above $100.00. Ever since that brief period, the stock's road has been downhill. But today, a minute piece of nostalgia hit Yelp investors as the stock began to trade at roughly a third of that $100.00 figure from 2014.
The company beat on earnings per share for the first time in the past four quarters while also beating revenue expectations. As a result, Yelp (NYSE: YELP) is trading at around $37.00 today; a 14% increase.

Source: YahooFinance
Two financial advisories, Axiom Capital and Mizuho, upgraded their Yelp recommendations from Neutral/Hold to Buy this morning due to their quarterly profit boost. The company surprised analysts by posting a GAAP net income of $0.4 million in the second quarter of 2016. This equates to an EPS of about a penny per share. Compared to the second quarter of 2015, in which Yelp posted a GAAP net loss of $1.3 million or $0.02 a share. Although modest, this kind of a gain in EPS shows a promising future for the company that many analysts might have overlooked.
The highlight of Yelp's Q2 financial report was undoubtedly revenue increase. Both local and net revenue realized substantial gains. Net revenue of $173.4 million reflected an increase of 30% from Q2 of 2015. Local revenue, driven by local advertisement, was even more impressive and totaled $151.9 million which is reflective of 41% growth compared to Q2 of 2015.
So what exactly was Yelp doing correctly in this past quarter?

Source: Press Release
In addition to the list above, Yelp claims to have realized over 300 million connections in the past quarter. In a company statement, CEO Jeremy Stoppelman credits this to an increase in "mobile calls, clicks for map views and directions, food orders, restaurant reservations, and new reviews..."
On Yelp, users can review and post comments about hundreds of thousands of local businesses. Yelp relies on platforms such as Google to direct traffic to its site, however, Google is now a main competitor. Google reviews now allows users to provide feedback on places they have visited by simply Googling the business. This, unfortunately, might counteract any increase in demand that Yelp realized through Q2.
But, like Google, Yelp has evolved to become a much more multifaceted network. In acquiring both SeatMe and Eat24 as of the past two years, Yelp has taken on a role much larger than a review site. While users before would use Yelp to review/read up on businesses, they can now order, get directions, and make reservations from its platform (most commonly the phone application). Creating this user marketplace has allowed Yelp to compete with the larger brands at a much higher rate of success. This is especially true with Google, as users can now reach Yelp directly instead of attempting to navigate through Google.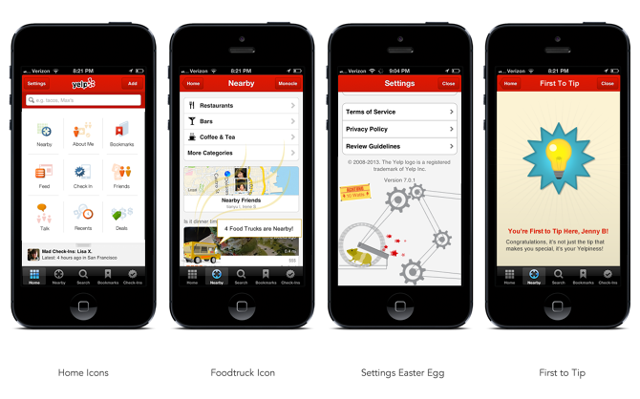 (A look at Yelp's "One-Stop-Shop" features)
Source: Android Apps
However, combating an internet behemoth such as Google, which is now pushing its own listings, is not an easy task. Especially with publicity over fake reviews that have been emerging in recent news, a sense of distrust is now being attributed to the company. Yelp called off its plans to sell itself to larger buyers last year and is now having to compete with them. Yelp realized steady declines throughout 2015, but is now trading up consistently for the first quarter since 2014.
From its IPO in 2012, Yelp has had its fair share of ups and downs. Its ups are mainly correlated with the buzz attributed to all new tech companies in 2012; however, it carried that momentum far into 2014. From that point forward, business has been rocky.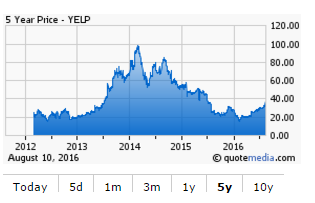 Source: Seeking Alpha
Investors are now skeptical if this growth is here to stay or if they should take their earnings and run. With a new Chief Operating Officer, many are attributing this quarter's profit margins to a new business turnaround.
Looking ahead to Quarter 3: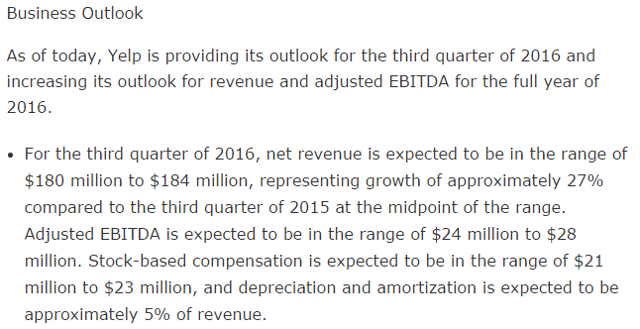 Source: Press Release
Analysts are projecting Yelp to take in about $179.6 million in revenue for the current quarter, per Thomson Reuters. While Yelp's managerial team has higher hopes for the quarter/year than analysts project, they certainly have the infrastructure to attain their goals. With revamping and restructuring, Yelp will soon become an acquirer of smaller tech startups to keep momentum rolling through this quarter.
Yelp expects to range its revenue for all of 2016 from $700 million to $708 million, with adjusted EBITDA to range from $100 million to $108 million. Both are increases of around 25% from last year's halfway marker.
With a recent interest in Nowait, a startup that estimates restaurant wait times, Yelp's brand can only grow. Even if you are not a Yelp reviewer yourself, with a multi-faceted platform like the one coming in this next quarter, it might be tough to stay away from the application.
The truth is, as Jeremy Stoppelman stated in an earnings call, "The number of Yelp powered connections is growing faster today than it was a year ago." Anytime a company executive can say that and have it be true means the company is in pretty good standing. Q2 revenue markers have corroborated that statement and investors are looking for the same result in Q3.
As Yelp's momentum carries it rapidly through the internet information provider pond, investors are casting their lines in hopes of cashing in on the growing brand.
Disclosure: I/we have no positions in any stocks mentioned, and no plans to initiate any positions within the next 72 hours.
I wrote this article myself, and it expresses my own opinions. I am not receiving compensation for it (other than from Seeking Alpha). I have no business relationship with any company whose stock is mentioned in this article.