Apple Revamps MacBook Pro
While PC sales have struggled, particularly since the introduction of the tablet, Apple's (NASDAQ:AAPL) Mac sales have fared pretty well. In fact, the segment saw sales climb 6% in 2015 and contribute total revenues of $25.5 billion, roughly 10% of the company's total sales last year.
Given that the product is still a big revenue generator, Apple must have figured it was about time for an upgrade, with the MacBook Pro prepped for its largest overhaul in some four years.
The company will introduce a 13-inch and 15-inch model, both featuring Retina Displays, touch ID sensors and a mini OLED touch bar above the keyboard. Reportedly, this touch bar will replace the function keys on the top row of the keyboard. Of course, the devices are expected to be slimmer and lighter as well.
While these rumors aren't new, Bloomberg's Mark Gurman is confirming what others have already reported, adding to the conviction that these new MacBooks are on the way.
So what does this mean for the stock? Apparently, investors shouldn't expect to see the new laptops in early September during the iPhone launch, but they are expected in October. A Q4 release will be in time for the holidays, but from an investor's perspective, it would have been nice to see Apple get these new devices out before the new school year started.
MacBook sales have been on the rise, and these new features shouldn't hurt that trend. But an earlier release would have likely helped.
For some of the iPhone's new features, check out our previous coverage.
A SolarCity Starts With A SolarRoof
Shares of SolarCity (NASDAQ:SCTY) fell slightly Wednesday, after the company reported better-than-expected earnings per share and revenue results, but provided revenue guidance for next quarter that came in below analysts' expectations. However, Tesla's (NASDAQ:TSLA) underlying $2.6 billion bid for the company is likely keeping the stock from having a more volatile reaction - sort of like SunPower (NASDAQ:SPWR), which fell some 30% on the day.
However, for those who tuned into the company's conference call, which was really more like listening a press release followed by a large Q&A session, investors got a sense of the company's next big thing: a solar roof.
The call, which also had a surprisingly large amount of commentary from Chairman Elon Musk, basically detailed the new roof. Management basically said that many consumers will actively avoid putting solar panels on their roof if they know the roof will need to be replaced in the not-too-distant future. However, customers that are replacing their roofs can instead opt for a solar roof. The roofs will be custom made and address the 5 million people in the U.S. per year who have their roofs replaced. Musk argued that it will be more visually appealing and last longer than a "normal roof" as well.
There's the obvious solar benefit too, but given the unknown cost, it's hard to say when the customer would break even. Management also made the case that "the majority of the capital expenses in order for us to get going on module manufacturing have essentially being incurred."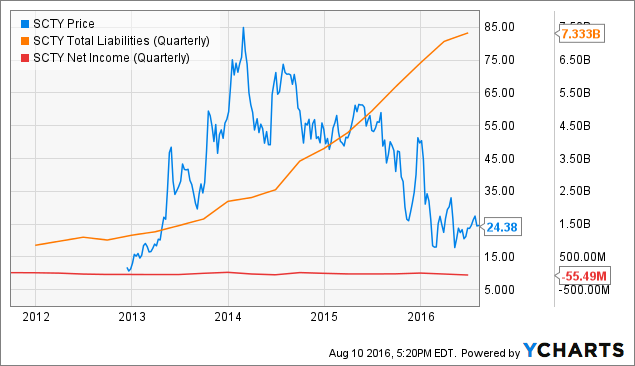 Perhaps as it should be, considering how fast the company is burning through its capital. The company has lost more than $500 million in the first half of 2016 - almost as much as Tesla - but has a market cap much smaller, standing at approximately $2.5 billion to TSLA's $30 billion, respectively.
This of course, raises plenty of questions as to how Tesla will be able to juggle not only its own expenses and current losses, but also SolarCity's cash burn as well.
Sony's New PlayStation
It wasn't all that long ago that Microsoft (NASDAQ:MSFT) unveiled the Xbox One S. Now it's Sony's (NYSE:SNE) turn.
The Xbox One S can be read about in our previous coverage, but in a nutshell its 40% smaller, has up to double the storage space and supports super high-end graphics.
Now Sony is expected to push back, as it has announced an event for September 7th, to be held at the PlayStation Theater in New York City.
There aren't a whole lot of details available just yet. As in we don't know when the supposedly new console will come out or how much it will cost. But there is some speculation making the rounds.
For starters, The Xbox One S is able to display 4K graphics, and the assumption is that the new PlayStation will be able to as well. Given that PlayStation is also launching its VR headset this fall, it would seem fitting (but perhaps unlikely) for the console to have VR support as well.
It would also make sense for the console to be introduced ahead of the holiday season in order to generate as many sales as possible.
So far, Sony has held the upper hand in the console war, with the PlayStation 4 roughly doubling the sales of the Xbox One and showing an impressive boost of growth as it scaled to more than 40 million units as of a few months ago.
Yelping for Yelp's Earnings
Given how strong of an earnings reporting Yelp (NYSE:YELP) released on Tuesday night, it's no surprise to see its stock climbing higher on Wednesday, up almost 13%.
The company beat on earnings per share and revenue expectations and boosted its next quarter and full-year revenue and EBITDA outlook, all of which topped analysts' expectations. For that, the stock actually hit new 52-week highs in the session.
Yelp is seemingly back on track, although the stock is still a long ways away from its all-time high near $100. At this year's low, shares traded for less than $15.
The company has expanded the amount of categories, allows users to review, call and find directions, and make reservations. Apparently, these types of initiatives - along with the three main initiatives laid out on previously and on the latest conference call, one of which was targeting local businesses - are paying off.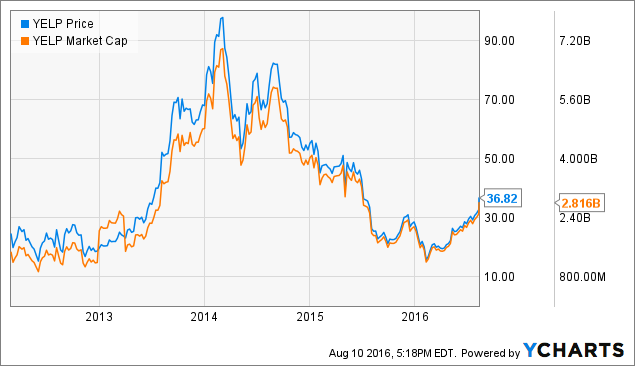 Once viewed as an M&A target, those talks have since diminished. At its highs, Yelp commanded a market cap of more than $6.5 billion. Even after Wednesday's rally, the current market cap stands at just $2.8 billion. So if a larger company felt the need, it could certainly afford a takeout, even with a reasonable premium.
Perhaps some merger or other combination could be in store too if two or more management teams felt that would be beneficial to the respective businesses.
As of now, the M&A story doesn't have much merit, aside from the continual chatter, so investors will have to focus on the current business. However, there are some doubters, such as this most recent Seeking Alpha article.
Tech Tidbits
Tesla's AutoPilot program has another accident, this time in Beijing. Thankfully, no one was injured.
Intel (NASDAQ:INTC) is reportedly interested in buying Nervana Systems, a deep-learning startup for some $408 million.
Disclosure: I/we have no positions in any stocks mentioned, and no plans to initiate any positions within the next 72 hours.
I wrote this article myself, and it expresses my own opinions. I am not receiving compensation for it (other than from Seeking Alpha). I have no business relationship with any company whose stock is mentioned in this article.