In the past, I've exhibited significant skepticism towards Energous (NASDAQ:WATT) being a credible company. In the context of that skepticism, I created a model, called my "Time-To-Carrot" Model, which seeks to show the true nature of Energous' promises.
This model postulates that as we go forward in time, so will the delivery date for Energous' promises. Specifically, the delivery to the market of transmitters and receivers able to transmit usable amounts of power (as in "able to power a smartphone") at a distance of 15 feet. This model was first published in my article titled, "Energous: A Time-To-Carrot Analysis".
This article seeks to update on that model, since 2 quarters have passed from when it was first published. As always, my methodology will involve going through the Energous earnings call transcripts and extracting the promised delivery dates.
The Model, Summarized
The model as a whole can be described by the following, enhanced, technical schemata: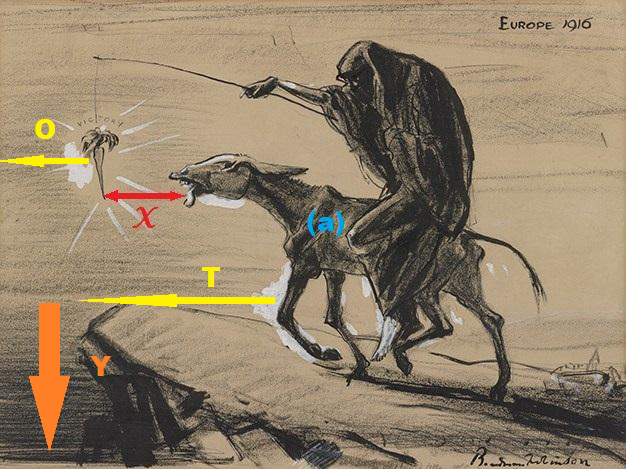 So:
(A) - Represents the Investor.
O - Represents the objective (delivery of the full size WattsUp transmitter) as it moves in time.
T - Represents the investor as it moves in time.
X = (O - T) - Represents the distance of the investor to the objective, in time (months).
Y - Represents a point in time, in the future, where the inevitable happens.
The model predicts that due to the nature of the contraption, X will remain more or less constant until Y is reached, at which point the investor will meet a predictable outcome (if he's still holding WATT shares).
As of the previous article, X had evolved as follows: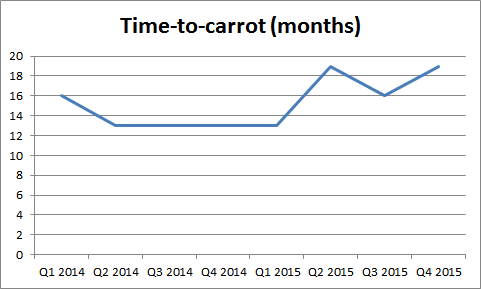 This behavior was deemed consistent with the model. Today, we will see how the model behaved as two more quarters of out-of-sample data arrived.
New Data
Q1 2016, reported on May 2016
Stephen Rizzone

The third product reference design is our full-size WattUp transmitter what up transmitter which will send power out 15 feet. This product reference design was also impacted by the prioritization and the more complex regulatory cycle pushing the expected time frame for full-sized transmitter to become available to the consumer as early as the end of 2017.
So here we have the first new data point, "end of 2017". Already, we can see there was some movement in the carrot, since in the previous report this was stated as "mid to late 2017".
I will consider "end of 2017" as being December 2017. So, counting the months, X=19.
Q2 2016, reported on August 2016
Stephen Rizzone

We are also reconfirming our projections that consumer products from our licensees of the Mini WattUp transmitter technology will be shipping late this year or early next year. The WattUp enabled Midsize transmitter applications will be shipping in late 2017 and the Full-size WattUp transmitters will be shipping in early 2018.
This is the second new data point, "early 2018". Again, some movement. We just saw that previously this was "end of 2017".
I will consider "early 2018" as being January 2018. So, counting the months, X=17.
The Updated Model
Adding the two mentioned data points to the 8 previous data points, this is how things now look: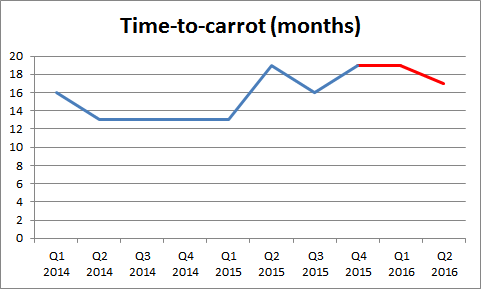 Again, the model continues to describe reality faithfully, giving us greater confidence that our model of it is reliable. Do notice that the carrot can bob a little, and indeed, it's been on the long side of expectations for a while.
This model continues to support the conclusion that Energous is not a credible company. This is, I should add, in addition to many other doubts (brought by me and others) surrounding Energous. Ultimately, I expect to be entirely right regarding Energous' nature.
It should be noticed that between my previous article and this one, Energous got approval for its mini WattsUp transmitter. That was expected - I wrote about it happening in my previous article - and is totally irrelevant.
Not so irrelevant is the short fee which shorting Energous' shares commands. It has gone higher, and even with a recent weakening, it still sits at 82%: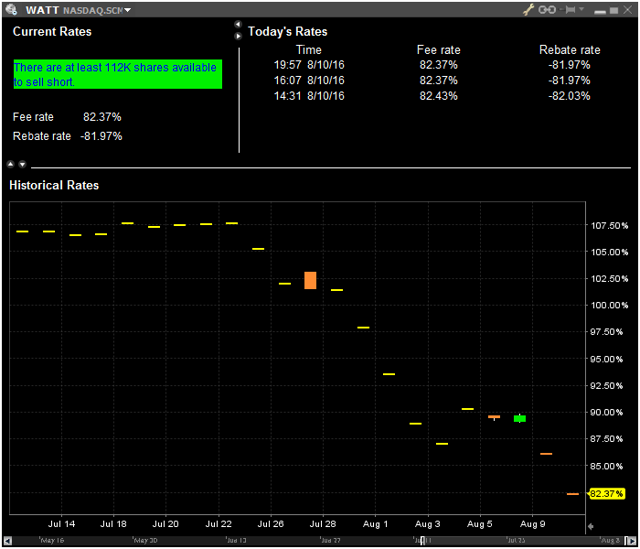 Click to enlarge
Source: Interactive Brokers
At these levels, selling Energous short is prohibitively expensive unless one expects a near-term catalyst to take it lower. At this point in time, while I believe I have the nature of Energous entirely right, I know of no such catalyst which could drive it immediately lower (other than its promoters deciding to sell it, which they certainly wouldn't tell anyone).
Conclusion
My opinion of Energous remains unchanged. The evolving facts continue to back such an opinion. I don't think Energous is a credible company. Investors should be aware of the nature of this company. At some point in time, this company will result in near total losses for its investors.
Disclosure: I/we have no positions in any stocks mentioned, and no plans to initiate any positions within the next 72 hours.
I wrote this article myself, and it expresses my own opinions. I am not receiving compensation for it (other than from Seeking Alpha). I have no business relationship with any company whose stock is mentioned in this article.