Over the past seven years, most financial asset classes have performed very well. The performance divide has not been between high-risk and low-risk assets, but rather between longer-duration and shorter-duration assets. For example, stocks, long-term bonds, real estate, and private equity have done very well in recent years (Charts 1 and 2), while commodities, hedge fund strategies, and cash have done relatively poorly. Longer duration is thus the main factor that has driven higher total returns for financial assets as rates have come down, according to analyst Ben Inker of GMO. Inker believes that this period of outperformance is ending or will soon end (Chart 3), and that shorter-duration assets will now outperform going forward. This is in part because shorter-duration assets tend to be less vulnerable to rising short-term rates. Such assets are commonly considered to belong in the "alternatives" basket. Thus, an opportunity may be available soon to move investment assets into generally undervalued investment vehicles just as their time in the sun may be starting.
Chart 1: Stocks and Bonds 1981-2012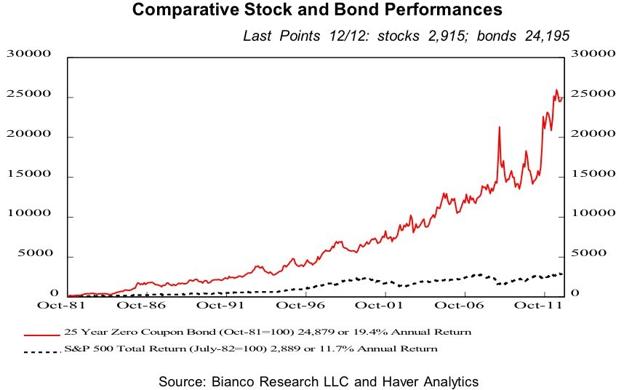 Click to enlarge
Sources: A. Gary Shilling; businessinsider.com.
Chart 2: Private Equity Outperformance Since 2000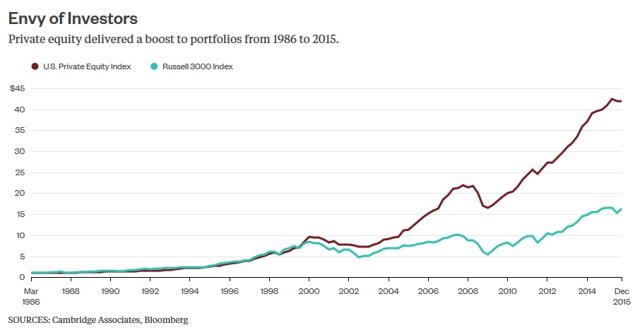 Click to enlarge
Source: pensionpulse.blogspot.com
Chart 3: GMO's Estimates Indicate Low Betas in Most Asset Classes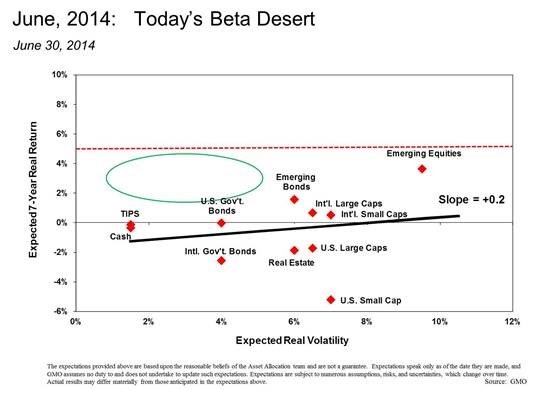 Source: gmo.com
However, although I think Ben Inker's analysis is intriguing, contrarian, and probably right in the long run, I am a bit skeptical about moving to this investment theme under current conditions. I would argue that it is not just declining rates that have controlled the duration trade, but that a strong dollar has also helped by holding down commodity prices. It might be useful then to review the pros and cons of his thesis. Starting with the con side of the argument, my concerns are as follows: first, there is no sign that rates have stopped falling (Chart 4), despite numerous predictions of higher rates (Chart 5), and indeed, negative rates (Chart 6) are still spreading all over the world. Second, there is little or no sign that deflationary pressures (Chart 7) have abated. Third, global recession risk has fallen slightly but is still elevated (Chart 8), and US recession risk (Chart 9) is increasing. Fourth, global productivity has been steadily falling for years (Chart 10), as has US productivity (Chart 11), and there is no convincing sign of a reversal to a more positive trend. Fifth, global trade volumes (Chart 12) are falling or stagnant. Sixth, global manufacturing activity is also stagnant (Chart 13) and may soon fall into decline. Seventh, global debt is soaring (Chart 14), while the growth that is needed to support it is not keeping up, again indicating continued long-term deflationary pressures. In summary, rates are unlikely to rise in the near term, and weak economic growth makes a meaningful commodities resurgence unlikely as well.
Chart 4: The Long-Term Decline in Yields Continues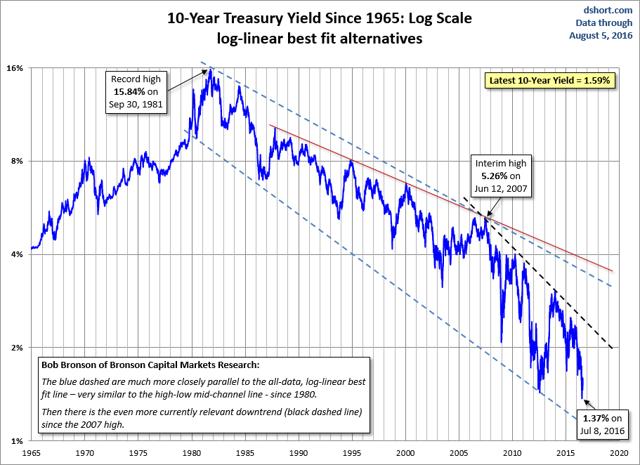 Click to enlarge
Source: dshort.com
Chart 5: Failure of Reality to Match Interest Rate Forecasts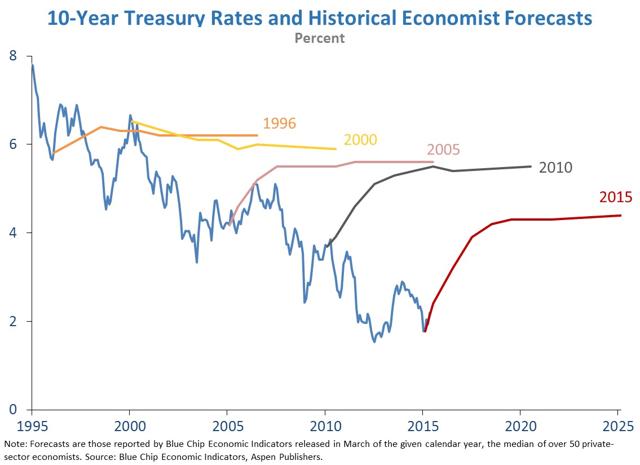 Click to enlarge
Source: whitehouse.gov
Chart 6: Negative Yielding Bonds Around the World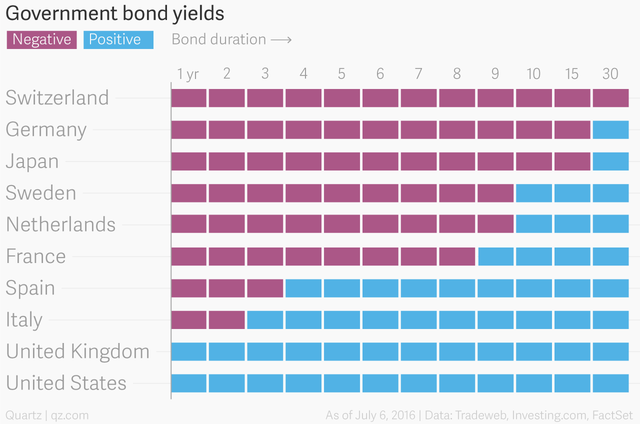 Source: qz.com
Chart 7: Deflationary Trend Continues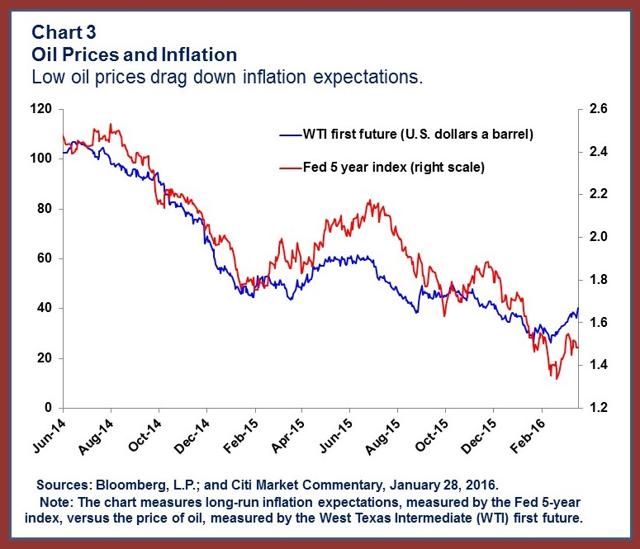 Click to enlarge
Source: blog-imfdirect.imf.org
Chart 8: Global Recession Risk Still Elevated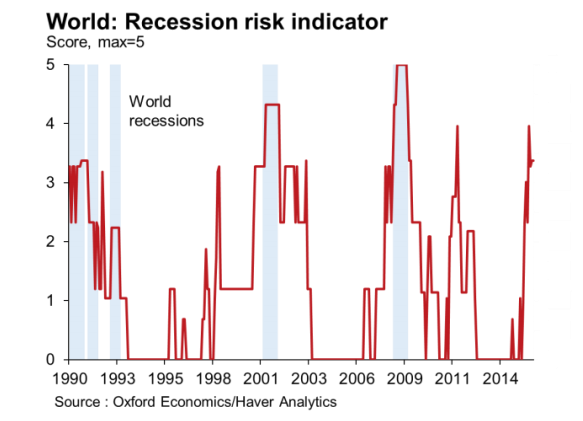 Source: cityam.com
Chart 9: US Recession Risk Still Climbing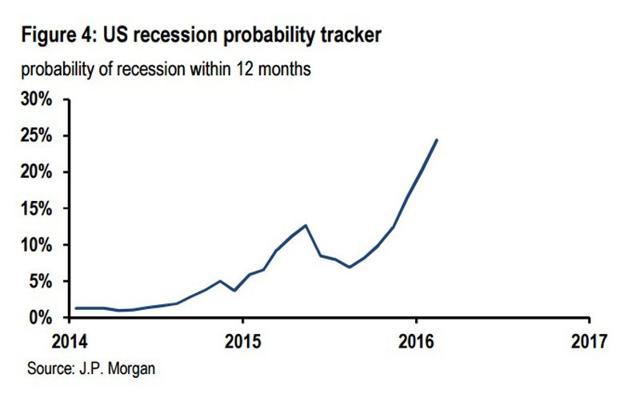 Click to enlarge
Source: thenextrecession.wordpress.com
Chart 10: Global Productivity Growth Is Still Declining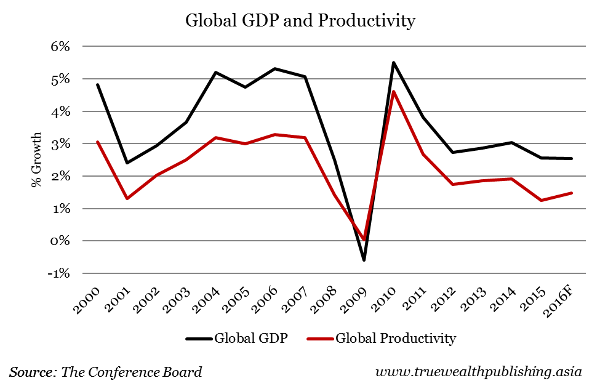 Source: thestreet.com
Chart 11: US Productivity Has Declined Sharply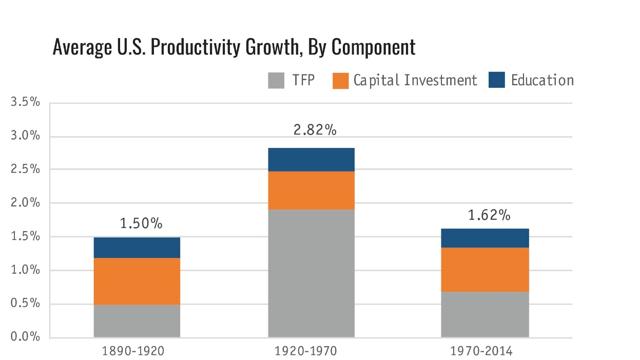 Click to enlarge
Source: thirdway.org
Chart 12: Revised Global Trade Volumes Peaked in 2014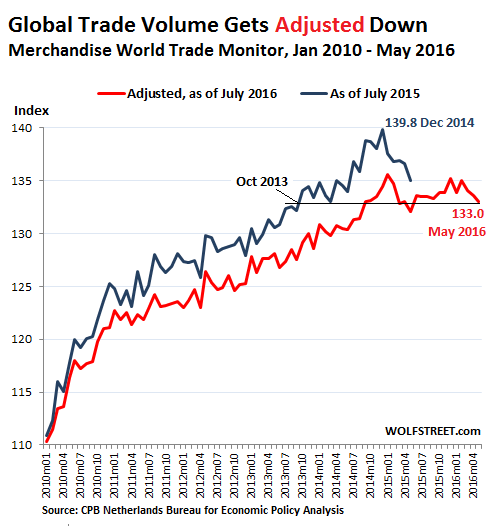 Source: wolfstreet.com
Chart 13: Global Manufacturing PMI Is Stagnant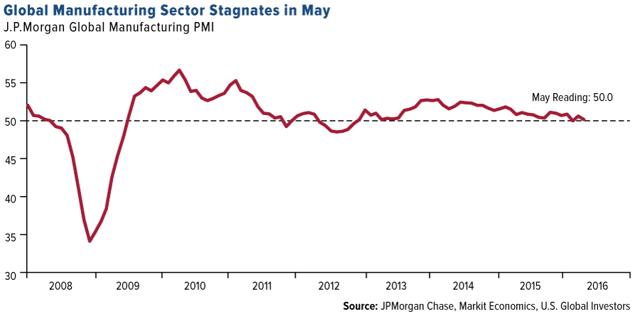 Click to enlarge
Source: usfunds.com
Chart 14: Huge Global Surge in Debt with Modest Growth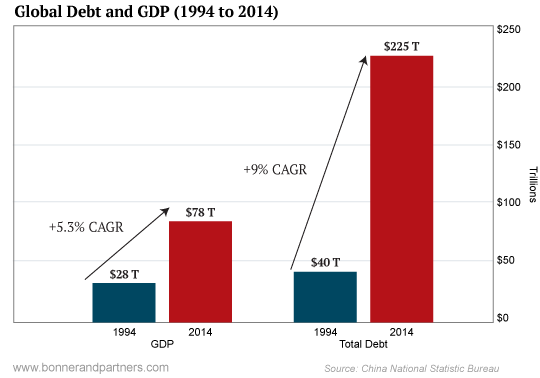 Source: bonnerandpartners.com
On the pro side of the argument, there are several recent trends of interest. First, gold is experiencing a strong resurgence (Chart 15) under negative real rates. Second, the commodities index (Chart 16) has broken out from its long downward trend as well. Third, short-term rates (Chart 17) have been rising in the US, which will eventually improve cash returns. Fourth, because expected returns for conventional assets are so low (Chart 3 above), based on reversion to the mean alone, there may finally be room for certain hedge fund strategies (Chart 18) to shine. Fifth, if the historical non-correlation of hedge fund strategies (Chart 19) with declining stock markets continues, hedge fund strategies should outperform again soon. Sixth, the global currency wars will continue (Chart 20), and they are driving interest in commodities. Sixth, easy Fed policy drove the weak dollar in the 2000s (Chart 21), which in turn caused oil prices to soar - and this could happen again (based on historical correlations - cf. Chart 22) if the Fed fails to raise rates this year.
Chart 15: Gold Has Rallied in the Midst of Negative Real Rates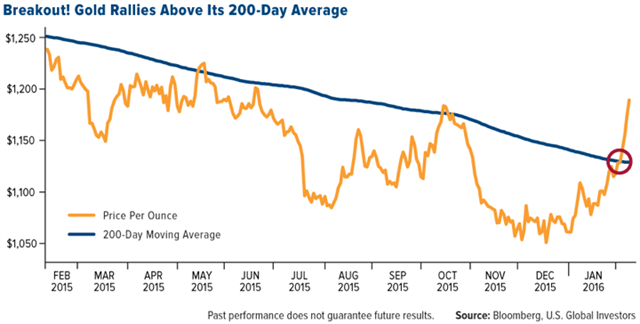 Source: blanchardgold.com
Chart 16: Commodities Index Has Broken Out This Year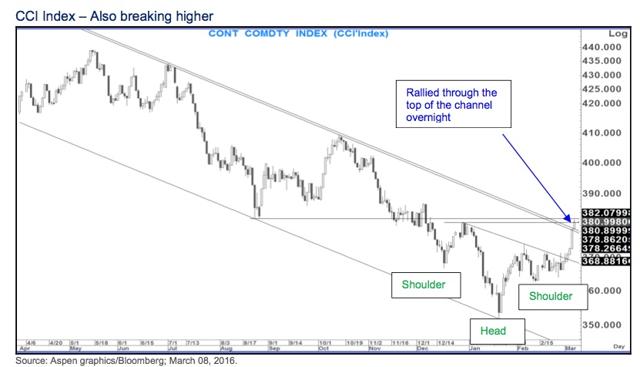 Click to enlarge
Source: kingworldnews.com
Chart 17: Short-Term US Rates Have Been Rising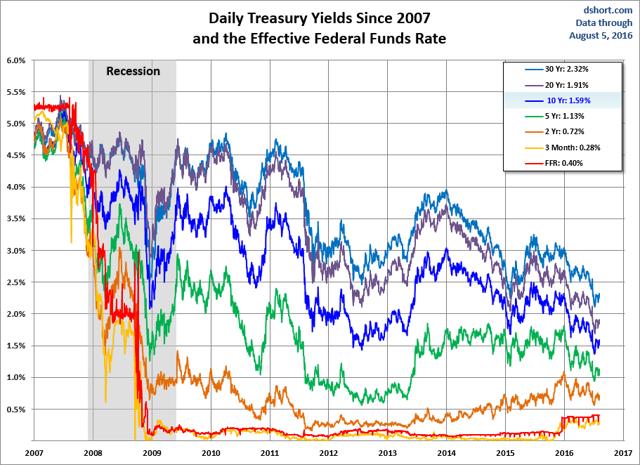 Click to enlarge
Source: dshort.com
Chart 18: Recent Performance of Various Hedge Fund Strategies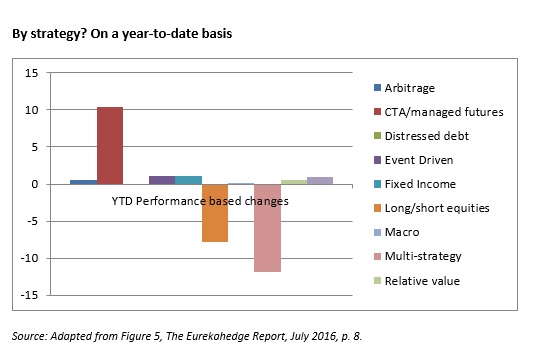 Source: allaboutalpha.com
Chart 19: Outperformance of Hedge Funds During a Bear Market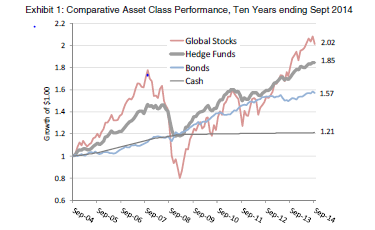 Source: nscope.notzstucki.com
Chart 20: Global Currency Wars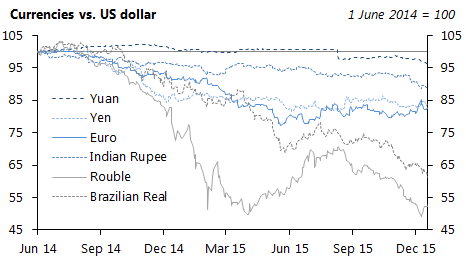 Source: economic-design.com
Chart 21: Fed Drove US Dollar, Which Drove Commodity Prices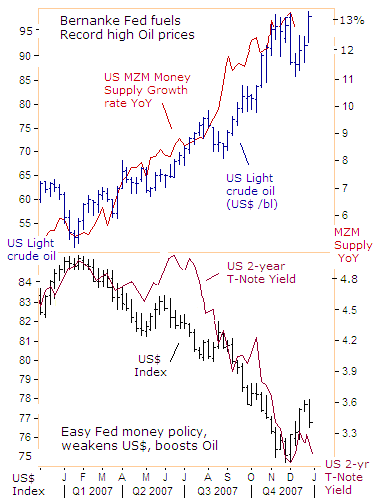 Source: bullionvault.com
Chart 22: Long-Term Inverse Correlation of US Dollar and Commodities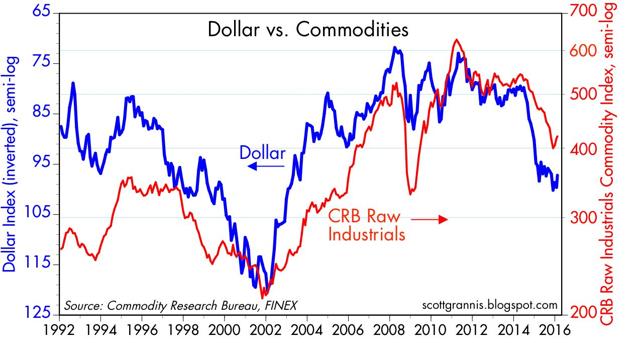 Click to enlarge
Source: scottgrannis.blogspot.com
In summary, a lot depends on the Fed's policy impact on the US dollar. This argument about the role of the dollar is supported by the work of analyst John Tamny, who has written about it in his new book (2016; Who Needs the Fed?: What Taylor Swift, Uber, and Robots Tell Us About Money, Credit, and Why We Should Abolish America's Central Bank, Encounter Books, New York, 202p).
It seems, based on all the data presented here, that a global recession is possible given current global weakness; this would interfere with the market's current assumptions. Several major countries are already in recessions or about to enter recessions (Charts 23, 24, 25). If the recessions become more global in extent, this would strongly pressure the Fed to ease policy again at some point, making the dollar decline and possibly causing commodities to surge. Timing is tough to call, and I am already on record stating that we are entering a period of consequences, so anything can probably happen. If the Chinese devalue for instance, all bets are off.
Chart 23: Latin American Recessions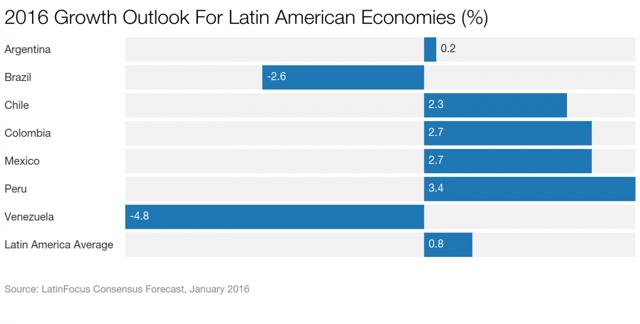 Click to enlarge
Source: forbes.com
Chart 24: Russian Recession Continues

Source: euromaidanpress.com
Chart 25: Potential UK Recession on the Way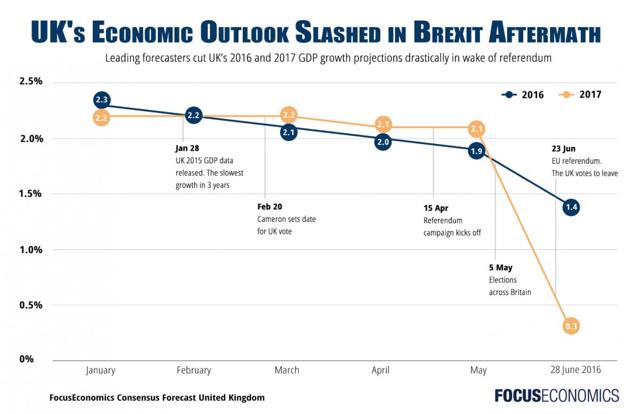 Click to enlarge
Source: focus-economics.com
However, in the absence of an event trigger, it is unlikely that markets will have to deal with a global recession panic until later this year or early next year. It is more likely in the short term that current trends will stay in place, although at any point, a number of unpredictable events could actually trigger a big market move without much advanced warning. Just in case, a small allocation to a managed futures fund like the AQR Managed Futures Strategy Fund (MUTF:AQMNX) or the Goldman Sachs Managed Futures Strategy Fund (MUTF:GMSSX) could be put in place now. Otherwise (for now) I would remain defensive, so it makes sense to hold some intermediate-to-long Treasuries: the I-Shares 20+ Yr. Treasury Bond ETF (NYSEARCA:TLT), the Vanguard Intermediate Term Bond Fund (NYSEARCA:BIV), and the PIMCO Total Return Active ETF (NYSEARCA:BOND); also defensive sector funds like the Powershares S&P 500 Low Volatility ETF (NYSEARCA:SPLV),and the I-Shares Edge MSCI Minimum Volatility ETF (NYSEARCA:USMV); also some liquid alternatives like the Otter Creek Prof. Mngd. Long/Short Portfolio (MUTF:OTCRX), the AQR Long/Short Equity Fund (MUTF:QLENX), or the AQR Equity Market Neutral Fund (MUTF:QMNIX); and even some sophisticated hedge-like Closed-End Fund strategies like the Nuveen S&P 500 Buy-Write Fund (NYSE:BXMX).
Once a major stock market down-leg is anticipated or encountered, and the Fed and/or other central bankers actually react to it, I would consider moving more assets to one of the above managed futures funds. I would also take full advantage of Ben Inker's ideas by allocating some assets to the PIMCO Funds Commodity/Real Return Strategy Fund (MUTF:PCRIX). Then it might also make sense to add to one's gold holdings, such as the I-Shares Gold Trust (NYSEARCA:IAU). I would also put some money in credit-oriented or real asset holding private equity firms like Apollo Global Management (NYSE:APO), KKR & Company LP (NYSE:KKR) or Oaktree Capital Group, LLC (NYSE:OAK) because the credit cycle is nearly ending, which should provide them with distressed credit targets, and real assets may do well if the dollar falls.
Disclosure: I am/we are long BIV, BOND, OTCRX, QLENX, QMNIX, BXMX, IAU, KKR, OAK.
I wrote this article myself, and it expresses my own opinions. I am not receiving compensation for it (other than from Seeking Alpha). I have no business relationship with any company whose stock is mentioned in this article.
Additional disclosure: This article is intended to provide information to interested parties. As I have no knowledge of individual investor circumstances, goals, and/or portfolio concentration or diversification, readers are expected to complete their own due diligence before purchasing any stocks or other securities mentioned or recommended. This post is illustrative and educational and is not a specific recommendation or an offer of products or services. Past performance is not an indicator of future performance.