In a recent article I presented a basic investment case for Minnesota-based powersports company Polaris Industries (NYSE:PII). A decade ago Polaris was in the middle of the pack as far as market share goes in its industry. Today, Polaris has become a leader at what it does, surpassing names like Honda (NYSE:HMC), Harley (NYSE:HOG) and Yamaha (OTCQX:YAMCF).
Here's a look at how the operating business and investment have done over the 2006 through 2015 period: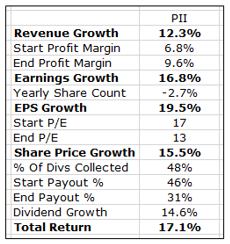 The performance has been overwhelmingly impressive. You had strong revenue growth coupled with an increasing profit margin and a large reduction in the number of common shares outstanding. Put together, these metrics allowed Polaris to grow per-share earnings by nearly 20% per annum.
The earnings multiple actually declined during this period (aptly demonstrating the finicky nature of share prices despite solid growth) but investors still would have enjoyed annualized gains on the magnitude of 17% per year. As a point of reference, that's the sort of thing that would turn a $10,000 starting investment into $41,000 after nine years.
Of course, all of that is in the past. Just because the company grew at a very robust rate previously certainly does not mean it will do so in the future. Indeed, the company is now expecting to earn 6% to 11% less this year on a per share basis as compared to last year. (Something in the $6 to $6.30 range as compared to $6.75 previously.)
Still, analysts are anticipating rather solid intermediate-term growth of 13% per year. While this is naturally within the realm of possibility, it can also be prudent to think about lesser scenarios. One way to do that is to come up with a more cautious set of assumptions, say "just" 7% annual growth as was illustrated in the above link, and see what that looks like. Another thing that I find useful is to see what a "no growth" situation could look like. It's not necessarily an anticipation, but it can help with the investor psychology side.
Over the past three years, Polaris has generated between $370 million and $450 million in profits. As of the most recent quarterly report, the company had 65 million common shares outstanding. Based on an expectation of earning $6 to $6.30 per share this year, that equates to a company-wide expectation of earning between $390 million and $410 million; call it $400 million for simplicity.
A lot of analysts are anticipating that this number will rise (and perhaps rise at a robust rate) through the years. Let's take a slightly more downbeat view, and see what a "no growth" situation could look like. That's $400 million this year, $400 million the next and so on.
The current quarterly dividend sits at $0.55 or $2.20 on an annual basis requiring $143 million or so in yearly dividend payments; call it $150 million as an even number. Over the past five years Polaris has averaged about $230 million in annual share repurchases; call it $200 million per year to account for the finicky nature of share repurchases and potential dilutive activities. Just to give you some context, the current authorization is for 7.5 million shares, represents over $700 million at current prices.
Here's what those assumptions would look like:

Note that this is not a prediction, but merely a hypothetical scenario that's apt to be a bit more downbeat than your typical analysts' anticipation. In this case, your company-wide profit and valuation would remain the same over the period. Of course, the individual shareholder could still see improvement as a result of the dividend and share repurchase program.
Here's what that might look like on a per share level:

Note that shares are in millions. This is why it's important to think about both the business and security level of an investment. Should Polaris earn $400 million this year, the earnings per share of $6.15 would come in right in the middle of the company's guidance. Thereafter total profits would not be increasing, but the per-share dividend and EPS metrics would be as a result of fewer and fewer shareholders to split the spoils with.
Even through the company would not be growing, you could still see earnings per share go from $6 to $7 and the annual dividend payment move above $2.60 per year. In total you might anticipate a share price near $109 and over $12 in cash dividends during the five-year period. Expressed differently, you might expect 5% annualized gains over that time frame. This isn't something to text home about, but it does illustrate the idea that you don't need company growth to enjoy per share or investment growth.
Granted the number of shares outstanding depends on the going share price in the coming five years (in this example I used a constant 15.5 earnings multiple), which can be heavily debated. However, it may not make as large of a difference as you might imagine. A lower multiple could lead to a lower eventual share price but then again the growth rate could be faster as a larger chunk of shares is retired or vice versa; a higher average multiple leads to slower growth/less shares retired, but still could have a higher ending price.
The point is that in order for a company like Polaris to turn in negative results - especially in measuring per-share earnings and dividends - you have to actually expect negative growth. Even a "no growth" scenario in this case leads to reasonable gains. Of course, negative growth is certainly within the realm of possibility - it's always prudent to be aware of adverse circumstances. The idea is to simply bring some rational thought to the table. Just because Polaris may not grow at 20% or 13% or 7%, none of those things simultaneously indicates that it must now be a poor investment.
Disclosure: I/we have no positions in any stocks mentioned, and no plans to initiate any positions within the next 72 hours.
I wrote this article myself, and it expresses my own opinions. I am not receiving compensation for it (other than from Seeking Alpha). I have no business relationship with any company whose stock is mentioned in this article.