In an unusual bid to talk oil prices higher, OPEC published a press release on Monday. H.E. Dr. Mohammed Bin Saleh Al-Sada, Qatar's Minister of Energy and Industry and current OPEC president, said that since February of this year, the oil price had experienced a steady improvement following a decline in crude oil production, supply outages and a decrease in oil inventories, while the global demand for oil improved in that period.
However, that characterization does not square with actual price movements. Crude prices had peaked in late May.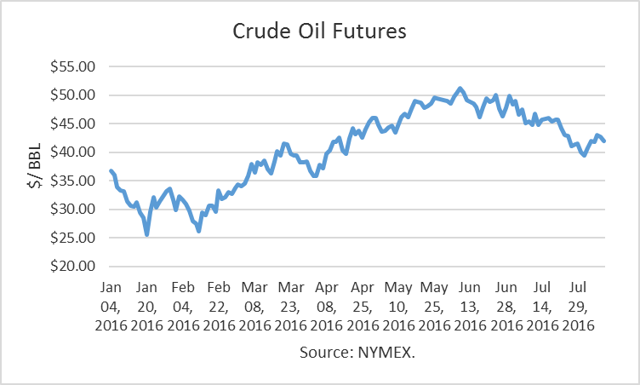 Click to enlarge
Contradicting his opening paragraph in the press release, Dr. Al-Sada said that "the recent decline observed in oil prices and the current market volatility is only temporary. These are more of an outcome resulting from weaker refinery margins, inventory overhang - particularly of product stocks, timing of Brexit and its impact on the financial futures markets, including that of crude oil."
The oil minister said that the expectation of higher crude oil demand in 3rd and 4th quarters of 2016, coupled with a decrease in availability, is leading the analysts to conclude that the current bear market is only temporary, and that oil prices would increase during the latter part of 2016.
And yet, the data included in its Monthly Oil Market Report appeared to contradict his statement. Specifically, OPEC provided third-party estimates of July production at 33.106 million barrels per day (mmbd). Saudi Arabia told OPEC that it pumped a record 10.67 million barrels of oil a day in July to meet a summer surge in domestic demand. OPEC estimated the "call" on OPEC oil for the third quarter of 2016 through the second quarter of 2017 at below current output.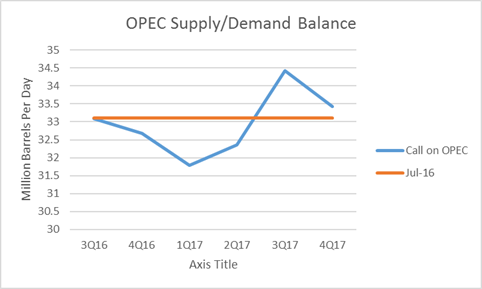 Oil production in Libya may return to the pre-crisis level of 1.6 million barrels per day within a year, Deputy Prime Minister of the Libyan Government of National Accord Musa Koni told Sputnik. Recent estimates place output from Libya around 300,000 b/d.
Finally, the press release announced an informal meeting of OPEC member countries is scheduled to take place on the sidelines of the 15th International Energy Forum which will take place in Algeria from 26 to 28 September 2016. Renewed talks of the production "freeze" surfaced in the news late last week.
However, the Minister of Oil and Gas from Oman, Mohammad bin Hamad al-Rumhy, told Reuters in an interview in Muscat that he doesn't "see the point of continuing to be part" of the group. "We are moving into difficult times, and others still believe that everything will be fine."
Rumhy also said that "those who expected the expensive oil producers will be run out of the business and shut down their operations have been proved wrong."
Rumhy added: "There were hopes of seeing the impact of fewer investments in oil and gas, and less exploration, on supply and demand with hopes that this might affect the low oil prices. But that didn't happen, and there has been no positive impact on oil prices."
Conclusions
Saudi Prince Mohammad Bin Salman quashed the freeze concept during the meeting in Doha, embarrassing the Russians and everyone else, for that matter. I do not see it generating much "headline risk" this time around. If it does inspire buying, I think the short speculators will be quick to seize upon a rise in price as a selling opportunity.
Disclosure: I/we have no positions in any stocks mentioned, and no plans to initiate any positions within the next 72 hours.
I wrote this article myself, and it expresses my own opinions. I am not receiving compensation for it (other than from Seeking Alpha). I have no business relationship with any company whose stock is mentioned in this article.