CenterPoint Energy (NYSE:CNP) is an intriguing utility in the throes of a major restructuring. The company has three moving parts: regulated electric utility servicing the greater Houston area, regulated natural gas utility servicing parts of six states with major bases in Houston and Minneapolis, 55.4% ownership interest in publicly traded MLP midstream partnership Enable (NYSE:ENBL) and 50% ownership of Enable's General Partner. Trading at a current share price of $23, CNP seems to be fairly valued, but longer term, could provide interesting investor opportunities.

Click to enlarge
CNP's regulated utilities highlights are:
Electric - 2.3 million customers, 19 th largest electric distribution utility by customer count, 3,700 miles of transmission lines. Customers are about evenly split at 35% residential, 30% commercial, and 35% industrial. Customer growth has been above the national average at 2.0% annually. In 2015, customer counts grew by 2.3%, but the slowdown in the oil sector may negatively impact growth over the short term.
Natural Gas - 3.4 million customers, 6 th largest gas distribution company by customer count, 10 regulated companies in 6 states diversifies regulatory exposure. Customer growth in line with national average of 1%.
According to CNP annual report, in 2015, total adjusted regulated utility earnings were $0.79 per share, with electric utility adjusted earnings at $0.48 per share and gas utility adjusted earnings at $0.31 per share.
The balance of the company is its ownership of MLP Enable, jointly owned with utility OGE Energy (NYSE:OGE) and public unit holders, as outlined below. Enable was formed in 2014 by the combination and drop down of various assets from both firms, with CNP contributing the majority of its midstream assets to the venture. Enable's portfolio of energy infrastructure assets includes approximately 12,400 miles of gathering pipelines, 13 major processing plants with~ 2.3 Bcf per day of processing capacity and 2.3 Bcf per day of treating capacity, ~ 7,900 miles of interstate pipelines, ~ 2,200 miles of intrastate pipelines and eight storage facilities providing ~ 85.0 Bcf of storage capacity. With a market cap of $5.25 billion, Enable could be considered a mid-sized MLP.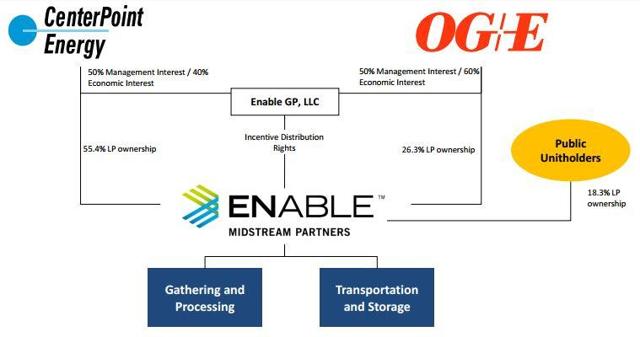 Click to enlarge
A majority of ENBL's assets are in the Stack and Scoop plays of the Anadarko fields, as described in the following graphic: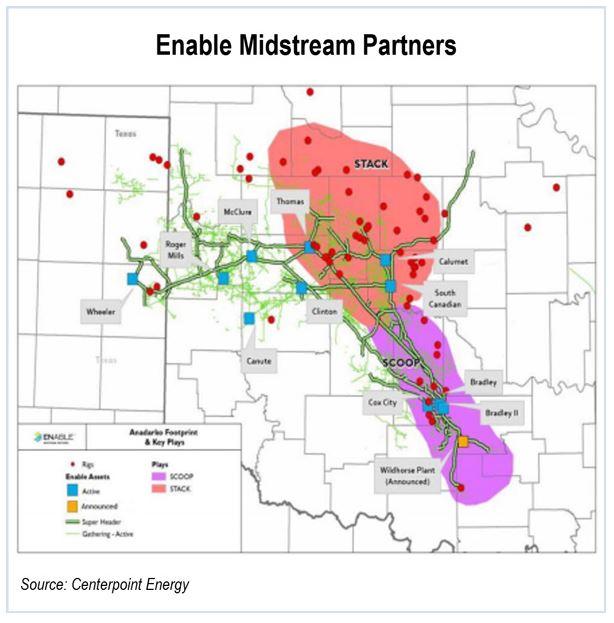 As shown in the graph below from the most recent investor's presentation, 2016 results are expected to be flat with 2015. While utility earnings are expected to expand, the growth will be offset by weakness in the midstream business.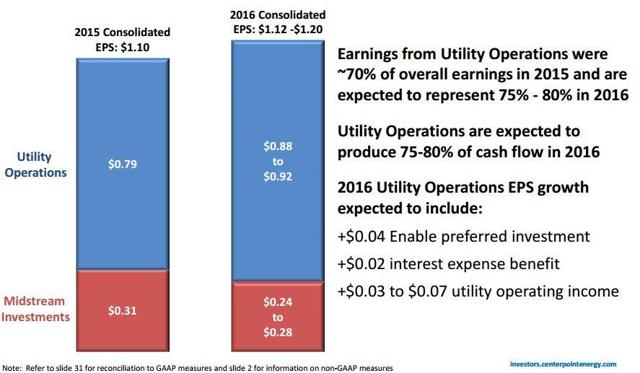 Click to enlarge
According to CNP's 2015 filings, Enable contributed $0.31 per share in adjusted earnings. Adjusted earnings of $213 million was down from $303 million reported in 2014. In 2015, the MLP distributed to CNP $294 million in cash income and was down slightly from $298 million paid in 2014, the first year of the MLP's operation.
A big chunk of Enable's business involves pipes and plants to gather and process natural gas and oil from fields. This business is more exposed to short-term swings in commodity prices than some other infrastructure assets, such as interstate pipelines. The collapse of oil and gas prices and ENBL's exposure to commodity pricing put pressure on ENBL's profitability. ENBL is expected to earn $0.72 per share this year and $0.82 next, down from $0.92 in 2014. In the past six months it has changed chief executives and cut its guidance for dividend growth.
CNP took a massive $1.8 billion write-down of the value of its investment in ENBL, reducing the book value from $4.5 billion to $2.6 billion. This write-down took CNP's 2015 earnings from an adjusted $1.10 per share to a loss of ($1.61).
To assist in relieving a bit of financial pressure on ENBL, in January, CNP swapped $363 million in 2017 maturing debt with 14.5 million shares of new issue 10% Fixed-to-Floating Non-Cumulative Redeemable Perpetual Preferred stock and a par value of $25. For CNP, while potential investment income increases, the level of credit security declines. For ENBL, the swap spruces up the balance sheet at a time when it was needed.
Below is an outline of 2015 annual reconciled net income, as reported in CNP annual report.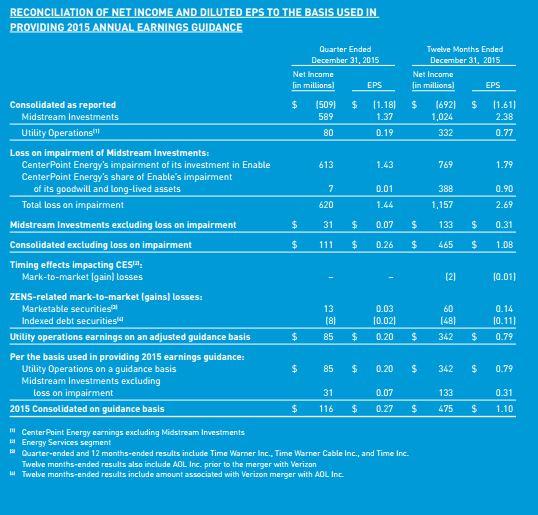 Last week, CNP made several announcements which could impact investor interest. The first is the decision not to pursue a REIT structure for its electric utility transmission assets. Texas regulators turned down a request by privately-held Hunt Consolidated to potentially structure a portion of the bankruptcy-court controlled assets of utility firm Oncor as a REIT. This set the stage for CNP to assume their efforts to structure a transmission REIT would produce the same outcome. Management announced it is no longer looking at independent strategic alternatives for its transmission assets.
Of more interest is the announcement management had triggered the right of first refusal ROFR clause in its joint venture agreement with OGE as it pertains to disposal of its interest in Enable. Before disposing of its ownership in ENBL, OGE has the first right to purchase, and by triggering this clause, CNP is sending a strong signal it is exploring alternatives for the transfer of its ownership position. The three basic alternatives are to 1) sell it to OGE; 2) spin off to current shareholders; 3) sell to a third party. By triggering the ROFR clause, options 1 and 3 are officially on the table. OGE is not obligated to actually respond to the notification, but its issuance moves ahead the process of disposal.
The question then becomes, how much is CNP worth with and without ENBL? Most analysts peg price targets not far from where shares are currently trading, with a range of $24 to $27. Below is a list of broker recommendations and target prices, as offered by marketrealist.com: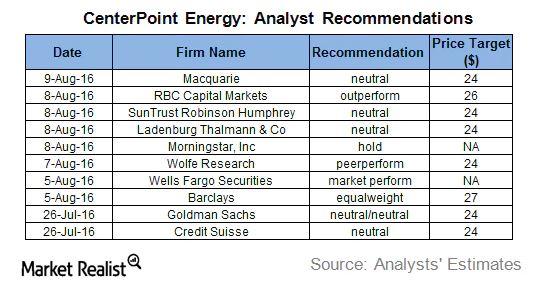 The overall tenant of these is a neutral stock recommendation with little capital appreciation on the horizon.
Columbine Capital offers the following graph comparing CNP's valuation and stock price momentum with a few of its peers. As shown, CNP offers a combination of undervaluation and good stock price momentum.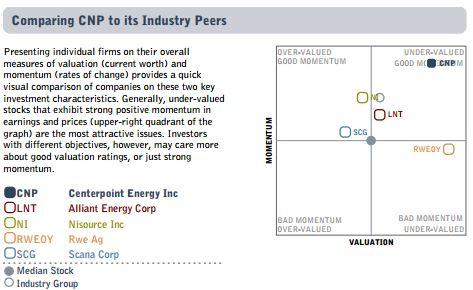 Source: Fidelity.com
Reviewing the sum of CNP parts creates about the same valuation. With $0.88 to $0.92 in 2016 utility earnings and an industry-average 5% expected growth rates, a small-cap valuation of 20 PE would equate to share prices of $17.60 to $18.40. With a current market cap of $5.41 billion, CNP's interest in ENBL could be valued at around $7.00 a share. Combined, valuation is in the neighborhood of $24.80 to $25.40
Looking at possible merger valuation based on EV/EBITDA produces a bit higher result. With 2015 EBITDA at $1.985 billion and a contribution of $295 million from ENBL, the utility produced about $1.69 billion. Recent large cap utility mergers have been completed at 9.6x EBITDA with small cap mergers at a range of 10.6 to 11.3x EBITDA. With $8.56 bil in total debt and 430 million shares out, at 11.2 x EBITDA, CNP's utility business could be valued at $22 to $24 a share. Combined, merger potential and MLP spinoff valuations for current shareholders is $29 to $31 a share.
An ENBL sale at present valuations could come with a large tax bill. If valued at $2.99 billion (55.4% of $5.41 bil market cap), the current book value of $2.6 billion could trigger a taxable gain of almost $400 million. However, a spinoff to shareholders could be proposed as a tax-free distribution.
Regardless of the financial vehicle utilized, a divorce of ENBL could generate increased interest among utilities in acquiring CNP. As the overall consolidation trend rolls along in the utility sector, a cleaner CNP with less MLP baggage could become more attractive to risk adverse, conservative utility managers.
While fully valued at current share prices without a merger premium, the 4.5% current yield is higher than many of its peers in the utility sector with similar dividend growth potential. The investment opportunity lies in both CNP income profile and potential of a spinoff of a high yielding MLP along with a higher potential for being acquired at a premium.
Personally, I would prefer a spinoff of ENBL to shareholders as I think over time the MLP business will regain its footing and unloading ENBL now is much like selling at the bottom of the MLP cycle.
Author's Note: Please review disclosure in Author's profile.
Disclosure: I am/we are long CNP, ENBL.
I wrote this article myself, and it expresses my own opinions. I am not receiving compensation for it (other than from Seeking Alpha). I have no business relationship with any company whose stock is mentioned in this article.