2016 has been a difficult year for Cameco (NYSE:CCJ), and given the company's latest second-quarter results that were released at the end of last month, it looks like the weakness is set to continue. Cameco had surprised investors by posting a loss in the second quarter as its revenue slipped by almost 18% from last year due to low pricing and weak demand.
More specifically, Cameco saw sales volume of uranium go down a massive 37% last quarter, which when combined with an 8% decline in uranium price hurt the company's financials badly. As a result of this weak performance, Cameco has been forced to lower its guidance for the full year as it now sees a 5%-10% decline in revenue, which is much below the consensus estimate.
As such, it is likely that the stock's performance on the market will continue to be weak in the short run even after declining more than 20% this year. However, I think that it will be a good idea for investors to accumulate Cameco shares on the weakness as it is well placed to benefit from a long-drawn recovery in the uranium market.
What gives?
Since the Fukushima disaster five years ago, a number of nuclear reactors have been shut down, especially in Japan. For instance, before the Fukushima disaster in March of 2011, there were 54 reactors operating in Japan. But since a tsunami struck the reactor and caused widespread damage, the number of reactors in Japan has come down to just two today.
At the same time, the usage of electricity using nuclear power has faced headwinds in markets such as Germany, where the cabinet plans on shutting down nuclear reactors entirely by 2022. Additionally, one of the main proponents of nuclear energy, France, which uses nuclear for over 75% of its electricity needs, has now decided that it needs to take that share down to 50%. These developments have created an oversupply scenario in the uranium industry, which is a key raw material in nuclear plants.
In fact, in April this year, uranium prices had dropped to 11-year lows on account of the oversupply in the industry, even as the likes of Cameco went about expanding production. This has further exacerbated the oversupply situation in the uranium market, which was already under severe pressure as there was three years' worth of inventory at 217,000 tons present in the market at the end of 2014. This number should have increased by now due to lower demand and the slow ramp up of new reactors.
More importantly, the declining prices of uranium have had a negative impact on Cameco's financials with its margins and cash flow taking a severe beating due to low prices, as shown below: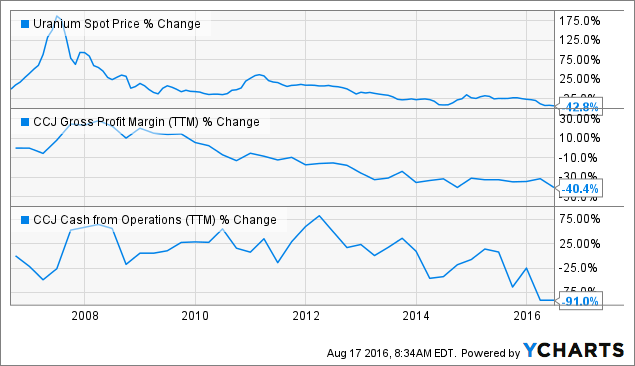 Therefore, in order to make a comeback, Cameco needs the support of better uranium prices or else it will continue to post weak results. However, investors need to understand the fact that a recovery in uranium is not going to take overnight, as bringing nuclear reactors online is a long-drawn process due to the regulations involved.
Why a uranium recovery will eventually take place
However, over the long run, the use of nuclear power to generate electricity will increase if we consider the number of reactors under construction. Currently, there are 60 nuclear reactors being constructed today, and of these, 65% are expected to be activated by 2019. These new reactors will take the total number of reactors in place across the globe higher by 2025, even after accounting for retirements. This is shown in the chart below: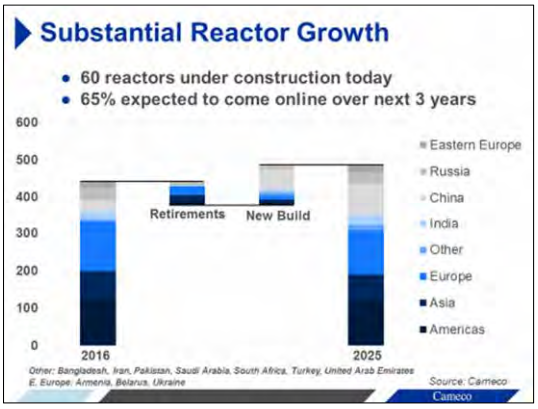 Source: Cameco
Thus, as more reactors come online, the oversupply in the uranium market will eventually start diminishing. This is because nuclear energy will play a key role in satisfying the increasing electricity demand going forward.
More specifically, until 2035, the world's electricity demand will increase to 31,772 TWh from 20,144 TWh in 2013. This means that electricity demand will increase by around 10,000 TWh in the next two decades. Now, nuclear energy is expected to account for 12% of total electricity generation by 2035, which means that it will account for 3,812 TWh of electricity by 2035.
This means that nuclear energy will account for 3,812,000,000 MW of electricity generation by the end of 2035. Now, to generate 1 MW of energy using nuclear power, 1 gram of uranium is needed. This means that on an annual basis by 2035, 3,812 tons of uranium will be needed to generate electricity. This is more than 50% higher than the 2,502 tons of uranium required for generating nuclear electricity back in 2012.
However, investors should note the fact that the recovery will take at least three years to play out as more reactors come online during this period. This means that a rally in uranium prices is still some time away, which is why Cameco is a stock that investors with a long-term horizon to buy. But, at the same time, investors should not ignore the fact that the company is doing its best to mitigate the end-market environment with its low-cost assets.
Cameco's low-cost assets will ease the pain in the meantime
Cameco has a robust asset base. In fact, the company has remained focused on enhancing its production from tier 1 assets with a low cost base. In fact, as shown in the chart given below, Cameco's unit cash cost of production has been trending lower than the realized average price over the years: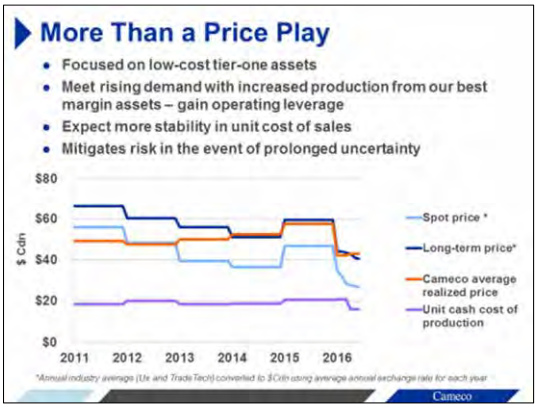 Source: Cameco
The reason why Cameco has managed to keep its costs below the realized price of uranium is because of two key assets - McArthur River and Cigar Lake - which have high grades and a strong reserve profile. For instance, at McArthur River, Cameco has proven and probable reserves of almost 235 million pounds with an average uranium grade of 10.94%.
On the other hand, Cigar Lake carries a greater grade of 16.70% with proven and probable reserves of 110.9 million pounds. More importantly, the grades at these mines are way higher than the average uranium mine grade of 0.10% that's prevalent across most of the uranium mines globally. This makes McArthur River and Cigar Lake one of the highest-grade uranium mines globally.
More importantly, Cameco is reaping the benefits of these mines as its production cost last quarter dropped 34% year-over-year to around $21 per pound even as production rose 30%. This decline in costs was way higher than the 8% drop in realized uranium prices last quarter. Thus, Cameco is taking advantage of its high-grade assets as it is able to mine more uranium ore with less waste stripping, which leads to higher production at lower costs.
Conclusion
Cameco has been beaten down as a result of the weakness in the uranium market, but the company is doing well to keep costs below pricing. In the long run, as uranium demand increases due to higher nuclear electricity generation, the oversupply in the end-market will diminish and help Cameco make a comeback. As a result, it will be a good idea to accumulate Cameco shares for the long run since an improvement in the end-market will bring about a turnaround.
Disclosure: I/we have no positions in any stocks mentioned, and no plans to initiate any positions within the next 72 hours.
I wrote this article myself, and it expresses my own opinions. I am not receiving compensation for it (other than from Seeking Alpha). I have no business relationship with any company whose stock is mentioned in this article.