By Eric Wesoff
First Solar (NASDAQ:FSLR) is the largest solar module firm by market capitalization, the largest thin-film solar firm, and one of the largest solar firms by capacity and shipments, and certainly by cumulative profits. The company is in the cross hairs of every other solar firm and continues to set the bar in terms of solar panel value and corporate performance.
But times are hard.
CEO Mike Ahearn said the firm's "quarter was impacted by an aggressive competitive environment, an uncertain regulatory environment, warranty-related charges, and restructuring costs incurred to help position our business for the future."

The firm has announced its fourth quarter and 2011 full-year financials. Here are the highlights:
Given the adverse market conditions, First Solar is putting its Mesa, Arizona production facility on hold indefinitely.
Fourth-quarter production was 540 megawatts with net sales of $660 million, down from $1 billion last quarter.
Net sales were $2.8 billion for 2011.
First Solar is addressing a product failure issue which will cost hundreds of millions beyond its product warranty. The CEO, Mike Ahearn, referred to the product failure as a manufacturing excursion.
Average conversion efficiency improved by 0.6% over the course of the year to an average of 12.2% - an encouraging number.
In January of this year, the first 30-megawatt block of the Agua Caliente project was energized.
Average module manufacturing cost was reduced to $0.73 per watt, down $0.02 from the fourth quarter of 2010.
The company's project pipeline is now 2.7 gigawatts AC.
First Solar's updated 2012 guidance:
Net sales reduced from $3.7 billion to $4.0 billion to $3.5 billion to $3.8 billion;

The management also noted during the conference call that the manufacturing utilization rate in the EU will be at only 60% to 70%, necessitating the closure of four production lines at the Frankfurt Oder plant. On the positive side, the company expects capacity per line to increase to 90 megawatts per line in 2014.

Deutsche Bank forecasted fourth quarter revenues of $751 million, module shipments of 535 megawatts and gross margins of 57.5%. Deutsche Bank sees strong momentum in India, but expressed concern over First Solar's backlog.
Click to enlarge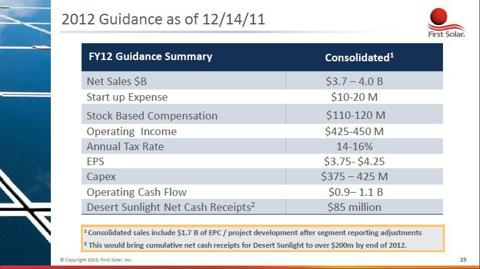 Click to enlarge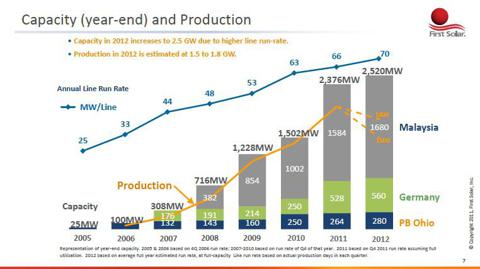 Click to enlarge