Berkeley soda tax is working. According to American Journal of Public Health, sugary drinks sales in Berkeley declined 21% after the implementation of an excise tax of one cent per ounce. As the low-income household are more prone to an additional tax on sugary drinks, the reaction isn't surprising at all. However, the faster-than-expected drop in consumption is something beverage companies should worry about, and the initial results in markets such as Berkeley and Mexico have shown that soda taxes can create a ripple effect.
PepsiCo (NYSE:PEP), in collaboration with other beverage companies, is fighting soda taxes, but most importantly the company is making quick moves to cut the calories and introduce new organic products. After betting big on craft soda with its line of new Stubborn soda, PepsiCo is rolling out an organic version of its leading sport-drink brand Gatorade to benefit from growing demand. Although growth pace has slowed to single-digit in the U.S., the global sports and energy drink market will grow at a double-digit CAGR of 11% by 2019.
More Snacks
PepsiCo has built a well-diversified portfolio of growing snacks brands, but the top-line is still declining steadily. Since 2011, PepsiCo's revenue stream has squeezed at an average rate of 1.6% while the net income has slipped at a higher rate of 4.6% due to the poor performance of soft drink brands, especially diet Pepsi. The revenue contribution of 25% from carbonated soft drinks is significant enough to weigh on PepsiCo's future growth amid continued weakness in sugary drinks market.
The global snacks food market will reach $630 billion by 2020, driven by robust demand for organic, gluten-free non-GMO snacks. As the dynamics of snacks food are comparatively favorable, PepsiCo should make more aggressive efforts in snacks business to revive the overall growth. Snyder's Lance (NASDAQ:LNCE), the second largest salty snacks company in the U.S., can complement the growth story of PepsiCo snacks business.
According to Statista, crackers and potato chips are the two largest categories in the U.S. salty snacks market while pretzels are ranked sixth. Snyder's Lance holds the leading market position in pretzels, sandwich crackers, and kettle chips categories with the help of brands like Lance, Cape Cod, and Snyder's of Hanover.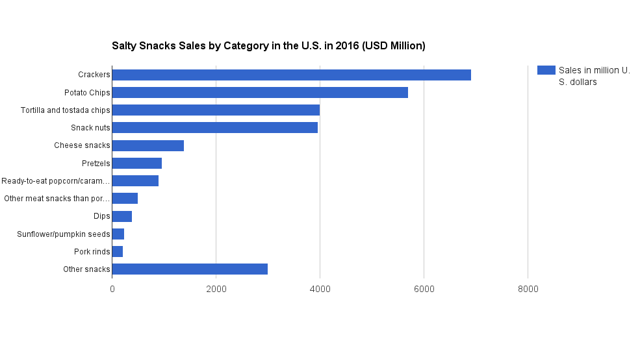 Click to enlarge
Source: Statista
Snyder's Lance is an attractive acquisition target for PepsiCo due to its resilient sales performance while several other processed food companies have struggled, which is evident from the fact that Snyder's Lance has recorded an organic compounded annual growth rate of 4% between 2011 and 2015. Most importantly, PepsiCo can unlock the hidden potential of Snyder's Lance brands by providing the global reach.
Snyder's Lance can easily fit in PepsiCo's premium snacking strategy, which revolves around consumer willingness to pay extra for healthy food and beverage brands. Snyder's Lance is executing initiative that will help the company build a bigger portfolio of premium and differentiated products through innovation and renovation of existing brands. In this regard, Snyder's Lance has strengthened its position in premium popcorn category with the acquisition of remaining 74% stake Metcalfe's skinny.
The product portfolio of Snyder's Lance is differentiated enough to complement the growth prospects of Frito-Lay. Snyder's Lance management has extended organic snacks efforts to capture the bigger share of the premium organic market, and the initiatives are quite successful. The gluten-free sandwich crackers boosted the crackers with fillings category sales to $298 million for the 52-weeks ended June 12, which is an increase of 11% over the same period last year. The company is also refreshing specialty line of pretzels and rolling out all-important new organic versions to strengthening market position in organic snacks marketplace.
According to IRI, the U.S. salty snacks market recorded 4% growth during the first six months of 2016 due to healthy demand for corn-based snacks and potato chips. PepsiCo snacks brands are delivering consistent growth. Smartfood and Smartfood Delight from Frito-Lay recorded robust growth of 40% and 80%, respectively. Similarly, the well-established brands such as Doritos and Cheetos are also contributing towards the growth of Frito-Lay North America.
Frito-Lay dominates the potato chips market, but the addition of Snyder's Lance can create a growing powerhouse as Kettle and Cape Cod sales are also growing at a healthy pace due to renewed innovation efforts.
PepsiCo Can Fix The Problem
Despite having several top notch brands, Snyder's Lance has comparatively low gross margin due to some inefficiencies in procurement, production, and supply chain. However, Snyder's Lance cannot dilute profit margins of PepsiCo due to massive difference between the size of two companies. As highlighted by the management, Snyder's Lance has some significant operational weaknesses, which PepsiCo can fix to generate expenses synergies.
First off, PepsiCo and Snyder's Lance may have different recipes and production processes, but the primary raw material is the same. PepsiCo has much larger and efficient procurement system, and economies of scale due to bulk orders can generate more procurement savings.
The deployment of assets is not impressive as Snyder's Lance generated a return on assets of just 2.8%, as compared to PepsiCo's return on assets of 7.9%. The inefficient utilization is evident from the fact that Snyder's Lance has recorded a cumulative impairment charge of approximately $26 million over the past ten quarters, which quite significant given the size of net fixed assets base $530 million at the end of second quarter 2016. Moreover, the depreciation to sales ratio of 4.2%, as compared to 3.80% of PepsiCo, means an improvement in assets quality can generate productivity gains.
Another challenge is that Snyder's Lance generates 78% of total revenue from own brands while the remaining comes from manufacturing of third-party brands. In my opinion, only core brands of Snyder's Lance would be enough for PepsiCo. Thus, PepsiCo can slash the non-core business to generate expense synergies while providing the global exposure to Snyder's Lance brands can unlock sizeable revenue synergies.
For 70% of total sales, Snyder's Lance depends on the direct-store-delivery network comprised of 3,100 routes operated by the IBOs concentrated in one-half of the United States. On the other hand, PepsiCo runs more than 17,000 routes in North America, which means geographical expansion of Snyder's Lance under PepsiCo can generate a sizable value for the shareholders.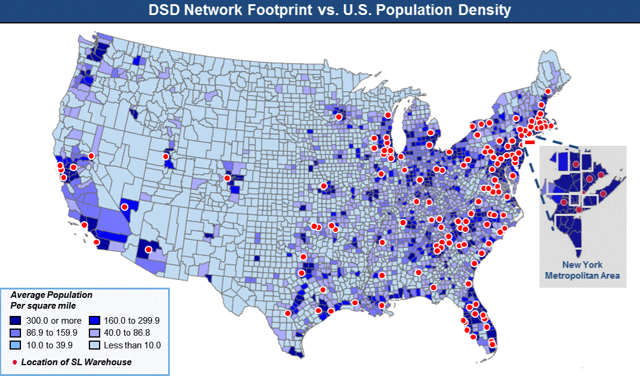 Click to enlarge
Source: Investors Presentation
Not A Great Option Right Now
According to TheStreet (NASDAQ:TST), in July PepsiCo CFO Hugh F. Johnston said;
"We expect to do small tuck-in acquisitions."
At the end of second quarter 2016, PepsiCo had operating cash flows of $2.9 billion while cash and cash equivalents were $9.6 billion. Another $3.7 billion were present in the form of short-term investments. With an enterprise value of $4.7 billion, Snyder's Lance is a good target for PepsiCo financially as well as strategically. PepsiCo can absorb Snyder's Lance without any significant increase in the leverage ratio.
PepsiCo shares have rallied 18% over the past twelve months and outperformed the industry average total return of 13.9%. With muted growth potential in the near to medium-term and forward price to earnings multiple of 21 times, PepsiCo is not a great option right now and buying on some weakness for the long-term would be a good idea.
Disclosure: I/we have no positions in any stocks mentioned, and no plans to initiate any positions within the next 72 hours.
I wrote this article myself, and it expresses my own opinions. I am not receiving compensation for it (other than from Seeking Alpha). I have no business relationship with any company whose stock is mentioned in this article.