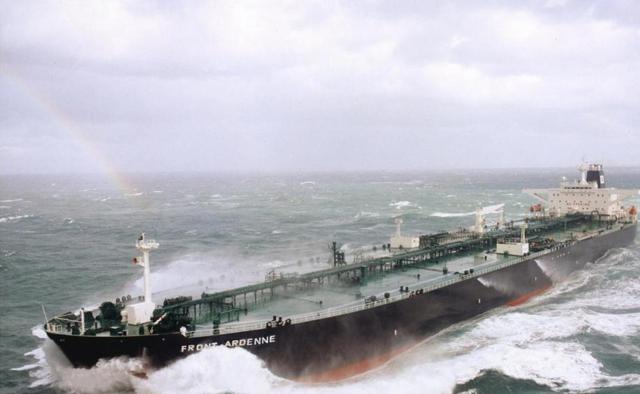 Click to enlarge
Source: worldmaritimenews.com
Ship Finance International (NYSE:SFL)
This article is an update of my preceding article on SFL published on June 1, 2016 about the 1Q'16 results.
Complete and most recent fleet analysis as of August 2016:
1 - Crude oil tankers (VLCC and Suezmax)
#
Vessel: Oil Tankers
Nature of contract

Year

built

Flag
a) Oil tankers: Suezmax
1
Front Ardenne
Frontline (T/C)
1997
MI
2
Front Brabant
1998
MI
3
Glorycrown
Short-term
2009
MI
4
Everbright
2010
b) Oil tankers: VLCC (Very Large Crude Carriers)
1
Front Century
Frontline (T/C)
1998
MI
2
Front Circassia
1999
3
Front Scilla
2000
4
Front Ariake
2001
BS
5
Front Falcon
2002
6
Front Page
2002
LIB
7
Front Serenade
2002
8
Front Stratus
2002
9
Front Hakata
2002
LoM
10
Front Force
2004
Cyprus
11
Front Energy
2004
T/C : Time charter
Note: The company's VLCC and Suezmax tankers are chartered to Frontline Ltd. (NYSE:FRO) and Frontline Shipping II Ltd. on a long-term contract with a fixed rate from 4 to 13 years. From the conference call, M. Ole Hjertaker, CEO, said:
And in addition, we also have the dividend potential from our $11 million Frontline shares with a dividend payout of $2.2 million due in the third quarter alone based on the $0.20 dividend announced today. In total, we will then have received more than $13 million in cash dividends from Frontline the last 12 months.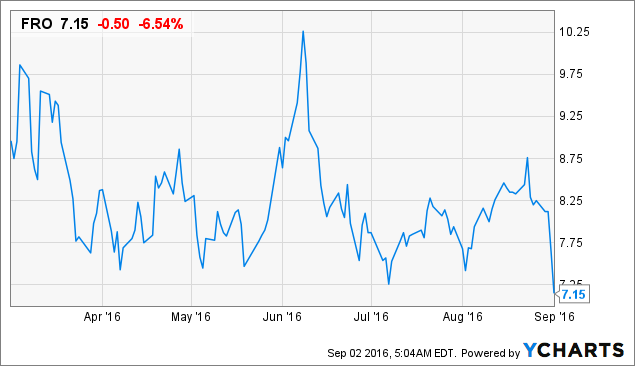 2 - Dry Bulks
#
Vessel: Dry Bulks

Nature of contract

(Chartered to)

Year

built

Flag
1
SFL Tyne
Western bulk
2012
HK
2
SFL Clyde
2012
3
SFL Dee
2013
4
SFL Spey
Short-term (T/C)
2011
5
SFL Medway
2012
6
SFL Kent
2012
7
SFL Trent
2012
8
SFL Hudson
Glovis (T/C)
2009
9
SFL Yukon
2010
10
SFL Sara
2011
11
SFL Kate
2011
12
SFL Humber
2012
13
Sinochart Beijing
Sinochart
2012
14
Min Sheng 1
2012
15
Golden Magnum
Golden Ocean (T/C)
2009
16
Battersea
2009
17
Belgravia
2009
18
Golden Zheijang
2010
19
Golden Future
2010
20
Golden Beijing
2010
21
Golden Zhoushan
2011
22
KSL China
2013
3 - Containers
#
Vessel: Containers

Nature of contract

(Chartered to)

Year

built

Flag
1
Green Ace
Heung-A (B/B)
2005
Malta
2
Heung-A Green
2005
3
SFL Europa
Short term (T/C)
2003
MI
4
SFL Avon
2010
5
SFL Tagus
2016
6
SFL Tiber
2017
7
MSC Vaishnavi R.
MSC (B/B)
2002
LIB
8
MSC Julia R.
2002
9
MSC Arushi R.
2002
10
MSC Anisha
2002
11
MSC Katya
2002
12
MSC Zlata
2002
13
MSC Vidhi
2002
14
MSC Margarita
2001
15
MSC Vidisha
2002
16
San Felipe
(T/C) Hamburg Süd
2014
MI
17
San Felix
2014
18
San Fernando
2015
19
San Francisca
2015
20
Maersk Sarat
2015
21
Maersk Shivling
2016
22
Maersk Skarstind
2016
From the conference call M. Harald Gurvin said:

We have now taken delivery of all three container vessels to Maersk Line. The last vessel was delivered in May and we will have full cash flow effect in the third quarter. The charter period is five-year fixed plus two optional years and we estimate average EBITDA from these vessels to more than $32 million per year after all vessels [indiscernible] have been delivered.
4 - Offshore drilling and supply
#
Vessel: Offshore drilling and supply
Nature of contract

Year

built

Flag
1
Semi-submersible: West Taurus
Seadrill (B/B)
2008
Panama
2
Semi-sub: West Hercules
2008
3
Jackup: West Linus
NADL (B/B)
2014
Norway
4
Jackup: Soehanah
Apexindo (B/B)
2007
Panama
5
PSV Sea Pike - PSV
Deep sea supply (B/B)
2007
Cyprus
6
PSV Sea Halibut - PSV
2007
7
AHTS Sea Leopard - AHTS
1998
8
AHTS Sea Cheetah - AHTS
2007
9
AHTS Sea Jaguar - AHTS
2007
5 - Chemical and Car Carriers
#
Vessel: Containers

Nature of contract

(Chartered to)

Year

built

Flag
a) Chemical Carriers
1
Maria Victoria V
Sinochem (B/B)
2008
Panama
2
SC Guangzhou
b) Car Carriers
1
Glovis Conductor
Glovis (T/C)
2006
Panama
2
Glovis Composer
2005
HK
c) Product Tanker
1
SFL Sabine
Phillips66
2017
UK?
2
SFL Trinity
2017
UK?
The 2 vessels have been chartered out on time charter basis for a period of seven to 12 years to Philip 66. The exact period will be set later this year but the minimum period represents a backlog of approximately $113 million.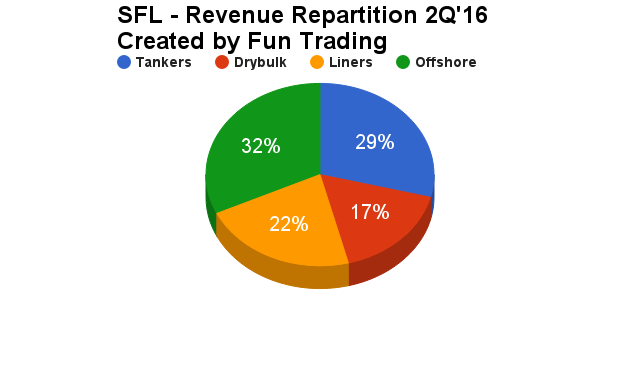 Backlog: SFL increased to $4.0 billion in 2Q'16.
M. Ole Hjertaker, CEO, said in the conference call:
We have a $4 billion fixed-rate order backlog after our recent acquisitions.
Second-quarter 2016 results snapshot
Presentation 2Q'16 click here.
Conference call transcript from Seeking Alpha, click here.
Q2 '16
Q1'16
Q4'15
Q3'15
Q2'15
Q1'15
Q4'14
Q2 2014

Charter Operating revenues

in $ million

113.991
117.583
113.914
110.712
92.03
90.09
88.66
83.17
72.99

EBITDA

in $ million

128.0
139.47
141.97
135.51
125.0
127.14
148.8
146.0
128.9

Net income

in $ million

38.812
46.799
54.293
45.49
67.94
33.11
45.486
34.59
22.36

EPS

in $

0.42
0.50
0.58
0.49
0.73
0.35
0.27
0.37
0.24

Long-term debt (interest-bearing)

in $ billion

1.5471
1.506
1.4584
1.562
1.259
1.331
1.550
1.46
1.33

Dividend per share

$

0.45
0.45
0.45
0.45
0.44
0.43
0.42
0.41
0.41

Vessel impairment charge

$ million

0
0
13.249
0
29.16
0
11.8
-
-

Cash on hand

$ million

82.016
84.426
70.175
60.28
61.57
49.73
50.818
32.62
49.48

Shares outstanding

in million

93.505
93.505
93.468
93.468
93.468
93.413
93.404
93.394
93.359
Liquidity 2Q'16 in the conference call m. Harald Gurvin said:
we showed $82 million of consolidated cash at the end of the quarter, excluding amounts freely available for drawdown under revolving facilities available-for-sale securities of $120 million includes investment in senior secured bonds with a fair value of $33 million at quarter-end and also our 11 million shares in Frontline.
Commentary:
Ship Finance International released its 2Q'16 results on August 31, 2016. Another solid quarter with operating revenues of $113.991 million down slightly 3.05% quarter over quarter. To highlight the financial strength of the company, M. Harald Gurvin, CFO, said in the conference call:
The Company has no bank or bond maturities until the fourth quarter 2017, while we continue our scheduled debt amortization of close to $50 million per quarter and we're in compliance with all financial covenants under our loan agreement at quarter-end. It is worth noting that not only has Ship Finance been profitable and paid dividends each of the 50 quarters since the Company was established, we have also been in full compliance with all financial covenants on our loan agreement which gives us a very strong standing in the bank market.

Click to enlarge
Yes, it is tiring to cover a successful company who is paying over 12% dividend and has a good future prospect, right?
This type of companies is not what people liked to talk about. SFL is a boring successful money making company and it is really the bottom line for long term investors.
On the credit front SFL is solid and have extra-leverage to expand at low cost. However, I really liked the words of caution from M. Ole Hjertaker, CEO, about the Hanjin bankruptcy and the liners.
We have refrained from doing long term charters with those entities simply because of the risk of this happening.
Also, M. Ole Hjertaker, mentioned Seadrill but did not offer any new news in the conference call.
Seadrill has announced that they are in a dialogue with the banks and other stakeholders in order to negotiate a broader package of measures to improve liquidity and bridge them to a recovery in the market. This is expected to take some time to complete and they guide towards the end of the year. We cannot of course comment on this process,
Finally, SFL announced an adjusted neutral agreement with Deep Sea Supply -- From the presentation.
• 5 vessels on charter since 2007/2008

• Temporarily reduced charter rates until May 2018, in exchange for: 1 - 3 year extension of charter = $21m net increase in backlog; 2 - Optionality through new 50% profit share above base rates Charter; 3 - guarantee from stronger entity.

• Net distributable cash flow remains unaffected
Conclusion:
SFL is reporting a substantial backlog of $4 billion, that should please and reassure investors for the long-term outlook. This security level, which is about 8 to 10 years of operating revenues is sustaining the actual dividend payment, which is what the street finds appealing.
Most of the SFL fleet is chartered out on a long-term basis, at a fixed rate, that translates to a stable stream of revenues and predictable earnings.
Long-term debt is $1.54 billion, with a ratio, net debt to EBITDA at around x2. 7, which is excellent and give an extra bonus to the company that can take care of opportunities when they arise, using an easy financing.
However, the real strength of the company is that it is involved in a wide range of shipping activities with a strong oil tankers' segment.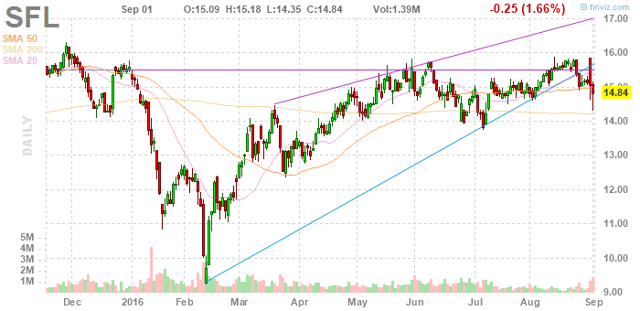 SFL has been trading in a short range since June, and I expect this trend to remain constant until the end of 2016. An important support is the 200MA at $14.24. I recommend to accumulate SFL on any weakness such as what SFL experienced in February.
One last comment is about the 11 million shares of FRO that SFL owns. I would prefer to see SFL to sell its stake on any strength. I believe the company missed a good chance to sell its stake at $10 recently.
Important note: Do not forget to follow me on SFL and the oil sector. Thank you.
Disclosure: I am/we are long SFL.
I wrote this article myself, and it expresses my own opinions. I am not receiving compensation for it (other than from Seeking Alpha). I have no business relationship with any company whose stock is mentioned in this article.