By Paul Price
Dr. Paul Price is a regular contributor to the LCP newsletter. To receive timely trade ideas from Paul, take a trial here.
What's the best that can happen if you buy bonds at par and hold to maturity?
You'll collect the stated coupon rate and see the return of your principal with no chance for capital gain. As of September 1, 2016, single A-rated corporate bonds were paying 0.92% for two years, 1.56% for five years or 2.42% for a whole decade's commitment.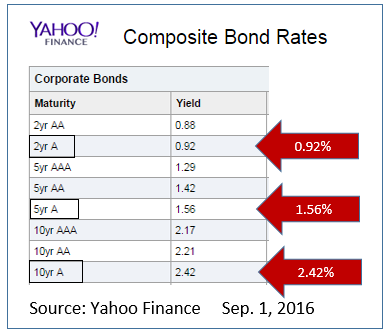 Those yields are not only unexciting, they are taxable and subject to the very real effects of inflation. Locking in currently available rates on investment grade paper virtually guarantees a loss in true purchasing power over time. Ouch.
Income-oriented investors might want to look at common shares of The Buckle (NYSE:BKE), which took a hit on Thursday after same store sales data came in at disappointing levels.
As of Sep. 1, 2016, BKE was trading at $24.50, down 5% on the day. Before tuning out on this idea remember that "you rarely get hurt jumping out of basement windows." From this price the upside appears more likely than a further sell off.
Buckle is definitely investment grade. It consistently makes money and pays generous dividends while sporting a flawless balance sheet.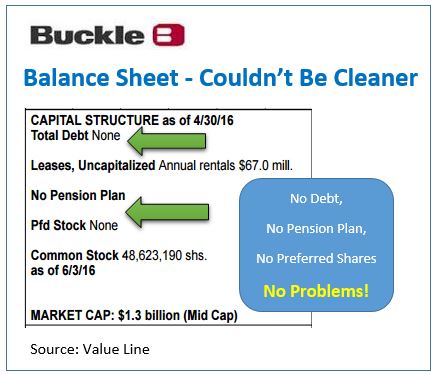 At $24.50, the 25-cent quarterly regular dividend payment serves up a 4.08% current yield. That is attractive in its own right versus the corporate bond rates detailed earlier. Management shares the wealth via special payments, too, with amounts that vary with free cash flow fluctuations.

Click to enlarge
The $1 per share FY 2015 (FY ended Jan. 30, 2016) extra was paid this past January.
Buckle's long-term P/E has averaged 12.9x. Its typical regular yield is only about 2.09%. Both metrics now offer much better than normalized value. BKE's Sep. 1 st multiple is the third best since the end of 2009.
Traders did well with the other two. 2010's nadir preceded a 12-month move from $23 to $48. Buyers at this year's $22 bottom were ahead by 11.4%, even after Thursday's disaster. Patient buyers are almost certain to get a chance to trade out for nice percentage gains at some point in the reasonable future.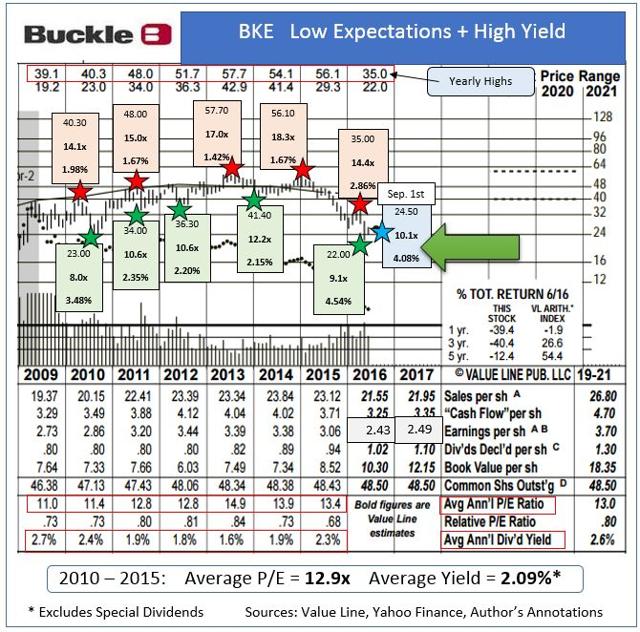 Click to enlarge
Occasional glimpses of positive trends get traders to bite on BKE with some regularity. Exit opportunities presented themselves at 14x to 17x (red-starred on the chart) around every one or two years.
Option writers can use the latest dip to collect terrific put premiums on options dated Mar. 17, 2017. Worst-case net forced purchase prices would be about $20.60 or $21.90 on the $22.50 and $25.00 strike prices respectively.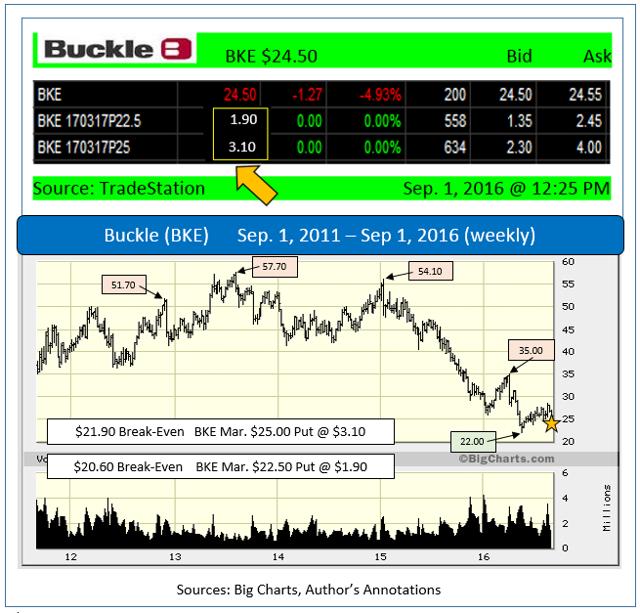 Click to enlarge
Even the more aggressive of those strikes would take the "if exercised" price to below BKE's absolute low since 2009.
Buckle is solid, management remains capable and friendly. Buy the shares, sell some puts or consider doing both while the stock is depressed.
Disclosure: Long BKE shares, short BKE covered calls, short BKE naked puts.
Disclosure: I am/we are long BKE.
I wrote this article myself, and it expresses my own opinions. I am not receiving compensation for it (other than from Seeking Alpha). I have no business relationship with any company whose stock is mentioned in this article.