The period between the Fourth of July and Labor Day, a.k.a. the driving season, is traditionally a period of de-stocking for both crude oil (NYSEARCA: USO) and refined products in the U.S. as refineries increase their runs and consumers jump into their cars for trips to the beach. At the end of the season, refineries tend to reduce their runs to perform maintenance work, thus leading to an accumulation of crude oil inventories during the fall. As a result, a drawdown of inventories during the driving season is essential to prevent imbalances in supply and demand for crude oil during the shoulder months.
Much has been written during the last couple of weeks about surging inventories of gasoline and distillate products. At the same time, domestic production has been declining since the beginning of the year and the official statistics portray an environment of very low unemployment and reasonably strong GDP growth.
But with two weekly inventory reports to go, how does the 2016's driving season compare against history? In this report we take a look at the hard data to analyze inventory changes during the driving season as well ending inventory levels.
Domestic Inventories of Crude Oil and Refined Products
A picture is worth 1,000 words, so we start with a table that summarizes inventory changes in crude oil and refined products during the driving season for the last 10 years. For 2016, we are including eight weeks instead of 10, since there are still two weekly EIA inventory reports to go until the driving season for the year ends.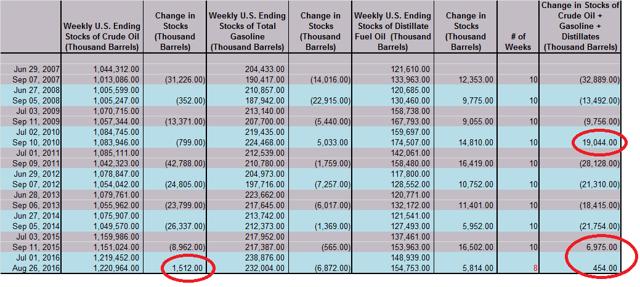 Click to enlarge
Source: EIA, Bearington Partners
Crude oil: With two weeks to go, the summer of 2016 is poised to be the only year during the last 10 when crude oil inventories did not decline during the summer. Not even in the depths of the Great Recession (2008) did crude oil inventories rise during this period. Although a build of 1.5 million barrels may seem like a small number, that compares against a usual drawdown of around 25-30 million barrels during the same period.
Since there is seasonality in crude oil utilization, de-stocking of inventories during the summer is important to prevent a glut of oil from forming during the shoulder season (fall) when refineries take some of their capacity offline for maintenance.
The build in crude oil stocks during the summer also is notable because inventories will end at record levels not only domestically but globally.
Gasoline: Inventories of gasoline actually behaved normally during the summer but are nonetheless at very high levels for this time of the year. As gasoline is more difficult to store than crude oil, these high inventory levels will certainly create problems during the coming months.
Distillates: Distillate inventories built up during the summer as has been the case every year during the last 10, since seasonal patterns are different for gasoline than for distillates. Regardless, on an absolute basis, ending inventories are very high.
Crude Oil + Gasoline + Distillates: There are only three years in which the balance of crude oil and refined products increased during the summer. 2010, coming out of a recession and 2015, when crude oil production both domestically and abroad jumped to unprecedented levels to try to compensate for declining oil prices.
This year, inventories for the full complex will likely rise again. In any case, even if consumption over the holiday weekend tilts inventory levels towards a small decline, it will still be a very far cry from the usual draw of about 20 million barrels of crude oil and refined products during the driving season.
Implications for Oil Prices:
The implications for oil markets are clearly negative as panic could spread when inventories start accumulating during the shoulder season on top of what already are very high inventory levels.
Below is a graph of crude oil prices for the last two years. Note that the bottom occurred earlier this year when fears over "overflowing storage" in the U.S., as well as a potential credit and/or currency crisis in emerging markets, drove prices briefly below $30/bbl. The market started to rebound only when OPEC began circulating rumors about a production freeze.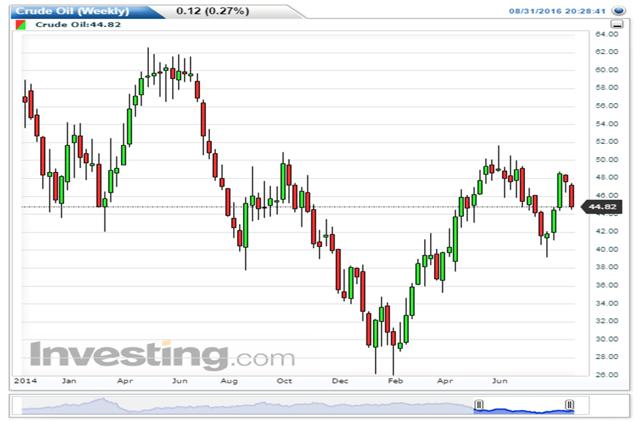 Click to enlarge
Source: Investing.com
Conclusion:
With two weeks to go, 2016's summer season will likely end up as the worst season for inventory de-stocking in the last 10 years, with the possible exception of 2010, when the world was still recovering from the Great Recession and a combination of weak demand, both domestically and abroad, along with the second order effects of quantitative easing generated a glut of petroleum products, particularly of diesel. There are still two EIA inventory reports to be released before the driving season ends, however our conclusions are unlikely to change.
In Part II of this report, we will examine ending inventory levels domestically as well as changes in storage levels by district (in the relevant districts) to try to anticipate market behavior during the coming months. We will also take a look at global inventory levels.
Disclosure: I/we have no positions in any stocks mentioned, and no plans to initiate any positions within the next 72 hours.
I wrote this article myself, and it expresses my own opinions. I am not receiving compensation for it (other than from Seeking Alpha). I have no business relationship with any company whose stock is mentioned in this article.