Weekly Review
Heading into Labor Day weekend, REITs (NYSEARCA:VNQ) finally snapped a four-week losing streak, gaining 1.25% after falling for four consecutive weeks.
This weekly gain comes despite the 10-year yield finishing flat from last week's close and investment grade bonds retreating slightly. A softer than expected jobs report weakened the Fed's case for a September interest rate hike, sending the rate-sensitive real estate sectors higher on the week.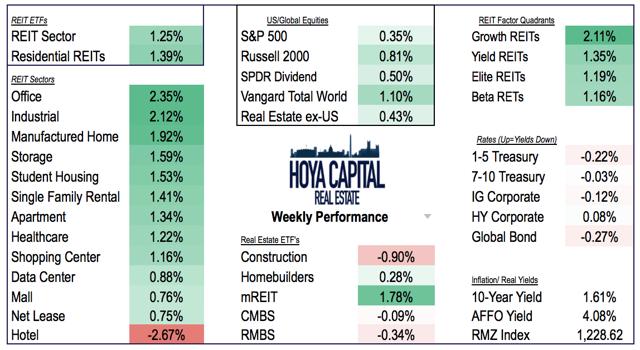 Click to enlarge
(Performance as of 2pm Friday)
With a flurry of economic data released, the focus this week was once again on yields. The intermediate term Treasury ETF (NYSEARCA:IEF) finished roughly unchanged. Credit spreads in commercial bonds stayed fairly static, as well. Investment grade bonds (NYSEARCA:LQD) finished slightly lower while high yield bonds (NYSEARCA:JNK) finished slightly higher.
After recording a record high on August 1, REITs have retraced roughly 4%, but remain higher by over 11% YTD.
The S&P 500 (NYSEARCA:SPY) sector finished the week higher by 0.35%, outpaced by the Russell 2000 (NYSEARCA:IWN) and global equities (NYSEARCA:VT).
Across the other areas of the real estate sector, mortgage REITs (NYSEARCA:REM) finished the week higher by nearly 2%. The homebuilder ETF (NYSEARCA:ITB) finished higher by 0.3%, matching last week's gained after strong new housing data. Commercial construction and engineering ETF (NYSEARCA:PKB) finished lower by 0.9%.
The ex-US real estate ETF (NASDAQ:VNQI) continued to reverse some of its quarterly outperformance over US REITs, finishing the week higher by .43%, trailing the VNQ. On a similar note, the SPDR dividend ETF (NYSEARCA:SDY) finished higher by 0.5%.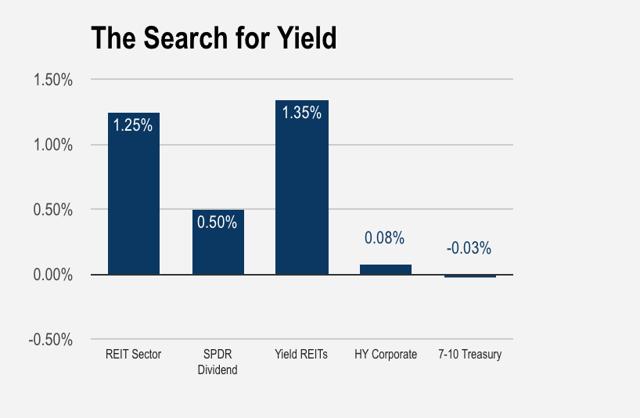 Click to enlarge
Sector Performance
Despite the weaker than expected jobs report, office REITs led the charge higher, while hotel REITs were the only sector in the red.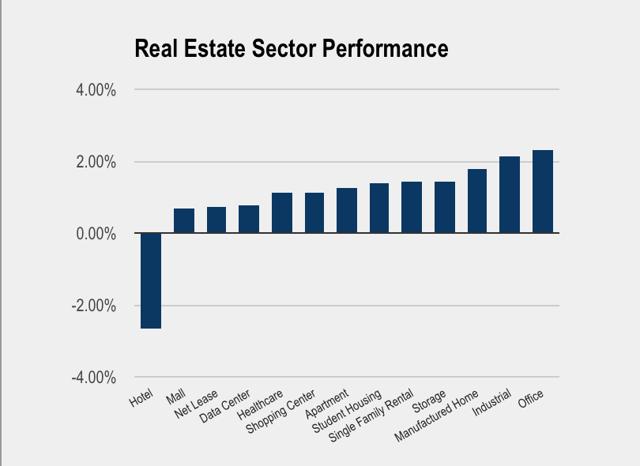 Click to enlarge
Over the prior six months, single family housing (47% gain), industrial (38% gain), and office REITs (25% gain) have quietly led the surge higher.
August Performance
As August turns to September, we show the performance of the real estate sector over the prior month. August was unkind to the REIT and commercial construction sector.
REITs had their worst month of 2016 as higher interest rates slammed some of the most interest-rate-sensitive REIT sectors.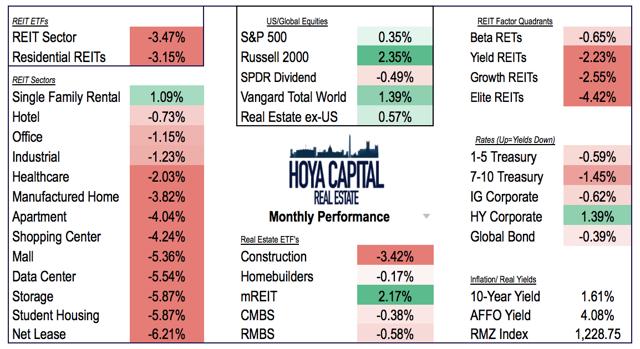 Click to enlarge
Economic Data
All eyes are once again on the Fed. Weak ISM manufacturing data, combined with a softer than expected jobs report lowered expectations for a September rate hike, sending the short-end of the curve down. Slower than anticipated wage growth, in our opinion, went a long way in weakening the case for an immediate hike. Despite this, Fed-speak continues to be on the hawkish-side.
Although interest rates, particularly on the short-end, have very little effect on the actual fundamental performance of REITs, they do have a direct impact on the multiples that investors are willing to pay for REITs and their underlying properties. This nuance is often muddled by financial pundits, who fail to distinguish between operating performance and the justified valuation of that performance. We focus intently on interest rates and credit spreads, as they determine the justified AFFO yield.
The current AFFO yield is roughly 4.1% compared to investment grade bonds which yield 3.3% and high yield bonds which yield 6.3%. We are currently in the process of refining a relative valuation models that examine recent historical cash flow (AFFO) yields relative to various interest rates and equities. The current relative valuation of REITs is in-line based on 3-5 year averages, and cheap compared to 1-year averages, even despite REITs strong price performance YTD.

Click to enlarge
On a more fundamental level, one of the most useful data points we look at is buried in the non-farm payroll data: construction employment.
We view construction employment as one of several leading indicators of future new supply of real estate. The robust performance of REITs since the recession has been driven by a relative lack of supply: many renters competing over a limited supply of properties, sending vacancy to record lows and rents to record highs.

Click to enlarge
From a longer-term perspective, we can see that the rapid growth in construction employment appears to continue to level off. The boom-bust cycle highlighted by the chart above is fascinating in that we are leveling-off at levels almost exactly in-line with what we would consider "normal" levels before the excesses of the mid-2000s.
Below we see that construction employment has now declined in four of the last five months, a streak of sustained weakness that has not been seen since the recession ended.

Click to enlarge
Interestingly, average hourly earnings for construction workers continues to increase. We introduced a thesis in an article titled "Grab A Hard Hat, It's Never Been A Better Time to Be A Construction Worker," (click to view) that construction workers could essentially be victims of their own success: the tightness in the construction labor market drives wages up to levels that make marginal construction projects infeasible.

Click to enlarge
Finally, we look at construction spending, which shows similar trends of moderation. We saw a spike in 2014 through early 2016, which has since appeared to moderate.

Click to enlarge
We should note, though, that July starts and permitting data from two weeks ago was inconsistent with the trend of moderating supply, showing a significant uptick in multifamily construction activity. The bulk of the data we follow relating to potential new supply of rentable real estate space, though, shows construction activity moderating after two years of relativity robust growth.
Deeper Dive
Readers of our posts quickly see that the "REIT sector" is really an aggregation of 13-15 sub-sectors that each exhibit unique investment characteristics. Hotels, with lease terms measured in days, are substantially different from healthcare or net lease REITs, which have lease terms measured in decades. While there are economic forces that impact the general level or real estate values, the historical correlation between individual REIT sub-sectors appears inflated and is perhaps a result of "over-indexing" of the sector from generalist investors. In other words, when so many investors are invested in a general REIT ETF, the correlations between these REITs may be artificially high.
We believe that the GICS sector breakout will result in lower correlations between REIT sectors as investors focus-in on the unique characteristics of each sub-sector. This is a process that will take months or years. This is good news for well-informed investors, but may be bad news for less informed investors, who may be caught off-guard when their REIT portfolio responds unexpectedly to movements in economic growth or interest rates.
For instance, we expect to see even less interest rate sensitivity in sectors like data centers, apartments, and self-storage and even more sensitivity in sectors like healthcare and net lease. There will be less "averaging" as the market becomes more efficient.
We do our best to keep our readers informed about the 13 REIT sectors that we track, which hopefully allows them to be more informed about the factors that should impact their own holdings.
This week, we continued the release of our "REIT Rankings" with the Healthcare, Industrial, and Data Center sectors. We will continue the rankings next week with the mall and shopping center sectors. We encourage readers to check out all of our REIT rankings.
REIT Rankings: Triple Net Lease
We encourage readers to follow our Seeking Alpha page (click "Follow" at the top of the page) to continue to stay up to date on our weekly recaps and analysis on the REIT and broader real estate sector.
Disclosure: I/we have no positions in any stocks mentioned, and no plans to initiate any positions within the next 72 hours.
I wrote this article myself, and it expresses my own opinions. I am not receiving compensation for it (other than from Seeking Alpha). I have no business relationship with any company whose stock is mentioned in this article.