I wish I could report that the market was starting to understand Smith & Wesson (NASDAQ:SWHC), Sturm Ruger (NYSE:RGR) and Vista Outdoor (NYSE:VSTO) but it appears they are not willing to learn… or at least don't care too? Smith & Wesson reported great results and a large beat to market expectations and shares are being sold off and commenters are already posting incorrect "dire" news about NICS results for August. I plan on shedding some light on all of this information with facts.
NICS for August 2016
FBI NICS checks are not a perfect proxy for firearm sales but they are a useful tool to see what is happening in the market. First they are posted monthly by the FBI. Second, they are required for every purchase of a firearm. While it is possible someone intends to purchase and does not complete the sale, the check is necessary for every new firearm purchase which gives us useful information.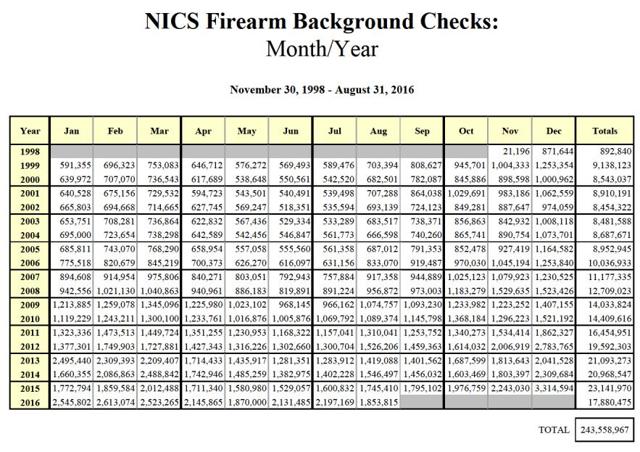 Click to enlarge
Reading articles on other sites, I can see that market "experts" are already at it again showing what they want to show and not giving the full facts. This article, "Firearm stocks sell off…" states that NICS checks were showing a "slowdown from the recent surge" and that stocks were selling off due a slowdown. While some stocks sold off, it is incorrect to state that NICS are slowing down. In fact, they are still surging if you understand that NICS data checks are cyclical like many industries. The FBI showed that just over 1.85 million checks were performed in the month of August.
The NICS checks were down from the previous month of July, and it was a rather large drop of 37%. However the year over year information is what is important to understand the numbers. August posted results were an all-time record for August and continues the streak to make it 16 months of year over year gains. Also important to know is that the push into fall and the winter are when sales of firearms grow. (This is hardly a slow down!) Comments much further down show the truth that the firearm market shows cyclical nature and is up when you look at year over year numbers. Some firms are reducing ratings from a "buy" to a "hold." I will mention my rating after giving the results, not before we look at them.
Smith & Wesson results
Revenue for this quarter came in at $207 million, up just over 40% from the prior year. Firearm revenue was $192.4 million which is up 47.7% year over year. Revenue from the newly created "Outdoor Products and Accessories" segment was $14.6 million which was down 16.9%, or three million, year over year. The reasons given for a decline in revenue for the Outdoor Products group was a price increase initiative in older Thompson/Center Accessories and inventory reductions that affected other suppliers due to bankruptcies of Sports Authority and Sports Chalet, as mentioned in Vista Outdoors results.
Costs were up due to the acquisitions of Crimson Trace and Taylor Brands. The cost of acquisitions accounted for $6 million to the Outdoor Products line, which would have created a gain in the segment… this is something I think we can expect for the next few quarters.
Cash added to operating cash flow was $38.1 million, and they have a $215 million cash balance on the books. Outstanding debt is approximately $174 million and they have a credit line of $175 million. The two acquisitions closed after the end of the quarter and they total $180 million - the cash on hand should be down to roughly $35 million at present.
Other notes worth mentioning was that the long guns category sales increased just over 118%. This is a small portion of sales, but is a big change to mention. The Compass Bolt Action Rifle is expected to be the reason for this increase and this rifle is a direct competitor to what Sturm, Ruger offers.
New Announcements
An interesting development was that President and CEO James Debney announced that the new Outdoor Products division will start to include accessories and a new "Electro-Optics Division." This is signaling their intent to enter the optics market and will be interesting to see what they offer at the SHOT show in the winter.
Debney stated, ""Although Crimson Trace has been narrowly focused on the laser sighting market, its management team now views the Electro-Optics market in its entirety… This is a broad and sizeable category that includes products such as various sights, aiming and ranging devices, magnifiers and scope for a variety of applications."
Wrapping it all up
So, the market has brought SWHC shares down to the $27.50 range from its previous few weeks in the high $29s. Many articles are saying that this is the beginning of the end of firearm companies. Oddly enough, one of the analysts lowered guidance on shares and mentioned they expect a stock price of $33 dollars per share, which is a decent jump higher from today's current price.
Smith & Wesson has raised yearly guidance up $160 million. They expect organic revenue growth of $92 million -$12 million that just happened this quarter, and they expect $56 million from Taylor Brands and Crimson Trace. They expect next quarter results to be in the range of $220-230 million.
I have written before that both Ruger and Smith offer very conservative numbers when they announce them to the market. Not only is it safer to do so, but it allows them to beat more often and the market has not caught on yet. Smith & Wesson also mentioned that they don't plan for surges but that they have flexible manufacturing ability just in case. They do not plan for it because as they say "that's completely out of our control."
Smith is moving into Ruger's territory of lower priced, but popular rifles and they are also moving into accessories more and more with acquisitions and comments saying they will enter the "Electro-Optics" space. This all leads me to wonder… if market "experts" say a stock is stumbling with a 40% increase in revenues year over year, are we looking at the same thing?
Disclosure: I am/we are long SWHC, RGR, VSTO.
I wrote this article myself, and it expresses my own opinions. I am not receiving compensation for it (other than from Seeking Alpha). I have no business relationship with any company whose stock is mentioned in this article.