We initiated coverage on Cempra (NASDAQ: CEMP) on May 5 with Buy rating and common stock price target of $22.77. Our price target has been met, thus offering 42% pre-tax gain in just 3.5 months on this investment.
FDA has set the meeting of its advisory committee to discuss Cempra's New Drug Application for Solithromycin as a treatment for community acquired bacterial pneumonia (CABP) on November 4 later this year (with action dates of December 27, 28).
We present our revised investment thesis and valuation for this company in highlight of recent developments. We are reiterating Buy rating on Cempra's common stock and are increasing price target (fair value/share based on risk-adjusted NPV/ discounted cash-flow method) to $31.16. This update is brief and readers are advised to refer to our first research report (link) for more details about this company's pipeline and clinical trial results for Solithromycin and fusidic acid.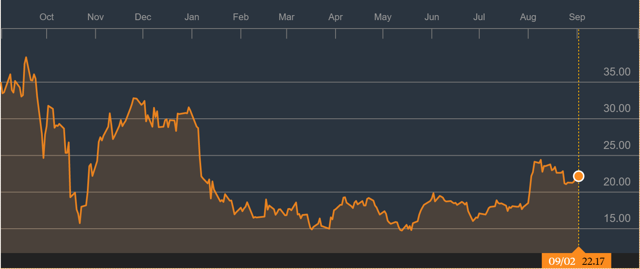 Click to enlarge
Figure 1: Cempra, common stock price chart (Bloomberg.com)
Investment Highlights:
- Stock rating= Buy
- Updated Stock price target (intrinsic value)= $31.16
- Current stock price= $22.17
- 52-week price range= $14.03 to $39.25
- Average daily share volume= 745,481
- Market Cap= $1.14 billion
- Cash reserves= $250.7 million
- Cash enough to last till= end of 2017
- Debt= $18.6 million
Investment Thesis:
Problems: About 5 million CABP cases are seen annually in the U.S. Most CABP cases in the hospitalized and outpatient setting are treated empirically with antibiotics that cover the most common causative organisms of CABP (Pneumococcus, H. Influenzae, Mycoplasma, Legionella and Chylamydia). Recently, CABP cases caused by Staphylococcus Aureus (which commonly causes skin infections), especially penicillin resistant stains (MRSA) are being increasingly seen. Currently, the first line therapy for outpatient treatment of uncomplicated CABP cases is a macrolide like azithromycin or a quinolone (like levofloxacin or moxifloxacin). Hospitalized CABP patients are treated with IV quinolone or IV ceftriaxone + azithromycin and then discharged home on oral azithromycin or oral quinolone.
However, bacterial resistance to azithromycin and quinolones is increasing. In addition, quinolones have been in headlines recently after FDA issued warning on their side effects like tendinitis and even tendon rupture (which may be higher in elderly patients). Quinolones also prolong QTc interval on EKG (which may predispose to serious cardiac arrythmias) and may predispose to Clostridium Difficile colitis (a form of colon infection). There is a desperate need for a clinically efficacious and safe broad-spectrum antibiotic that can be given empirically in CABP (and doesn't have side-effects associated with quinolones as mentioned above).
Gonorrhea is the second most common infection in the world (after CABP). About 820,000 cases are seen in the U.S. every year. Usual treatment for the disease is administration of Cefrtiaxone IM (250 mg) and Azithromycin oral (1 gm), however bacterial resistance to these antibiotics is increasing. In addition, IM injection can be painful and inconvenient to administer in outpatient setting.
Fusidic acid is a potent antibiotic with similar efficacy as linezolid in acute bacterial skin and soft structure infections (ABSSSI). Linezolid has side effects like lowering of platelet count and possibility of causing serotonin syndrome, a potentially fatal disorder on interaction with certain other medications. Fusidic acid is available in Europe but not in the U.S.
Cempra's solutions:
Solithromycin is a fourth generation macrolide class of antibiotic. It is 8 to 16 times more potent than azithromycin (the largest selling antibiotic with about $2 billion of peak sales). The likelihood of bacterial resistance to Solithromycin is also expected to be lower than azithromycin due to its unique molecular structure. Solithromycin has shown comparable clinical efficacy to moxifloxacin in phase 3 clinical trials in CABP without serious side effects. It also has potent action against community-acquired MRSA apart from the usual CABP organisms. Both IV and oral forms of Solithromycin have FDA Fast Track designations for treatment of CABP. There was slightly higher incidence of injection site pain in Solithromycin group but only 2.1% of patients discontinued Solithromycin due to this adverse effect. There was slightly higher incidence of elevation of liver enzymes in the Solithromycin arm, but this was asymptomatic and reversible and no patient developed clinical jaundice.
Solithromycin is also being developed as treatment for uncomplicated gonorrhea where bacterial resistance is growing to current antibiotics. In a phase 2 trial, single 1 gm and 1.2 gm doses of the antibiotic showed 100% efficacy in treating the disease. Enrollment has been completed in a randomized, open-label study comparing it to the current standard of care and results could be announced later this year. Solithromycin has the potential to become the standard of care for this common infection.
Cempra is also developing fusidic acid (brand name Taksta) in the U.S. and has FDA Orphan drug designation in treatment of prosthetic joint infections. A randomized, open-label trial in this indication is on-going. Another phase 3 trial comparing it to oral linezolid in ABSSSI is also on-going. Taksta's approval in treatment of prosthetic joint infections could change the current standard of care for this infection in the U.S.
More details about these products can be read in our first detailed research report on Cempra (link to report).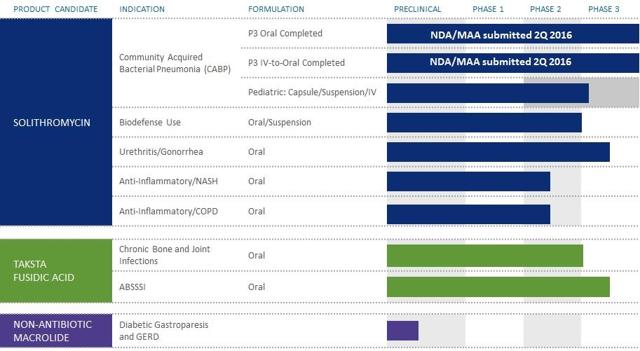 Click to enlarge
Figure 2: Cempra: updated product pipeline (from company website)
Valuation of the common stock:
After successful NDA submission in the U.S. and successful MAA submission in the European Union (E.U.), we have revised our valuation model for Cempra.
Cempra's key revenue driver in future will be use of Solithromycin in the treatment of CABP. For solithromycin in CABP indication, we forecast estimated cost per treated patient (10 days of therapy)= $400 (US, EU). We forecast peak $1.37 billion global risk-adjusted revenue from this indication in adult and pediatric patients (at 80% probability of success), 80% peak share in elderly population and 40% peak share in non-elderly population (at patent expiry in 2031).
Levofloxacin had peak global sales of $3.4 billion. Azithromycin had peak global revenue of $2 billion. Considering higher potency than azithromycin, solithromycin might exceed azithromycin sales. In addition, there might be another huge off-label use market for treatment of upper respiratory infections (NYSE:URI) like pharyngitis and bronchitis. We would keep our forecast conservative for now and update it as needed.
Adding future forecasted revenue from use of solithromycin in gonorrhea and Taksta in treatment of prosthetic joint infections, we forecast peak, risk-adjusted revenue from all these clinical indications =$1.46 billion in 2031. If Solithromycin gets widespread use in off-label treatment of URI and becomes the standard of care for gonorrhea, its global peak sales could exceed those of levofloxacin.
Using weighted, average cost of capital (discount rate)= 12% for 2016-2021, 10% for 2021-2025 and 8.5% from 2026-2031 (average cost of capital for mature pharmaceuticals is 8.5%), reinvestment rate= 90% of net income starting 2017, we calculated risk-adjusted NPV of future forecasted revenue from all these clinical indications= $1.38 billion.
We adjusted non-operating assets, deferred tax-assets (including net operating loss carry-overs) and liabilities like stock options during equity calculation. Using undiluted share count, we calculated fair value for each common share of Cempra= $31.16.
The DCF valuation model and spreadsheet used in this revised valuation can be downloaded by subscribers of our premium research service on Seeking Alpha (free 30-day trial available).
Risks to the investment
Like every emerging pharmaceutical company, this investment has risks. It is possible that regulatory agencies might not approve the products, unexpected side effects might be seen in future, clinicians might not widely prescribe the products or insurers might not reimburse them. Competing products from other companies might gain significant market share in the planned clinical indications. The company may also need to raise more cash to fund its operations in late 2017 through equity and/or debt financing, which might put downwards pressure on the stock price.
Conclusion
In conclusion, we are reiterating Buy rating on Cempra and are increasing our price target (intrinsic value) on common stock to $31.16. The stock might see a run-up till the AdComm date (November 4). We give 80% chance of FDA approval for solithromycin at current stage. Results of on-going late-stage clinical trials in gonorrhea and ABSSSI may also give upward boost to the stock price. The company is also an attractive acquisition candidate.
Premium Research Service:
Get more investment ideas like this by subscribing to Vasuda Healthcare Analytics, our premium equity research service (in partnership with Seeking Alpha). Free 30-day trial is available. Subscribers to the service got a trade alert to buy Cempra on 8/31/16 at stock price of $21.79. Subscribers can download the valuation models/ spreadsheets in this research report, have access to our firm model portfolio (about 35 open positions so far with price targets and suggested allocation), get a daily News Digest in the evening (with summary of daily news in U.S. biotech/ pharma sector, alerts on insider buying, up-coming catalysts, takeover candidates, etc.). Few investment ideas are exclusively limited to subscribers.
Note: To get more investment ideas like this as soon as they are published, click on my profile and hit the big orange "Follow" button and choose the real-time alerts option.
Disclosure: I am/we are long CEMP.
I wrote this article myself, and it expresses my own opinions. I am not receiving compensation for it (other than from Seeking Alpha). I have no business relationship with any company whose stock is mentioned in this article.
Additional disclosure: This article represents my own opinion and is not a substitute for professional investment advice. It does not represent solicitation to buy or sell any security. Investors should do their own research and consult their financial advisor before making any investment.