WTI finished the week down -6.5%.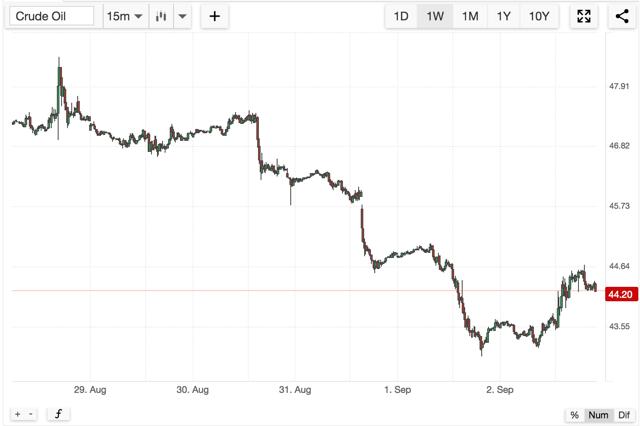 Click to enlarge
Source: Trading Economics
We highlighted last week the potential for a selloff in oil prices in our weekly oil recap.

Click to enlarge
We see the recent selloff in oil prices as just a confluence of events that need to take place before year end. OPEC headline risks will prevent oil prices from dipping below $40, but current surplus storage would prevent any price moves above $50 throughout refinery maintenance season.
The key events that unfolded this week was the change in tone from Khalid al-Falih, Saudi's Energy Minister, and Russia's President's, Vladimir Putin, support for the production freeze deal. We know fundamentally speaking that US production is still dropping, and other non-OPEC producers are seeing production declines as well. Oil demand has been growing steadily year-over-year and is projected to be 1.2 million b/d in 2017.
On a supply and demand front, oil markets will balance by year end. There haven't been any surprises on the upside. Iran's oil production is starting to top out around 3.85 million b/d, and additional capex investments will be needed to further boost production. Supply outages are still hammering the likes of Nigeria and Libya, and issues there remains unresolved. Venezuela is now the real wildcard.
Venezuela currently produces 2 million b/d, and reports came out saying demonstrators demand President Maduro to step down. This could lead to further declines in production and add to the global supply decrease.
With the Algeria OPEC conference this month, there are certainly going to be some volatility ahead. Markets will be heavily focused on headline news and following closely comments from all the oil ministers. The key will be the big three which are Saudi Arabia, Iran and Russia. We think a potential deal remains slim to none, but as we noted in our OMD yesterday, the consensus is overwhelmingly one sided.
Comments from the Saudis point to a much more different tone than the previous oil minister, Ali al-Naimi. With the Saudi Aramco IPO set for 2018, we said that much higher oil (NYSEARCA:USO) prices will certainly boost Aramco's value. Saudi certainly wants the price of oil to be higher than $44 when the IPO comes around, and current fundamentals do certainly point to potentially higher oil prices. Could we see the Saudis compromise to further boost oil prices? Possibly, but how likely will the Saudis give up market share to Iran, Russia and US shale producers? We think the possibility is low, and Saudi will continue the policy of letting the market rebalance.
Let us know what you think the Saudis will do going forward in the comment section below!
Thank you for reading our Weekly Oil Market Recap. If you would like to read more from us, please be sure to hit the follow button. For those interested on the outlook of oil prices, HFI Research publishes a weekly outlook for premium subscribers. If you are interested, please direct message us for more information.
Disclosure: I/we have no positions in any stocks mentioned, and no plans to initiate any positions within the next 72 hours.
I wrote this article myself, and it expresses my own opinions. I am not receiving compensation for it (other than from Seeking Alpha). I have no business relationship with any company whose stock is mentioned in this article.