There are three major observations in this report: 1) a very small increase in the oil rig count which can be explained by rigs taken offline in the Gulf of Mexico due to a hurricane threat; 2) a lot of new horizontal rigs, with about 40% of them being natural gas rigs; and 3) continued drilling in the Permian in addition to some new rigs in shale producing regions.
Crude oil prices (NYSEARCA: USO) remained unchanged after the report but declined during the week.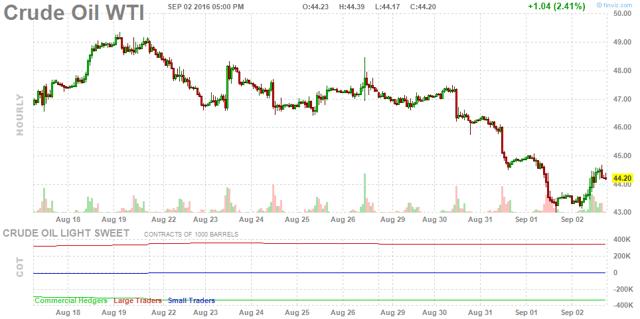 Click to enlarge
Source: Finviz.com
Data: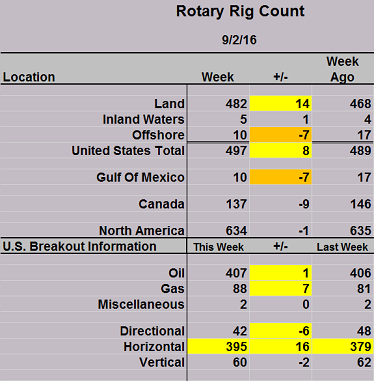 Source: Baker Hughes
* Total U.S. oil rig count increased by only one rig. However, the numbers were affected by a decrease of seven rigs in the GOM (6 oil/1 natural gas) which were taken offline due to the threat of hurricane activity. If we exclude the rigs that were taken offline in the GOM, which should be back online in the coming weeks, then seven new oil rigs were added in the U.S. Of those, three are in the Permian and three in the Eagle Ford basin.
* Horizontal rigs increased by 16. We believe 9-10 rigs are oil rigs, and the remainder are natural gas rigs. Of the oil rigs, three were in the Permian and three in the Eagle Ford.
* We believe the six directional rigs that were taken offline were the oil rigs in the GOM.
* Natural gas rigs increased by seven, including two rigs in the Marcellus shale and one in the Haynesville basin.

Click to enlarge
Source: Baker Hughes, Orangutan Capital
* Three new oil rigs in the Permian continuing the steady climb in the rig count since late April/early May. In total, rigs in the Permian are up by 53% since the bottom.
* Three new rigs in the Eagle Ford and one new rig in the Williston basin, both of them shale plays. One rig drop in DJ-Niobrara.
* A decline of two rigs in the Barnett and Haynesville basins, which are very gassy.
Conclusion:
There were a lot more oil rigs added this week than what could be inferred by the total U.S. oil rig count. Total numbers were affected by oil rigs coming offline in the GOM due to hurricane activity. However, a large number of rigs in the U.S. onshore and a very large number of horizontal rigs were added during the week. Overall, we still think domestic production will start increasing during the fall.
Disclosure: I/we have no positions in any stocks mentioned, and no plans to initiate any positions within the next 72 hours.
I wrote this article myself, and it expresses my own opinions. I am not receiving compensation for it (other than from Seeking Alpha). I have no business relationship with any company whose stock is mentioned in this article.