Baker Hughes (NYSE:BHI), the world's third largest oilfield services company which failed to merge with its bigger rival Halliburton (NYSE:HAL), has seen its revenues and earnings plunge in the downturn. In the second quarter, the company generated $2.4 billion in revenues, a far cry from two years ago when it was earning around $6 billion. The company has reported six quarterly losses in a row. And it looks like it will remain under pressure for now.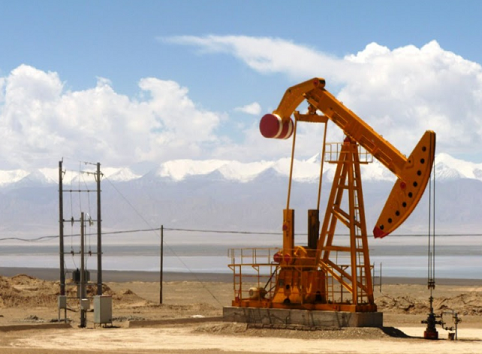 The tough business environment, which has been marked by reduction in exploration and production spending and weak drilling activity, will remain challenging this year. In the US, drilling activity has picked up, which is evident from the rise in rig count. As per the latest report from Baker Hughes, US oil drillers added 1 rig in the week ended Sept. 2, taking the total count to 407 units. That was the ninth increase over the last ten weeks.
The total number of rigs, however, is still down substantially from 662 units at this time last year. Moreover, service industry leader Schlumberger (NYSE:SLB) has recently confirmed that the pricing level hasn't improved. This means that oilfield services companies, like Baker Hughes, will likely continue to struggle with weak profitability in the US, despite increase in drilling activity. As for the international markets, from where Baker Hughes gets a large chunk of its revenues, the drilling activity hasn't recovered yet, according to Patrick Schorn, Schlumberger's President of Operations.
In addition to this, Baker Hughes CEO Martin Craighead also warned during the second quarter conference call that the uncertain business environment, which is preventing oil and gas producers from ramping up spending and drilling activity, will likely persist "at least through the end of this year." In this backdrop, I believe Baker Hughes could continue to struggle with declining revenues and losses. However, Baker Hughes could also prove to be a great turnaround candidate for 2017.
Baker Hughes is highly levered to North America. In 2014, the region accounted for almost half of the company's revenues and pre-tax profits. Since the North America shale drillers bore the brunt of the current downturn and made wholesale cuts to capital spending and drilling activity, their contribution to Baker Hughes' revenues shrunk to 38% in 2015. Baker Hughes also reported a pre-tax loss of $687 million from North America last year. But this year, the North American market is showing the first signs of a recovery in terms of drilling activity, while the international market is still struggling. By next year, as oil prices gradually rise on the back of improvement in oil's supply-demand fundamentals, the price levels in the service industry should also recover. That should fuel Baker Hughes' turnaround.
Following the end of its failed merger process, Baker Hughes also plans to further increase its exposure to North America. In the US, the company is increasing its focus on two of the most prolific oil producing regions that are home to around 50% of active rigs and where the company already has significant exposure. At the same time, the company is reducing its presence in the international market and is laying greater emphasis on partnering with domestic services companies. That way, Baker Hughes will be in a solid position to participate in the turnaround of the US market while also maximizing return on capital by focusing on a few core regions instead of spending heavily on growing its global footprint.
Besides, Baker Hughes will also likely report peer leading cost cuts relative to its size. While virtually all oilfield services companies reduced costs in the beginning of the downturn, Baker Hughes retained its cost structure, in accordance with its agreement with Halliburton. But now that the merger is history, Baker Hughes is focusing on reducing its costs by simplifying organizational structure and rationalizing operations. The company is targeting $500 million of cost savings for 2016, and will likely announce additional cuts for 2017. This should have a positive impact on the company's margins which are positioned to improve in the second half of this year as compared to the first half.
In addition to this, Baker Hughes benefits from having a solid balance sheet, with one of the lowest levels of debt in the industry. The company's total debt to equity ratio, which is commonly used to measure leverage, stands at just 21.7% - significantly below Schlumberger's 50.4%, Halliburton's 132.2% and Weatherford International's (NYSE:WFT) 172.7%. And the debt metric will likely improve in the coming quarters.
Baker Hughes' failure to merge with Halliburton has further strengthened its financial health as the company collected almost $3.5 billion in breakup fees. The company had $3.9 billion in cash reserves at the end of the second quarter which put it in an envious position of having more cash than debt ($2.9 billion). The company plans to use $1 billion of the breakup fees to pay off a large chunk of debt which will further reduce its debt-to-equity ratio while it will use $1.5 billion to reward shareholders through buybacks.
Conclusion
Baker Hughes will likely continue to struggle in the short term, but it could be a major beneficiary of a rebound in drilling activity in North America over the long term. For now, it is on track to become a leaner, more profitable oilfield services company with an even better balance sheet, all the while returning value to shareholders through buybacks. This should fuel rally in Baker Hughes' stock.
I believe this could be an opportunity to buy Baker Hughes' stock. The company's shares are attractively priced, trading at a discount to Schlumberger and Halliburton in terms of price-to-book ratio. In fact, its shares are just slightly more expensive than Weatherford International which has one of the weakest balance sheets in the industry.
| | |
| --- | --- |
| | Price/Book |
| SLB | 2.56 |
| HAL | 3.83 |
| BHI | 1.53 |
| WFT | 1.22 |
Note from author: Thank you for reading. If you like this article, then please follow me by clicking the " Follow" link at the top of this page.
Disclosure: I/we have no positions in any stocks mentioned, but may initiate a long position in BHI over the next 72 hours.
I wrote this article myself, and it expresses my own opinions. I am not receiving compensation for it (other than from Seeking Alpha). I have no business relationship with any company whose stock is mentioned in this article.
Additional disclosure: I own shares of funds that may hold a long position in SLB, HAL