General Motors (NYSE: GM) is on the cusp of a bullish breakout and investors can hope for at least 10 percent gains in the coming weeks.
Roughly two weeks ago, I wrote an analysis titled, General Motors: It Can't Be Helped, in which I said that fear is keeping investors away from this fundamentally strong company. I have some reasons, both fundamental and technical, to believe that investors are now ready to get their feet wet.
I See Nothing Wrong In August Sales
A week before the August auto sales numbers were announced, Edmunds.com reported that GM's sales would fall off 5.7% for the month, while Kelly Blue Book saw a 5.4% drop. General Motors was also expected to report a loss of market share. General Motors conveniently proved all the naysayers wrong.
The company's unit sales came in at 5.2%, and the retail market share increased 50 bps during the month despite the sales dip.
Let's think beyond the numbers here for a moment. The U.S. automobile industry is under slight stress. There is no doubt about it. But, it is not so big of a problem that cannot be handled. All businesses face such times. Companies such as General Motors and Ford (NYSE:F) know how to manage inventory well, and offering incentives is a part of the business operations. It necessarily doesn't reek of desperation as many claim it to be.
I want to state here that the exaggerated pessimism cannot sustain forever. Long-term value investors should invest while the opportunity lasts. The situation has clearly become more a psychological downturn than it really is.
The company is reducing its focus on fleet sales, which fell 17% as planned. Why? As per the 2015 Annual Report, certain fleet transactions, particularly daily rental, are generally less profitable than retail sales.
And, daily rental sales are the major contributor to the revenue.

Click to enlarge
So, even if the sales tally gets lowered, as in August, smart investors must be applauding the company for focusing on efficient utilization of resources. A higher mix of more profitable SUVs and trucks will protect the bottom line.
Fleet sales as a percentage of total retail vehicle sales stood at 19%, 19.2% and 18.1% in 2013, 2014, and 2015, respectively.
Additionally, the average transaction price is edging higher, which is a huge positive for the company, and reinforces the company's leadership in the sector. As per Kelly Blue Book, GM's ATP increased ~5% to $40,341.
The market, being forward looking, knows this, and therefore, the stock shrugged off the negative headlines to close at a 5-week high.
Buyback In Second Half Will Fuel Price Rise
To date, GM management has bought $3.8 billion worth of shares under its buyback plan. The management had in the Q2 earnings call stated that the buyback will be weighted towards the second half of the year. Roughly $1.2 billion of buybacks are due in H2, which will mark the completion of the first buyback plan.
If you are disappointed with the stock, sell it. If not, wait for others to sell, and miss out on the inevitable future gains. It's really this simple.

Click to enlarge
Source: General Motors
Take Your Dividends
Investors, unlike short-term traders, value their dividends. It is a symbol of their ownership in a business. Therefore, I do not believe that investors would sell their GM holdings with the payout on 23rd September. On a slightly optimistic note, I see some fresh buying in the stock as the record date is on 9th September. The record date is the date which the management fixes in order to determine the investors eligible for the dividend payout. So yes, trading until next Friday should be biased positively.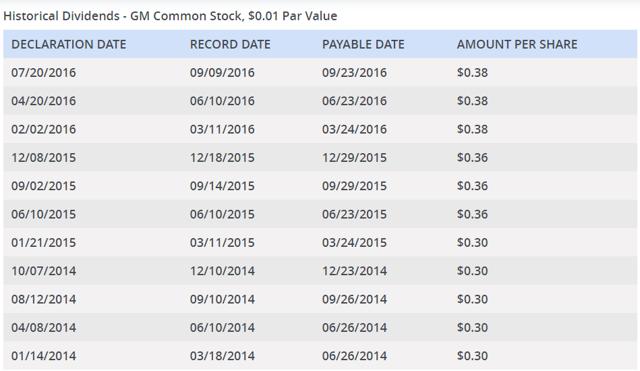 Click to enlarge
Source: General Motors
Bullish Technical Formation Is In Place
According to the weekly GM price chart below, the stock has formed a strong bullish technical pattern. With a 5-week high close on Friday, I have become more confident that the resistance line will eventually be violated, and investors will become richer by 10 percent in the coming weeks.
I am often misunderstood here, so let me clarify. When I say that gains will come, I do not say that there won't be a single day in the red. The gains will come with periodic dips, which will witness further buying.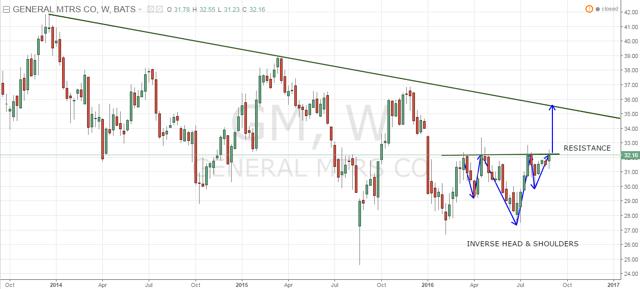 Click to enlarge
Source: TradingView
Investors need not worry about the short interest in the stock, as I have explained in the post, The Big 3 Automakers See Short Interest Rising Up To 23%.
Conclusion
Investors should not be bothered by the "supposedly" weak August sales data, and talks of peak auto resurfacing time and again. Evaluate the management's actions and intentions, and figure out if it's the best possible outcome. I appreciate Mary Barra's discipline and approach.
A lot of negativity is priced into this stock, which only means that it's higher from here on.
Disclosure: I/we have no positions in any stocks mentioned, and no plans to initiate any positions within the next 72 hours.
I wrote this article myself, and it expresses my own opinions. I am not receiving compensation for it (other than from Seeking Alpha). I have no business relationship with any company whose stock is mentioned in this article.