I recently laid out the rationale behind my sale of John Deere. With this article, I will present my thoughts on one of the companies I purchased with the proceeds, Lowe's Companies, Inc. (NYSE:LOW).

Lowe's is a home improvement retailer that was founded in 1946 and has been publicly held since 1961. It is headquartered in Mooresville, NC and operates 1,857 home improvement and hardware stores in the United States, Mexico and Canada.
The company has been an excellent performer since its inception, having grown its dividend payout in each of its 54 years as a public company. Even more impressive than the streak, is the rate at which the dividend has grown. The most recent increase was for 25%, which is right in line with the 28% CAGR it has produced over the last decade.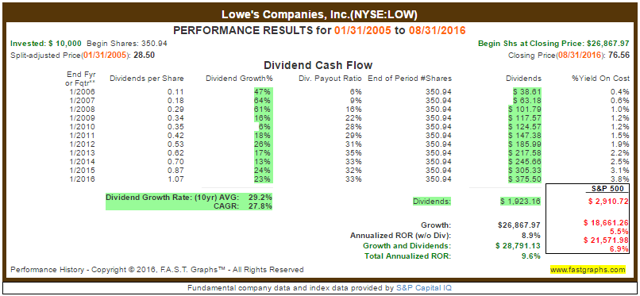 These last ten years of high dividend growth rates have brought the dividend payout ratio to the company's targeted rate of 35% of earnings. In fact, the currently declared dividend rate $1.40 is right at 35% of the expected $4.02 per share in 2017 earnings.
With the target being met, my expectation is that dividend growth will roughly match EPS growth going forward. Analysts are currently bullish that Lowe's recent strong growth can continue, as they are forecasting 16.4% annual EPS growth over the next 5 years.
Short of a recession, it appears that Lowe's is quite capable of meeting or exceeding those estimates, as it has produced 20%+ growth over the last several years.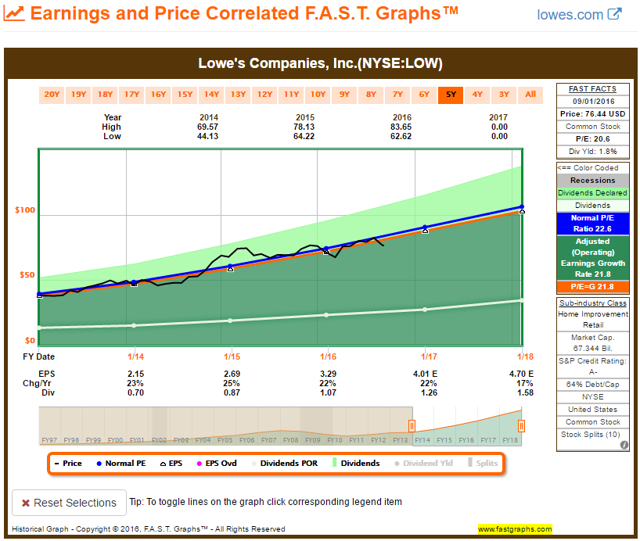 Lowe's has shown a long history of outstanding growth, and you won't see many companies with better long term charts than it. Looking at the F.A.S.T. Graph with a 20YR time frame, we can see that Lowe's has grown earnings at a 16% annualized rate over the last two decades.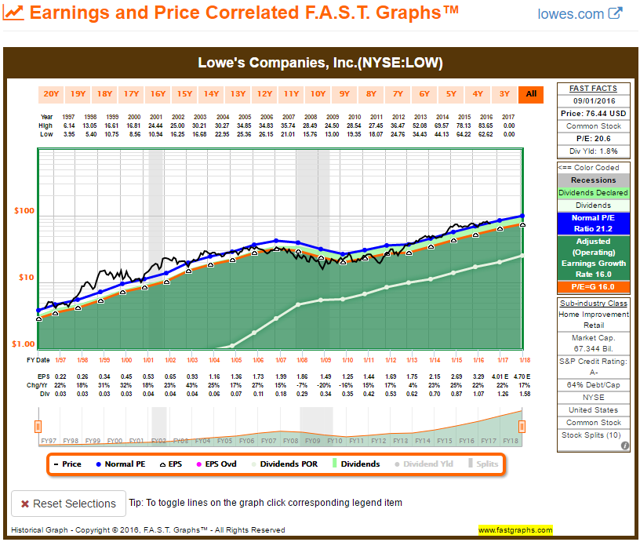 What jumps out to me is the fact that Lowe's has seen just three years of negative earnings growth in the last twenty, and those came during the height of the Great Recession. Even more impressive, the company has seen 15%+ EPS growth in 16 of the 20 years, with 2013 being the only other year that didn't meet the mark.
This impressive growth has been bolstered by an extremely effective share repurchase program, which has reduced the number of shares outstanding by 42% over the last decade and by 30% just in the last five years.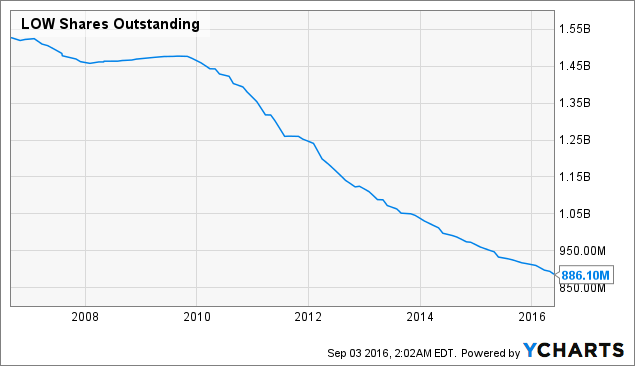 LOW Shares Outstanding data by YCharts
The company repurchased another $1.2B worth of shares in Q2 and has another $1.2B remaining under the current authorization. It has been buying back roughly $1B in stock per quarter over the last several years, and I expect this trend to continue going forward. With a market cap of around $67B, Lowe's is effectively retiring about 1.5% of outstanding shares every 90 days, which is quite a remarkable feat.
As a dividend growth investor I generally enjoy having a higher yield with my investments, however an effective share repurchase program can also be an effective way to add to shareholder returns. The reduced share count boosts earnings per share growth, which in turn, allows for a higher dividend growth rate. With another 20+ years to retirement, I have no problem giving up a little in dividends now if it helps me grow my share of the pie over time.
Why Lowe's over Home Depot?
The inevitable question: Why buy Lowe's over The Home Depot, Inc.(NYSE:HD)?
My answer is pretty simple, I think it is trading at a more attractive valuation right now, and growth expectations are slightly higher going forward.
For the long term, I think either of these companies would be excellent investments, and there's a very good chance that Home Depot will find its way into my portfolio at some point down the road. However, at this time my funds are limited, and I had to choose just one.
As any of my regular readers have seen, my sector based top ten lists have spreadsheets comparing a group of companies from each sector. Looking at the comparison between Home Depot and Lowe's shows a close race, but tilts a bit in Lowe's favor.

The prospects for both companies are pretty bright, as my projections are for mid to high-teens annualized total returns with dividends reinvested. However, Lowe's trading at a discount to fair value tilts the results in its favor, so I went in that direction.
Why Lowe's Over Deere?
I decided to go with Lowe's over John Deere (NYSE:DE) for one basic reason: It's a much more predictable business.
I will reiterate that I think Deere is an excellent company that is doing its best to navigate a difficult operating environment. However, the cyclicality of the agriculture market has higher amplitudes than the home improvement and housing markets do.
As mentioned above, Lowe's has produced 15%+ EPS growth in 16 of the last 20 years, with the only three years of negative growth coming during the popping of the massive housing bubble.
Meanwhile, Deere has seen negative growth in 7 of the last 20, and it's volatility has been much higher.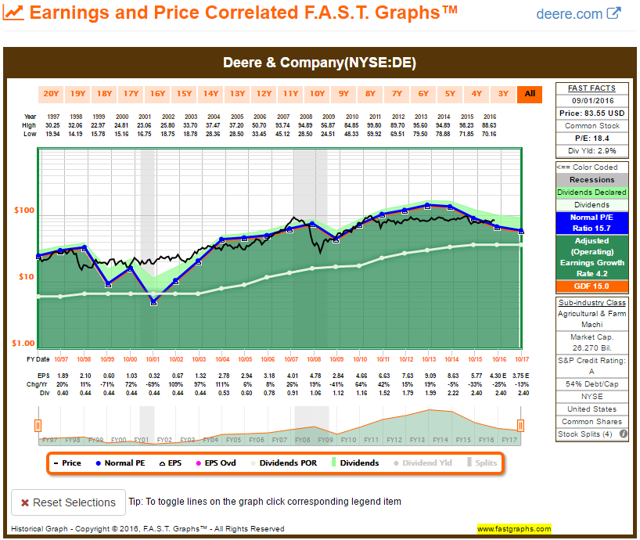 I have no problem owning a company with volatile earnings, but I'd rather buy after earnings have bottomed, not while they are still falling. Deere has seen negative growth the last three years and earnings are projected to fall another 17% in 2017. With record corn and soybean crops expected this fall, I don't expect grain prices to improve any time soon, which could lead to further downside to those earnings estimates.
Additionally, Lowe's is in a position of strength, buying back 1.5% of its shares every quarter and growing its earnings and dividends at a mid-teens rate. Meanwhile, Deere has suspended share repurchases and just announced its tenth consecutive dividend payment of $0.60, ending its twelve year streak of annual dividend growth.
Conclusion
Lowe's Companies has been an excellent performer through the years, and I see no reason for that to stop now. There continues to be a tight housing market and with prices rising, people have been investing in their own homes, driving earnings for the home improvement stores. Additionally, an aggressive share repurchase program continues to shrink the share count, providing a tailwind for EPS growth.
I have been wanting to add this company to my portfolio for some time, and the recent 10% pullback gave me an opportunity to buy it below my fair value target. The timing was fortunate, as I was also able to take advantage of a price spike in Deere to raise funds for the purchase.
In Part II, I will highlight the other company I bought with my Deere proceeds.
If you would like to receive notifications when that and any other of my articles are published, please click the "Follow" button next to my name at the top of the page.
Disclosure: I am/we are long LOW.
I wrote this article myself, and it expresses my own opinions. I am not receiving compensation for it (other than from Seeking Alpha). I have no business relationship with any company whose stock is mentioned in this article.
Additional disclosure: I am a Civil Engineer by trade and am not a professional investment adviser or financial analyst. This article is not an endorsement for the stocks mentioned. Please perform your own due diligence before you decide to trade any securities or other products.