Restaurant Brands: Tim Hortons Announces U.K. Expansion

Restaurant Brands (NYSE:QSR) announced the planned expansion of its Tim Hortons (TH) brand into England, Scotland and Wales in 2017. Since this is a new region for TH (aside from a long-forgotten Irish experiment), I thought it worthwhile to explore the U.K. coffee market in an effort to assess their likelihood of success.
The Third Wave of Coffee
The U.K., like many western economies, is in the midst of the Third Wave coffee movement, which is described as a shift to a more culinary experience and appreciation of coffee. As with many foods, some consumers want a more artisan experience and a higher quality product. Often this experience is met by independent coffee shops who have grown tremendously in recent years.
Following the Second Wave, which converted many instant, at-home coffee drinkers to cafe's, lattes and espressos, the Third Wave builds on changes in coffee consumption. In addition to the social experience fostered by the likes of Starbucks (NASDAQ:SBUX), it is also a taste experience. Importantly, the achievement of both occurred away from home in cafe's and restaurants and this has important implications for the future of U.K. coffee and new entrants such as TH.
For example, earlier this year, the Daily Mail reported the U.K. is one of the few countries where coffee consumption away from home is still growing. In turn, the growth of new coffee shops continues to accelerate - from a 5% pace a decade ago to ~10% in 2015. This has lead to a steady rise in the number of coffee shops - much of which is led by three chains: Whitbread's (OTCPK:WTBCY) Costa, Starbuck's and Cafe Nerro.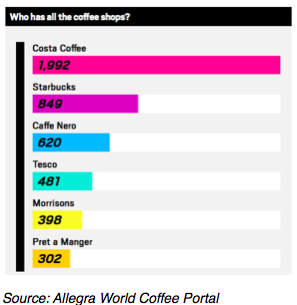 According to Allegra World Coffee Portal, the three primary brands have more than 50% of the branded chain market - a segment that saw 12% new store growth and 15% total sales growth in 2015. Other chains such as Pret-A-Manger and Greggs along with grocers Tesco and Morrisons have also built strong coffee businesses.
Pubs & Coffee
While the pub has long been considered one of the U.K. main social gathering places, in recent years the number of pubs has been declining and for many consumers the coffee shop is a replacement.
In response, a number of pubs see coffee as a traffic driver for breakfast business. In March of 2015, the Financial Times published an article entitled "Everyone wants a taste of the U.K. coffee market", which discussed the inclusion of coffee at pubs and restaurants. Some chains are offering low-priced coffee or free-refills while others see high-quality coffee as the next leg of their business. Either way more and more pubs see coffee as a growing part of their business.
"It doesn't matter where you go, specialist chains, fast-food operators, we're all looking to offer coffee because customers want it," says Roger Whiteside, chief executive of Greggs.
Lovers of Instant Coffee
Earlier this year, the Washington Post discussed how the huge growth in U.K. coffee consumption has come during a time when tea consumption has steadily declined.
Curiously, the U.K. remains one of the few countries where instant is still preferred to fresh brewed coffee. This level of "coffee amateurism" - as the Washington Post calls it - leaves "a lot of room not only for innovation in the coffee space, but also excitement for that innovation".
A 2014 study found that instant accounts for 77% of coffee Brits buy to drink at home compared to 1% in Italy, 4% in France, and 7% in the U.S. Convenience - some argue - is the products main appeal.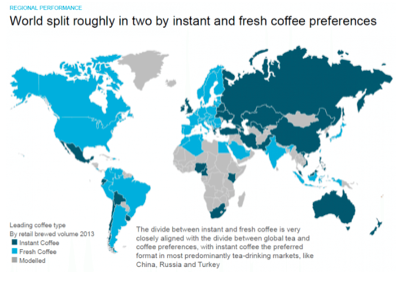 Coffee Culture
Despite the general preference for instant, some have argued that Britain is emerging as a culture of coffee connoisseurs. A place where not only do consumers want quality but they also want the community and social atmosphere coffee shops offer. This, as mentioned, has led to rapid growth of both cafe chains and independents.
The trend is similar to that of many Western Economies. The social experience of coffee is valued. The taste of coffee is valued. And more and more consumers want one or the other (or both).
'Britain is becoming a nation of coffee connoisseurs. Coffee is becoming like wine - people want to learn how to taste it, where it's from, how its made,' said Jeffrey Young, MD of the Allegra Group. 'The thirst and the desire to have better quality coffee is growing.'
Further, the coffee culture is arguably in its infancy - at least in terms of consumption per capita.
Despite recent increases, the market has - at least theoretically - a long runway for growth. Coffee consumption per capita in the U.K. is low for a developed economy. Most western economies drink far more cups per capita than the U.K.
Countries such as the USA, New Zealand, Canada and Switzerland drink, on average, one cup per day. A few - such as Netherlands, Sweden, Finland and Denmark - drink more. The U.K. in contrast drinks less than half a cup per day - 0.389 cups per capita to be exact.
Here is a selection of countries, which was summarized in a 2014 article in the Atlantic: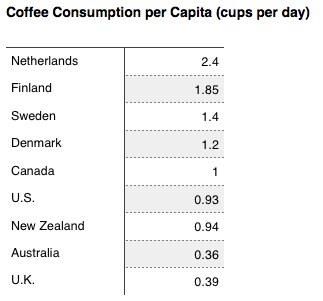 Thoughts on TH's Opportunity
I'll finish the discussion with some thoughts on TH's opportunity.
For Tim Hortons, the general preference for instant coffee likely looks like a chance to convert an instant coffee-consumer to a better tasting brewed cup of coffee. We know Brits have a growing coffee-loving culture that is willing to spend more on a better tasting drink and a propensity to consume more away from home. Coupled with their desire convenience and one can see how TH's high-volume, fast operating philosophy might work in the U.K.
That said, the TH experience in North America need not be exactly replicated in the U.K. The company - expected to re-launch specialty beverages - could enter with a broader beverage platform and not one based solely on two flavors of filtered coffee. It is also rapidly improving its breakfast, lunch and donut menu, which differentiates the business from the typical cafe.
On the other hand, the U.K. has arguably skipped over the period where TH's brand became so ingrained in Canadian culture - a period where chains like Starbuck's didn't operate in Canada. One could argue that consumers will simply skip basic filtered coffee and jump immediately from instant to specialty drinks - an area where TH has yet to build a strong platform. After all this is a market which Dunkin (NASDAQ:DNKN) failed in and only returned to try again 3 years ago.
Closing Thoughts
Coffee retains some of the best qualities for both investors and food retailers - cheap to brew, habitual, repeat consumption and growing in popularity. In the U.K., where consumption per capita is low relative to other countries, the market is experiencing rapid unit expansion and retains - at least theoretically - a long runway for growth . From recognizable chains to independents to traditional pubs, it seems everyone wants a sip.
Disclosure: I am/we are long QSR.
I wrote this article myself, and it expresses my own opinions. I am not receiving compensation for it (other than from Seeking Alpha). I have no business relationship with any company whose stock is mentioned in this article.
Editor's Note: This article discusses one or more securities that do not trade on a major U.S. exchange. Please be aware of the risks associated with these stocks.