The downstream business of Exxon Mobil (NYSE:XOM) is in a soup as lower refining margins in recent months have taken a heavy toll on the performance of this segment. In fact, last quarter, Exxon's downstream segment took a hit of $850 million to its earnings on account on weak refining margins as compared to the year-ago period. This slashed the downstream business' earnings in almost half for Exxon, as shown in the chart below: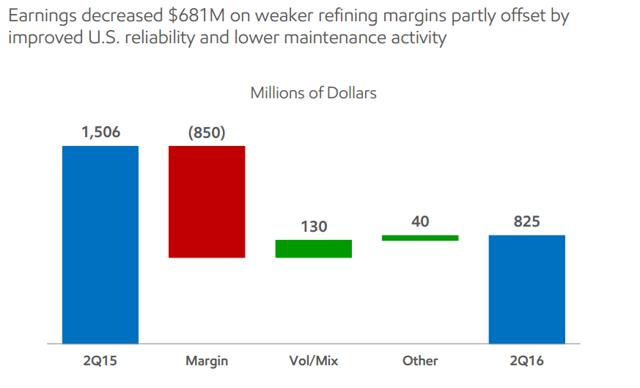 Source: Exxon Mobil
The problem in the downstream won't last long
The reason why the downstream segment took such a massive hit on a year-over-year basis last quarter can be attributed to a weaker refining environment as the refining marker margins declined and utilization rates increased. This is shown in the chart below: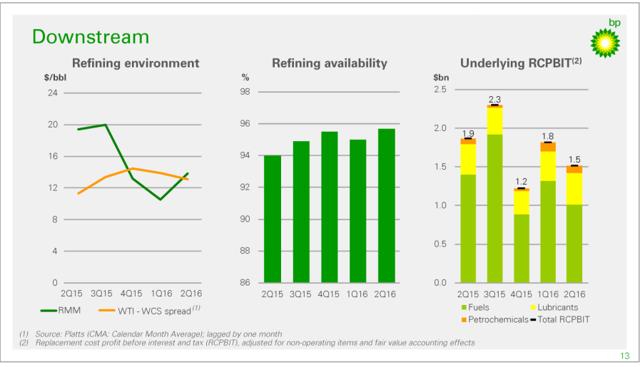 Source: BP
Thus, as refiners tried to take advantage of higher refining margins that were prevalent a year-ago, they ramped up output. But, a milder-than-anticipated winter put paid to their hopes of capitalizing on the higher margins as demand fell on account of cheaply-priced heating oils, which ultimately led to lower gasoline demand. This led to a drop in refining margins.
However, as seen in the chart above, refining margins have improved since the beginning of the year. As a result, the decline in Exxon's downstream segment on a sequential quarter basis was way smaller as compared to the year-over-year scenario as refining margins actually improved. This is shown in the chart below: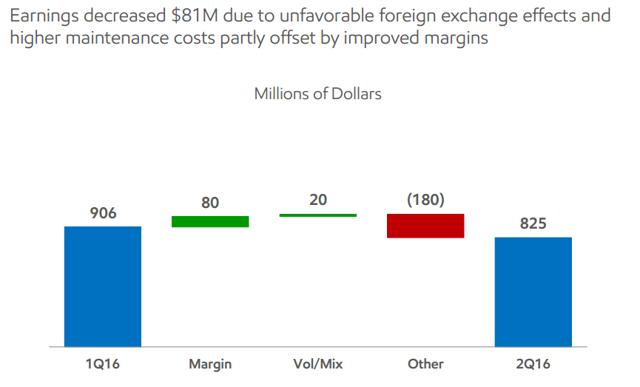 Source: Exxon Mobil
This improvement in refining margins of late is a result of an increase in demand, and this is a trend that I believe will continue as utilization rates are anticipated to go down and demand is expected to remain strong.
Why the refining environment will improve
The recent rally in refining margins can be attributed to the strength in U.S. gasoline demand, which is trending higher in 2016 as compared to last year's levels and the five-year demand average. This is shown in the chart given below:

Source: Howard Weil
As a result of this improved demand, stocks of gasoline have been dropping of late, even though they are trending above last year and the five-year average. Looking ahead, I believe that the trend of the decline in gasoline stocks will continue as demand is set to rise by 150,000 barrels per day both in 2016 and 2017 to record highs of 9.3 million barrels per day.
This rise in gasoline demand will be powered by an increase in miles driven by drivers in the U.S., which is set to go up by 2.3% in 2016. At the same time, gasoline output could take a hit as refinery utilization has been going down on account of lower margins that have hurt refiners. In fact, driven by the lower refining margin environment, the total refinery utilization rate in the U.S. has come down below 2015 levels and is hovering close to the five-year average. This is shown below: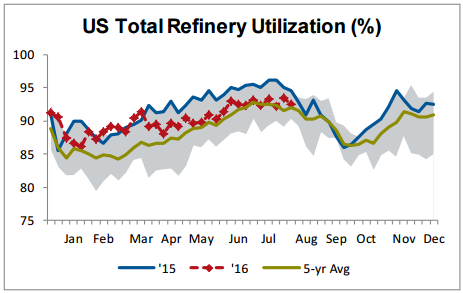 Source: Howard Weil
In comparison, toward the beginning of the year, the refinery utilization rate was higher than before as refiners were trying to take advantage of higher margins. This is good news for BP as the downtrend in refining utilization could continue as refiners are cutting more output.
Exxon's advantaged refining process will be a tailwind
Exxon Mobil focuses strongly on an integrated refining process in order to generate maximum value from its refineries. In fact, last year, Exxon's unit cash costs in the refining business were down 15% as compared to the average of the industry. More importantly, the company will continue to invest in its refineries in order to improve efficiency, while also divesting the ones where returns could be low.
For instance, late in July, Exxon announced that it will be expanding its refinery in Beaumont to add 40,000 bpd of refining capacity in order to ramp up output of ultra-low sulfur fuels. By making this investment, Exxon will be able to meet an increase in demand for more eco-friendly fuel in light of tightening emission norms.
On the other hand, Exxon is seeking buyers for its refinery in Montana. The reason why Exxon has decided to sell off this refinery is because it is not integrated with a chemical plant, as a result of which profitability is lower in a tight refining environment. Thus, Exxon is making the right moves by focusing on refineries that will help it generate better returns, while divesting those that are not up to the mark.
Conclusion
Exxon Mobil's downstream segment might have seen huge profit erosion last quarter, but a turnaround is being witnessed of late. Driven by an improvement in demand and lower output, gasoline stocks will continue to decline and this will lead to an improvement in refining margins. At the same time, Exxon is busy optimizing its refining assets in order to generate maximum value. So, in my opinion, investors can expect the downstream business of Exxon Mobil to make a comeback as the year progresses.
Disclosure: I/we have no positions in any stocks mentioned, and no plans to initiate any positions within the next 72 hours.
I wrote this article myself, and it expresses my own opinions. I am not receiving compensation for it (other than from Seeking Alpha). I have no business relationship with any company whose stock is mentioned in this article.