Baidu (NASDAQ:BIDU) is a well-known Chinese company, leader in the Chinese search engine market. The stock reached a top of $252 in November 2014 and then fell to $100 in August 2015, when it crashed from $152 to $100 in one day, but quickly recovering, closing at $140. Since then, the stock has continued to be quite volatile, and seems to be unable to trend higher to reach new highs.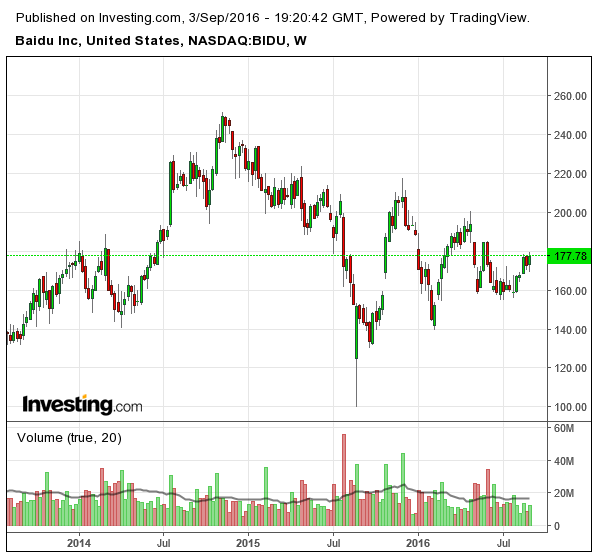 Being well-known and recently beaten down together with the overall Chinese stock market, Baidu sparked the interest of many investors, including mine. I have published an article in June, in which I suggested a long on Baidu.
I tried to re-assess the situation and I would like to share a few thoughts about the stock.
Recent results
The most recent quarterly results were reported on July 28 th, when the company beat estimates for both revenue and earnings, reporting Q2 EPS of $1.22, $0.17 above estimates, and revenue of $2.748 B, $20 million higher than estimates. Revenue was 10.2% higher on a QoQ basis, and 16.3% higher on a year-over-year basis, excluding Qunar. Mobile revenue accounted for 62% of total sales for the second quarter of 2016, compared to 50% for the corresponding quarter in 2015 and 60% of total revenues for Q1 2016. Net income was RMB2.414 billion ($363.2 million), representing a 34.1% decrease on a QoQ basis. For the third quarter, management expects total revenue in the range from RMB18.040 billion ($2.714 billion) to RMB18.580 billion ($2.796 billion) for the third quarter of 2016, representing a decrease of 1.9% to an increase of 1.1%, year-over-year. On an apples-to-apples basis, that means excluding Qunar, the guidance represents a 5.4% to 8.6% year-over-year increase.
The slight beat in revenue and earnings is clearly not enough to excite investors. I believe that we should focus on the long-term with stocks like Baidu and try to value it based on long-term prospects.
Valuation
When choosing a way to value a stock, there is always a high level of discretion involved. I would like to compare Baidu to Alphabet (NASDAQ:GOOG), since it's the most similar stock we could find. I will start comparing P/S ratios for the two stocks. Baidu has about $30.61 in sales per share (ttm values), that with the stock trading around $177 means a P/S ratio of 5.80. Alphabet has $117.30 in sales per share, while trading around $771, for a P/S ratio of 6.58. The difference implies a 12% discount of Baidu over Alphabet. The difference is not extreme but still significant. Especially if we consider that Baidu's revenue has grown at a 53.01% CAGR during the last 5 years, while Alphabet's revenue has grown at a 20.66% CAGR during the same period. Therefore Baidu is trading at a 12% discount to Alphabet despite its sales growth rate has been more than 2 and a half times Alphabet's CAGR during the last 5 years.

There could be several reasons why the market is giving Baidu such a low valuation:
1) The market is discounting Chinese slowdown and slow growth expectations of the overall Chinese economy in Baidu and other Chinese stocks. This makes sense of course, but we should assess how much the online search and advertising market would be hurt by an economic slowdown. Even if someone believes that the search market in China is reaching a mature stage, the numbers tell a very different story. Chinese internet users are estimated to be only 52% of the population against 88% for the US, with the number of active users growing at a 7% rate and an increasing daily consumption from active users who access the internet through mobile devices. In fact, time spent on the internet through mobile devices in China grew from 1.9 hours a day in January 2014 to 2.5 hours a day in January 2016. This means a 31% increase in two years, or a 14.5% CAGR.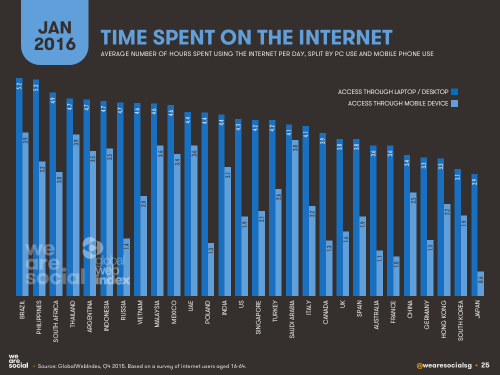 2 )The market is not happy about the company's unprofitable divisions and/or has still negative expectations about them. As I wrote in my previous article, I consider Baidu's projects in the mass production of self-driving cars as potential future catalysts for unlocking growth. Therefore it's a very positive sign that the company keeps showing serious commitment to projects in the AI self-driving cars, as it did a few days ago when Nvidia (NVDA) CEO Jen-Hsun Huang announced he would work with Baidu to build a self-driving car platform.
I believe both concerns are exaggerated. On one side, the relatively low penetration of the internet among Chinese people and the related growth rate in the number of internet users confirm good prospects for the company's core business. On the other side, the company's efforts in other markets such as AI self-driving cars can be considered options that could act as good growth catalysts. Moreover the stock has been too volatile recently, and I believe investors are too nervous about some short-term factors that could have a negative impact on the stock, as confirmed by the price action following regulations of Baidu's search practices after the tragic death of a college student who had cancer and took a fake therapy he found through Baidu's search engine. The stock fell by almost 20% in the days after the announcement.
Baidu and the autonomous car
The partnership with Nvidia is really good news in my opinion. Investors were aware of the company's project in the autonomous car market, but were also aware of how much crowded the industry is, even in this early stage of development. Google started developing autonomous cars in 2009, while Tesla Motors' (NASDAQ:TSLA) CEO Elon Musk declared that Tesla owners will be able to travel from New York to Los Angeles on an autonomous car in two years or so. Also car giants such as Ford (NYSE:F) and General Motors (NYSE:GM) are taking serious steps in the market. Ford has been developing and testing autonomous vehicles for more than 10 years and has recently announced the intent to have a fully autonomous vehicle for ride sharing in 2021, investing/collaborating with 4 start-ups, doubling its Silicon Valley team and more than doubling its Palo Alto campus. Moreover they said they will have a fleet of autonomous cars by 2021. General Motors intends to launch its first autonomous vehicle soon. While not giving an indicative date for the launch, the company said the vehicle could be here before we know it. The number of players in the market goes on, including Nissan, Toyota, BMW, Audi and several others.
Autonomous car is expected to be one of the main growth industries in the next decades. Even though growth estimates are very difficult to make at this stage, some institutions have tried, such as the IEEE (Institute of Electrical and Electronics Engineers) whose experts estimate that up to 75% of cars in 2040 will be autonomous .
The steps undertaken by Baidu in such a promising industry, partnering with a market leader like Nvidia, give some optionality to long-term investors, who already have some optionality coming from the iQiyi and O2O (Online to Offline) divisions. Having such a strong partner will surely help the company against competition in such a crowded environment.
We should monitor the developments in the segment of autonomous cars to assess the future potential, since at the moment any trial to predict the company's results would be an exercise in futility.
Verdict
Baidu is a market leader in a growth industry. I consider concerns around the stock related to the Chinese slowdown or Chinese internet search market reaching saturation as exaggerated or simply wrong. My opinion is that Baidu's core search business can still benefit from increasing internet penetration and daily usage in China, and that the recent partnership with Nvidia offers investors further optionality with the possibility to take advantage of an industry that will experience fast growth in the coming years. I still believe the stock is a good BUY at the current levels and suggest investors who are interested in GARP plays to dig further.
Disclosure: I am/we are long BIDU.
I wrote this article myself, and it expresses my own opinions. I am not receiving compensation for it (other than from Seeking Alpha). I have no business relationship with any company whose stock is mentioned in this article.