The S&P 500 continued to drift up, and is at its highest since June 2008, up over 8% year-to-date. The Nasdaq is up even more, closing close to its 52-week high at 2,966: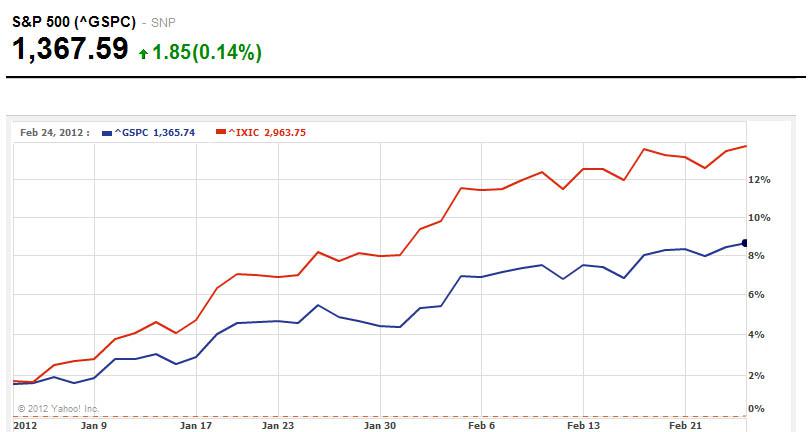 (Image source: Yahoo Finance)
The technology index at its highest, which is not a deterrent for investing for astute investors. Investors still need to evaluate companies during earnings season. The minimum number of times to review prospective investments is 4 times a year. To facilitate this review, 3 companies reporting earnings merit further analysis.
1) Hewlett-Packard Company (NYSE:HPQ) - Buy
Traders bid shares up to as high as $30 before its earnings report was released. HP's results met earnings, but forecasts were disappointing. In summary, HP reported:
Non-GAAP diluted earnings per share of $0.92
Revenue of $30B
30% revenue growth with Autonomy software with a 17.1% operating margin
Whitman, HP's new CEO, praised the strength of customer loyalty, but said the company was too slow and too complex. The executive split the issues into three buckets:
Execution
Ongoing issues
Dealing with industry shifts
Like Cisco (NASDAQ:CSCO), HP will need to reduce staff levels and re-arrange management layers to more effectively resolve its issues.
As a company in transition, the company said that a return to past strength will not be a 2-year story, but one that would take 3 to 5 years. Short-term traders sold HP down to $26.25, creating an entry point for investors who are patient to give the company time to deliver on its longer-term plan.
Cloud, security, and information management are major shifts that HP needs to deliver on over the next few years. Weakness in the company's PC business is not a major concern: Ultra books, all-in-one computers, and Windows 8 from Microsoft (NASDAQ:MSFT) later this year should lend support. The company's services division is growing, despite the 1% revenue growth. The slow growth in the quarter was due to HP hiring sales staff.
Microsoft, which closed at $31.35 and is just 1.04% from its 52-week high, still offers value for investors. Shares are up on continued bullishness for the Windows 7 phone release in North America. Longer-term, the Windows 8 product pathway for the desktop will benefit computer makers like Dell (NASDAQ:DELL) and HP.
2) Salesforce.com (NYSE:CRM) - Sell
Salesforce.com rose 9.01% on February 24 to close at $143.64 after reporting its earnings. High valuation is one reason to avoid CRM. Another reason investors should avoid Salesforce.com is that insiders sold shares after the earnings were reported.
Salesforce.com reported lower profits in the quarter. The company had a GAAP fiscal year loss of $0.09, and a loss of $0.03 for the quarter. In the previous year, the company made $0.08 per share in quarter. The company forecast a loss of $0.51 to $0.55 for this fiscal year.
To add shine to earnings, the company used non-GAAP figures to forecast a profit:
As Marc mentioned, we're delighted to raise our revenue outlook range by $30 million. We now project FY '13 revenue in the range of $2.92 billion to $2.95 billion. That's an increase of 29% to 30% over last year.

In addition to delivering solid top line growth in FY '13, we're also targeting an increase in non-GAAP operating margins of 75 to 100 basis points. We estimate full year non-GAAP EPS in the range of $1.58 to $1.62. This implies a non-GAAP effective tax rate of approximately 38%. For Q1, we anticipate revenue in the range of $673 million to $678 million for a year-over-year growth of approximately 34%. We expect non-GAAP EPS in the range of $0.33 to $0.34. All of the underlying assumptions for our non-GAAP guidance as well as our GAAP guidance and a complete GAAP to non-GAAP reconciliation can be found in our earnings press release issued today.
3) Nvidia Corporation (NASDAQ:NVDA) - Buy
Recent news forecasting tougher competition helped push Nvidia shares down to $15.47 in recent trading sessions. The company reported in its 4th quarter earnings that its mobile Tegra 2 sales declined. However, the decline was due to a ramp up for Tegra 3 in this current quarter. Tegra 3 is a quad-core processor design that will ensure that Nvidia offers innovative products for its mobile customers. On the computing division, Nvidia also teamed up HP with to introduce a 27" all-in-one professional computer system. The high-end system should help profit margins for both companies.
For the fiscal year, Nvidia reported $4B in revenue, up 12.8%. Net income grew nearly 130% to $0.94. In the quarter, revenue dropped 10.6%. Like HP, Nvidia said that sales were hurt by the impact of hard drive shortages.
Investors should accumulate Nvidia as short-term traders sell-off shares. The company's forecasted 52% margins outweigh concerns for competition from Qualcomm (NASDAQ:QCOM) and Intel (NASDAQ:INTC). The forecast is based on efficiencies gained from the transition to 28 nanometers. The competitive pressures are nothing new, but the story offers investors a chance to buy Nvidia on dips.
Disclosure: I have no positions in any stocks mentioned, but may initiate a long position in NVDA, HPQ over the next 72 hours.