Company Introduction
Phillips 66 (NYSE:PSX) is an independent refining, midstream and chemical company. The company originated from ConocoPhillips (NYSE:COP), which spun off all its downstream assets in to Phillips 66 in 2012. Since then, the company has focused on growing its midstream and chemical businesses, while enhancing the value of its refining division. However, the company is still dependent on its refining division currently, and the poor macroeconomic environment calls into question's the company's ability to grow its dividends, although the current dividend of $0.63 per share seems safe for now. Given this information, the author rates PSX as hold or weak buy, and recommends investors to wait to purchase Phillips 66 on a lower price.
Company Key Facts
Share price: $79.00
Market cap: $41 billion
Dividend: $0.63 per share
Cash flow neutrality: the net income covers its dividends in the first half of 2016.
Refining Business and Crack Margin
Phillips 66's revenues are mainly relying on its refining business. The refining business, in turn, relies on the volume of crude refined, and the crack margin. Of these factors, the crack margin may be the most important, and it is dependent on the difference between the price of oil and the price of gasoline. Unfortunately for Phillips 66 and other refiners, the price of oil is on the rise, and the price of gasoline on the decline.
Brent crude is currently priced at $46.50, and its price are on the rise. On the supply side, a majority of US companies have cut capital spending by 50% to 70%, signaling a certain drop in production in the near future. Outside of the US, producers are already pumping at record levels, but the energy market is still relatively balanced. In fact, supply only outpace demand by around 0.5 MBPD in recent month, and this difference is expected to shrink in the coming months. All in all, a rise in crude prices will impact refinery's already low margins.
Many analyst predicts crude to be $50 in 2016 and $55 to $60 in 2017, while the US Energy Information Agency (NYSEMKT:EIA) makes a similar prediction. This rise in oil prices will adversely impact refiners but increasing its input costs. See a summary of the agency's predictions in the chart below.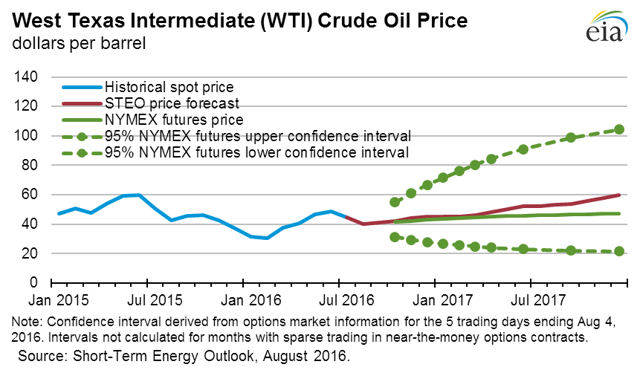 Click to enlarge
In contrast, the price of gasoline is on the decline, at least for the short term. US gasoline stockpiles are very high, and the EIA predicts gasoline prices to consistently decline for the coming months. See the charts below for data representing future gasoline prices.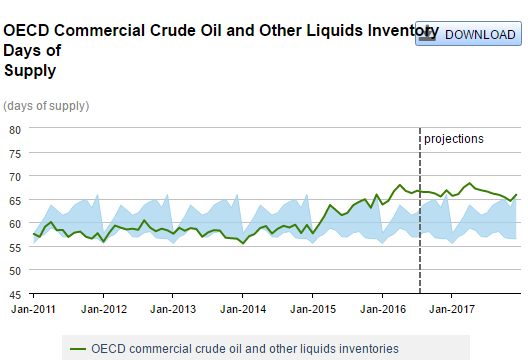 From EIA: Gasoline inventories (green) are at all time highs, exceeding the normal range (NASDAQ:BLUE).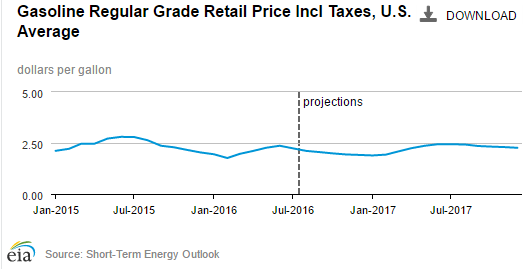 From EIA: gasoline prices, which are expected to decline due to high inventories.
In summary, Phillips 66 is dependent on its refining business, and this division's revenues are expected to shrink in the coming months. Refiners have no control over its input and output pricing, and most analyst and agencies predict its input cost to be rising and product prices to be shrinking. In conclusion, Phillips 66's revenues are in a downtrend, and that does not help its dividend growth.
Long Term Prospects
In the long term, Phillips 66 will likely sustain its dividend at current levels, and therefore keep its dividend growth streak. However, the actual amount of growth will likely be limited. Knowing the management's priority on capital expenditures and growth, dividend growth will most likely have to be the sacrifice during current tough economic times. Of course, dividend growth may resume three to five years later as the price of gasoline rise back to respectable levels, and the company's spending on piping and chemical assets generate more revenue. However, it can be concluded that PSX's dividends growth, for the time being, is very questionable.
Fundamentals and Comparison
Finally, here is a chart comparing Phillips 66's fundamentals and valuation with its competitors. Notice that the company does have a profitable petrochemical division, which is very valuable in the long term. Regardless, Phillips 66 earned a lesser net income and is priced significantly higher than its peers.
| | | | |
| --- | --- | --- | --- |
| Company | Market Cap | P/E Ratio | Most Recent Earnings |
| Phillips 66 (NYSE:PSX) | 41.5B | 13.72 | $496M net income |
| Marathon Petroleum (NYSE:MPC) | 22.6B | 11.70 | $801M net income |
| Valero (NYSE:VLO) | 25.6B | 8.86 | $814M net income |
A comparison of Phillips 66 and its valuation to its competitors.
Conclusion
Phillips 66 is a well managed integrated downstream company and a favorite of Warren Buffett. However, the company is facing serious macroeconomic challenges, and its dividend growth in the next years may be in doubt. Given all these factors, the author recommends investors to wait to purchase Phillips 66, as the company's shares won't be rising any time soon. Currently, integrated majors such as Exxon Mobil (NYSE:XOM) may be a better buy on dip target.
Disclosure: I/we have no positions in any stocks mentioned, and no plans to initiate any positions within the next 72 hours.
I wrote this article myself, and it expresses my own opinions. I am not receiving compensation for it (other than from Seeking Alpha). I have no business relationship with any company whose stock is mentioned in this article.