Last Tuesday, Raven Industries (NASDAQ:RAVN) released its earnings for the second quarter of fiscal 2017 (its fiscal year ends in January). While the past two years have not been kind to the stock (its shares peaked around $42 in 2013 and now sit just shy of $25), earnings appear to have found a bottom this quarter.
Compared to the second quarter of their fiscal 2016, Raven's aggregate, company-wide financials did not markedly improve. Sales increased just 1% to $68 million, and net income barely budged from $4.2M to $4.3M. So why the spike in share price? Well for one, the company's cash-generating abilities remained intact; Raven ended the quarter with $40M in cash, up $7 million over the prior quarter, although this was primarily due to a decrease in inventories and an increase in payables. In addition this cash balance was maintained despite $2M worth of share repurchases during the quarter. Though I don't think this is the most important point of the earnings release, I think the fact that RAVN can generate roughly $15M in cash per quarter, during a period when most of its key markets are in decline, speaks volumes about the nimble nature and overall quality of the company.
Second, and more important I think, is that a deeper dive into the individual segments tells a more nuanced story than just an aggregate, company-wide number.
Division Breakdown
Engineered Films saw sales grow 2.4% year-over-year, mostly due to an increase in volume sold, and expanded profit margins by 3.2%. In spite of this improvement, sales fell short of expectations as a lackluster energy market pressured growth. Even with these headwinds though, there is reason for cautious optimism in the division's future. In the first quarter, the energy and geo-markets declined more than 40% year-over-year, while in the second quarter the decline was a mere 6%. In the conference call Management mentions that they currently don't expect the energy and geo-markets to rebound immediately, but they also are sure to emphasize that they don't expect them to be a large hindrance to growth in the second half of the year. In addition, as the division has declined, so has its impact on the company in aggregate. Management emphasizes that the decline in the energy-related sales has been so steep that even an additional large % decline wouldn't materially affect the company at this point. In terms of what investors can expect in the nearer future, Raven's CEO comments on what he sees in the energy markets, which are, the "first signs of stabilization in both the energy and geomembrane markets." Indeed, in his own words, the "land-based rig count in the Permian Basin appears to have bottomed out" and "we are starting to see activity pick up, albeit at a slow and steady pace." This doesn't necessarily signify the beginning of an enormous rally in oil-related business for Raven, but it is comforting to know that conditions don't appear to be worsening.
Applied Technology (the company's precision agriculture division) was the real bright spot in this report, with sales growing 13.2% year-over-year, division profit margin expanding 2.5% with the bulk of this increase coming from the introduction of new products and partnerships with OEMs. In the conference call senior management draws special attention to the fact that Applied Technology's growth in sales was driven by "market share gains from the sale of new product and progress in key international markets." Specifically, new international OEM relationships were added in Latin America, and their existing relationships with U.S.-based companies expanded as well. As one example CNHI, an agricultural equipment manufacturer with $26B in annual sales, will now be incorporating Raven's Hawkeye Nozzle Control technology for their 2017 model year sprayers. This partnership is expected to increase sales of Hawkeye in the second half of the year.
As another example, Deere (NYSE:DE) is adopting Raven's next-generation rate control technology into their aftermarket product offerings. While some units were shipped to John Deere dealers in the second quarter, the bulk of the orders will take place later this year, further improving the picture for Raven in fiscal 2017.
These new product developments and partnerships are important; in my view the appeal of a company like Raven is that it is constantly innovating and plowing money into R&D to remain relevant and uncover new sources of revenue. Rather than rely exclusively on an improvement in macro-conditions, the company is churning out improvements to its existing product lines and taking market share. While some might view the current challenging macro-conditions as a negative, given the company's improvement recently I see the slow agricultural and energy markets (key for Raven's businesses) as allowing for additional upside once they stabilize or improve. How long might investors have to wait before these end markets recover? It's hard to say for certain, but using past filings as a guide, it took roughly three years for the company to return to robust sales growth after the down cycle of 1993-1996. Note: Division names have been changed over time - Electronics corresponds roughly to Applied Tech, Plastics to Engineered Films, and Sewn Products to Aerostar.

Click to enlarge
In this most recent cycle sales started their steep descent around 2013, so we're almost four years into the "decline" phase, with the past few quarters showing signs of leveling out. This cycle is notably different than the 1990's one, as there wasn't a sustained crash in the price of oil in the mid 90's. However, history shows that Raven has navigated turbulent waters before and with its debt-free balance sheet there isn't really any credit risk for investors to be concerned with. The key things to keep an eye on going forward are Raven's pipeline of new products, and whether or not it can maintain pricing in this rough environment.
Valuation
A quick look at any financial website will show an uncomfortably high trailing P/E for Raven. As an example, Morningstar puts it at just under 100. So, is this company an expensive purchase? While I don't think it's the cheapest thing on the market, it's important to remember that in general cyclicals like Raven look most expensive when they are the cheapest, and cheapest when in reality they are actually expensive. This is due to the fact that the earnings of cyclical companies will plummet during down cycles, making their P/E overly expensive, but then typically bounce back just as strong in the up-cycle. What could we expect Raven's earnings to bounce back to in a stronger environment for its end markets? Below is a graph showing what Raven's net profit margin looked like before and after the cyclical downturn it finds itself in.
click to enlarge)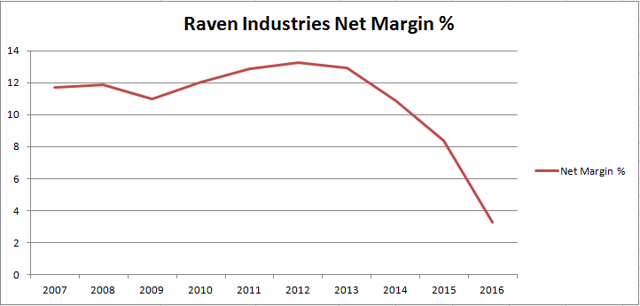 Click to enlarge
Using an average from 2007-2015 as a more "normal" net margin for the company, we arrive at the following: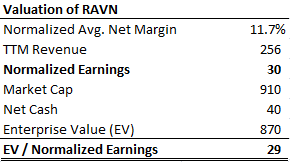 A price tag of 29x earnings might not be cheap, but it's a far cry from the 100+ P/E financial websites put out. In addition, it's important to note that this number assumes zero sales growth, when management very confidently projected an increase in sales over the next year. And while some might argue that CEOs in general always project rosy conditions, the management of Raven has a streak of transparency and have typically "told it like it is" to investors.
Conclusion and Other
Another interesting development over the past two quarters is the purchase of Raven shares by a money manager I would consider one of the best in the business. Alan Mecham of Arlington Value Capital owned roughly 22,000 shares as of 6/30/16. And while this is a small % of his portfolio (.05% to be exact), I think the fact that an investor with such a stellar record chose to purchase the company, speaks volumes about the business. Aside from this fact, there are the qualitative aspects of the business to consider. The board of Raven has proven to be very wise over the years, and consistently returns excess cash to shareholders. It's paid out a dividend since 1992, and more recently, as the share price has remained depressed, the company has bought back roughly $37 million of its stock (4% of its current market cap) at an average price of $17.75/share, far below the company's current $25/share price.
Overall the company is not a screaming bargain, and it's hard to say when the macro environment will rebound. However, this past quarter shows some very promising signs of a reversal in Raven's sales decline, and the company's long history of navigating turbulent markets while rewarding shareholders with dividends and buybacks should put it on every investor's list to consider.
Disclosure: I am/we are long RAVN.
I wrote this article myself, and it expresses my own opinions. I am not receiving compensation for it (other than from Seeking Alpha). I have no business relationship with any company whose stock is mentioned in this article.