My last review
In mid-May, I wrote an article on Glencore (OTCPK:GLCNF) (OTCPK:GLNCY). The conclusion was that:
Even though the equity may offer considerably higher returns (be careful with the high volatility) over the next 6 to 12 months, I think bonds are still a better deal on a risk/return basis."
I finished the article disclosing I was long Glencore bonds and saying that:
Despite their strong rally year to date, with the recent pullback, Glencore bonds still look attractive and have room for further appreciation. For example, the 2023 issue mentioned above was trading at par 12 months ago, and given Glencore actions and track record, I expect them to come back to 100% by year end. That would be an 18% capital gain (excluding interests) from current levels. Note that even at par, this issue yields 4.125% per year (the coupon)."
What happened since then?
The stock gained 25% since then from $1.90 to $2.40. After another failed attempt to break the $2.50 resistance, Glencore pulled back and is now fighting with its 50-day moving average. If it breaks below this average, I wouldn't be surprised to see a retesting of May lows, more or less where its 200-day moving average is right now. In fact, momentum isn't very bullish because the MACD is pointing south and the RSI has room to fall further.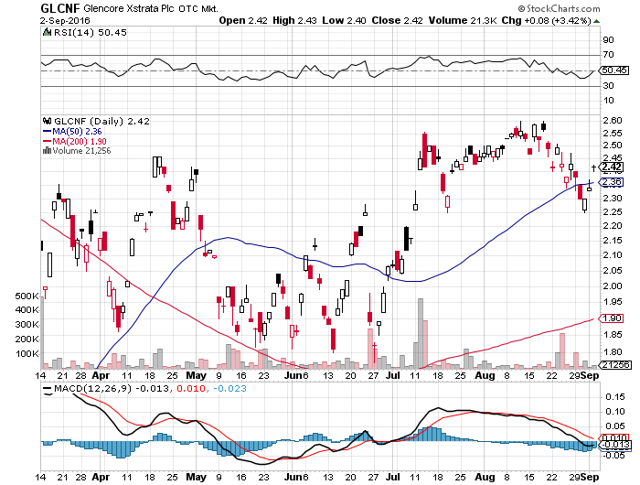 Click to enlarge
Source: Stock Charts
The bonds also rallied. The 4.125% USD 2023 issue that I mentioned in the previous article increased 17.5% from 85% to 100% (without including accrued or paid interest). The other way to put it is that yields contracted from 6.25% in mid-May to 4.125% today. Naturally, depending on the duration of the bonds, your gain could have been higher or lower than this.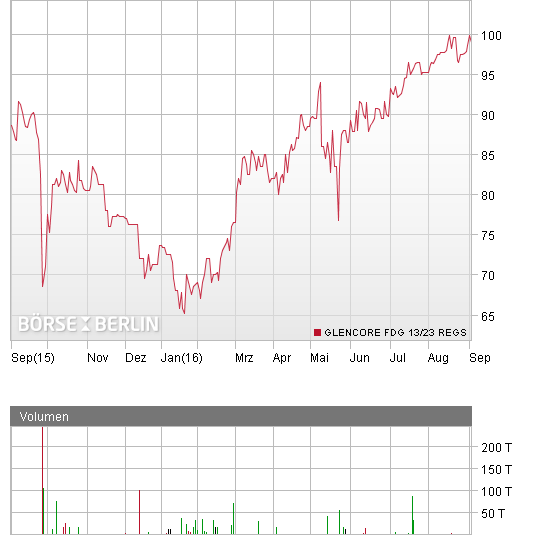 Source: Boerse Berlin
In mid-May, I wrote that I "expected these bonds to come back to 100% by year end." Luckily, it took them only half the time to reach that target. As my target was reached, I sold the bonds last week. I know a bond yielding 4% isn't easy to find these days, but for me this was not a buy and hold investment. My goal was to play the spread tightening and to sell the bonds as soon as they reached fair value.
Glencore delivered what it promised
Glencore acted quickly and decisively to cut debt and boost liquidity, and the company showed a strong commitment towards deleveraging: it sold assets, bought back debt at a discount, and obtained new credit lines.
All those efforts paid off as the company was able to maintain its investment grade credit rating during a very difficult period for the mining industry. It is now rated BBB- by S&P and Baa3 by Moody's; both with a stable outlook.
In fact, it seems that the worst is behind Glencore as the company ended the first half of 2016 with $14.9 billion of committed available liquidity, enough to cover the bonds maturing over the next 3 years.
On the solvency side, both net funding and net debt decreased substantially in absolute terms during the first half of 2016. Even in relative terms, when measured against EBITDA, there was a small improvement.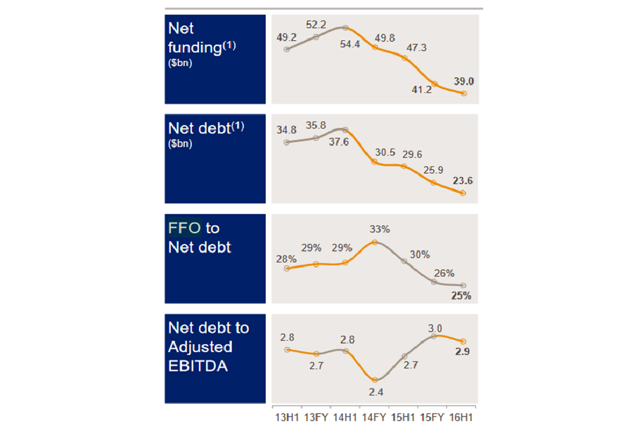 Click to enlarge
Source: Glencore
Before finishing, I must say that congratulations are in order for CEO Ivan Glasenberg who has the reputation of more than delivering what he promises. One year after the presentation of an ambitious debt reduction plan, Glencore lost weight and is in good shape to start shifting its focus from bondholders to shareholders.
In Summary
It has been a very good rally in Glencore stock and bonds, leaving both shareholders and bondholders with some big fat profits in their bank accounts. However, bonds now seem to be fairly valued, and there's no juice left in terms of further spread tightening. That's why I realized the gains.
Disclosure: I/we have no positions in any stocks mentioned, and no plans to initiate any positions within the next 72 hours.
I wrote this article myself, and it expresses my own opinions. I am not receiving compensation for it (other than from Seeking Alpha). I have no business relationship with any company whose stock is mentioned in this article.
Editor's Note: This article covers one or more stocks trading at less than $1 per share and/or with less than a $100 million market cap. Please be aware of the risks associated with these stocks.