Introduction
Realty Income (NYSE: O) is a real estate investment trust headquartered in San Diego, California, even though it is chartered in Maryland. The company owns thousands of real estate properties across 49 states worth almost $20 billion. Just over two years ago, the company was added to the S&P 500 meaning it is one of the five hundred largest companies by market cap in the United States.

Realty Income Logo - Uba Benefits
Realty Income has built up a strong reputation as the monthly dividend company, a slogan it lists with all its marketing. The company has spent more than 20 years paying increasing monthly dividends. As a result, the company is now just a few years away from being inducted into the dividend aristocrat list which should result in additional forced buyers. More importantly, this dividend history shows the company's ability to reliably pay a dividend.
As a company, Realty Income pays a dividend of 3.65% annually, spread out across 12 monthly payments, each $0.20. In the present low interest environment, this is a yield that investors have run to. Realty Income saw its stock price hover between $40 and $45 per share in late-2015 before it began increasing in early 2016 all the way up to a high of almost $72 per share in July 2016. Since then, the company's stock has begun to fall and the company's share price has dropped to its present price of just over $66 per share.
For reasons we will now discuss, this pullback represents a good opportunity to invest in Realty Income.
Realty Income Overview
Now that we have our introduction, it is time to delve in deeper, starting with a broad overview of Realty Income as a company.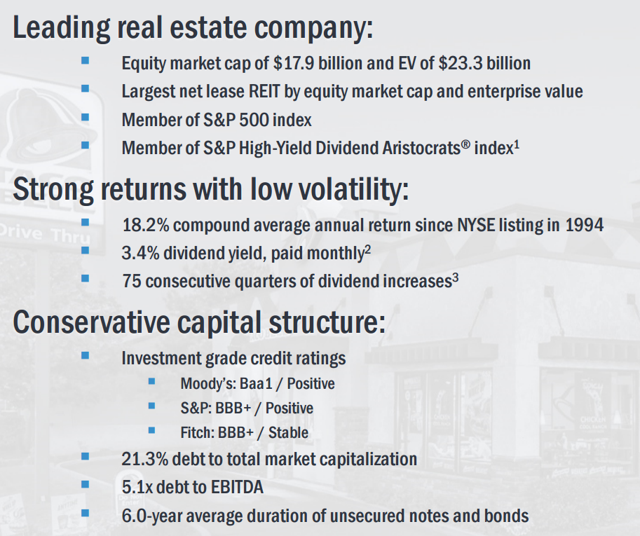 Click to enlarge
Realty Income Overview - Realty Income Investor Presentation
Realty Income is one of the largest real estate companies in the world, with an equity market cap of $17.9 billion and an overall value of $23.3 billion. That makes the company the largest net lease REIT in the country. The company's strong payout and consistent growth means the company has grown by 18.2% compounded annually, having increased its dividend almost every single quarter since it first went public, one of the most reputable histories of quarterly dividend growth.
The company's steady growth means reliability. And reliability means that the company can borrow money at a low cost. The company currently has a conservative capital structure while maintaining an investment grade credit rating from all the major ratings agencies. The company has a low debt to total capitalization ratio of just 21.3% but a relatively high debt to EBITDA ratio of 5.1x. However, the company's 6-year average bond duration as opposed to other companies with a longer bond duration means that the company's annual interest costs are lower.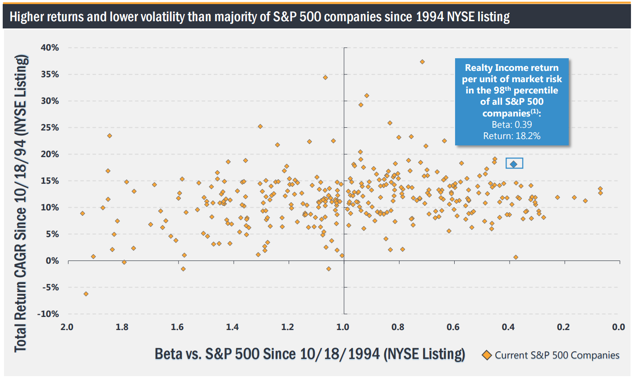 Click to enlarge
Realty Income Returns and Volatility - Realty Income Investor Presentation
The above image shows Realty Income's history of returns in comparison to its beta. Realty Income has maintained a low beta of roughly 0.4 while providing investors with strong annual returns of almost 20%. These are some incredible returns for the risk you are taking. And it represents why investors should take a close look at Realty Income. The S&P 500 P/E ratio is near all time highs and it has been eight years since the last market crash. With the chance of another market crash coming up, investors should pay special attention to high-yielding low-beta stocks.
Investment Decisions
Now that we have an overview of Realty Income along with an understanding of its recent performance, including how the company has continued to provide investors with strong returns and minimal risk, it is now time to discus Realty Income's investment decisions.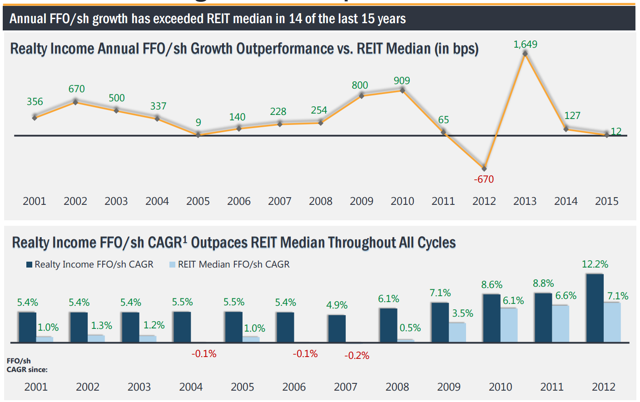 Click to enlarge
Realty Income Cash Flow Growth - Realty Income Investor Presentation
A company like Realty Income has two different sources of growth. The first is clauses in its rental contract that have the annual rent the company charges its clients increase year after year. Normally, these contracts account for the decrease in the company's value due to inflation. However, oftentimes these contracts allow the company's profits to also increase along with covering inflation.
The company's second choice is to acquire new properties. This is done through a combination of issuing debt and new equity. With the company's price near its all-time highs, I recommend the company issue some equity in order to acquire new properties at its present valuation. The company can also issue debt -- in the present incredibly low interest environment -- to acquire new properties.
Either way the company's actions have allowed its free cash flow per share to consistently increase by several percent each year. This consistent growth in earnings per share will allow the company to increase the dividends it can pay to investors. More importantly, as long as the company isn't paying out all of its earnings as dividends it has additional cash for new properties.
Thesis Risk
Now that we have discussed Realty Income's performance and history of investment decisions that have allowed it to consistently grow its dividend, it is now time to discuss risks to the company's thesis.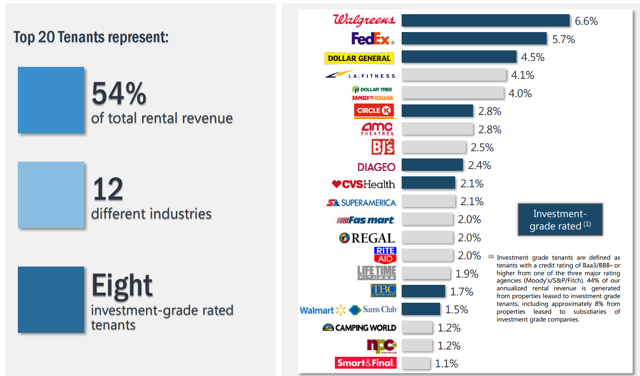 Click to enlarge
Realty Income Tenant Breakdown - Realty Income Investor Presentation
One of Healthcare Property Investors' (NYSE: HCP) biggest issues was how much of its revenue it was gaining from just a few clients. Deriving all this revenue from just a few clients meant that when one of these companies ran into difficulties the company's important dividend for investors was at risk. Under the situation where a real estate investment trust's largest clients would fail, this could place Realty Income's dividend at significant risk.
However, as we can see above, Realty Income's sources of income are very well spread out. The company's top 20 tenants are spread across 12 different industries with 8 of these clients having investment-grade credit ratings. The largest of these clients represents just 6.6% of income. And the risk goes down fast with only 7 out of the company's top 20 sources of revenue making up more than 2.5% of the company's annual revenue.
This provides a strong overview of the safety provided by Realty Income's revenue streams.
Investment
Now that we have fully discussed Realty Income including the company's performance, history of strong investment decisions, and income safety, it is time to finish with discussing Realty Income as an investment.
Currently, Realty Income has had a difficult time with its share price dropping by 10% after an immense run-up from the start of the year. The company yields 3.65% and is trading at a small beta of 0.4, meaning the stock experiences significantly less volatility than the average stock. With the last market crash having happened 8 years ago and the S&P 500 near its all time highs, Realty Income offers a secure yield with low risk.
And investors also have the option to increase their dividend. The stock closed Friday (9/2/16) trading at $66.27 / share. Investors who buy the shares today would receive $2.40 in dividends for the next year. However, an investor looking to increase income could also sell January 2018 covered calls with a strike price of $65 for $5.80 per share (average of the bid-ask spread).
With the present share price that means investors are getting $4.53 net option income (assuming that the stock price stays constant and the options are exercised). Dividing this by the 15 months until the option's expiration date comes out to $0.30 in extra monthly income. That means an investor who purchases the shares at the present price -- even if its share price stays constant for the next year -- would earn $6 in income for the year, or a 9.05% yield.
In the present incredibly low interest rate environment, earning 9% a year on a low beta investment, assuming the stock price does not change, is an incredible return. This is why I think Realty Income is a good investment at the present.
Conclusion
Realty Income has seen its stock price drop by almost 10% recently and the company now yields a very respectable 3.65% paid monthly. The company has a long and strong history of increasing its dividends, a history that will likely increase, and the company is just a few years away from going on the dividend aristocrat list.
And unlike the other dividend aristocrat REIT, Realty Income's dividend yield is not at risk. The company's revenue comes from a large number of different revenue streams and this means that any one client failing will have a very small effect on Realty Income. More importantly, by selling covered calls, investors can increase their yield to just over 9%, an incredible rate in the present low-interest rate environment.
For these reasons, I recommend investing in Realty Income at the present time.
Disclosure: I am/we are long O, HCP.
I wrote this article myself, and it expresses my own opinions. I am not receiving compensation for it (other than from Seeking Alpha). I have no business relationship with any company whose stock is mentioned in this article.