I strongly disagree with Liliputing's speculation that Intel (NASDAQ:INTC) probably won't use its latest Atom T5700 and T5500 processors inside tablets and 2-in-1 computers. The mature tablet market is more viable right now for new Intel Atom processors. The market for Atom-powered Virtual Reality headsets and smart appliances is still nascent.
The current Cherry Trail Atom processor product line needs to evolve to help Intel maintain its third-best ranking in tablet application processors. Although the company stopped subsidizing Atom tablet processors in early 2015, it was still the No. 3 top supplier of tablet processors last year.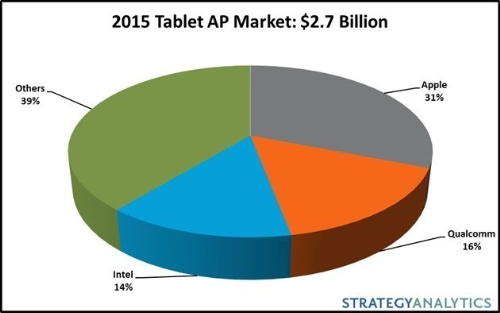 (Source: Strategy Analytics)
If we discount iPads, Intel was actually the second-biggest supplier of tablet processors last year. I expect the company to retain its ranking as among the top 3 vendors of tablet processors this year. There's a list of Atom-powered Windows 10 tablet computers that will released this month by tier-1 PC manufactures like Asus (OTC:ASUUY), Acer, and Lenovo (OTCPK:LNVGY).
The tablet application processor market was worth $2.7 billion last year. However, this year's proliferation of 2-in-1 Windows 10 and dual-boot Android/Windows computers is enough reason for me to believe the tablet processor market could end up growing to $3-3.5 billion this year and $4 billion in 2017. Since cheap ARM-based Android tablets are giving way to more functional 2-in-1 tablets, I also expect Intel to get more than 14% market share this year.
My $3-3.5 billion estimate for tablet processors revenue for 2016 is not far-fetched. I googled, and Statista also predicted tablet processors will account for 5% of the $65 billion MPU (microprocessor units) revenue this year - 5% of $65 billion is equal to $3.25 billion.
I opine Intel is not having a hard time selling its inventories of old Cherry Trail and Bay Trail Atom tablet processors. Several Chinese tablet manufacturers keep on producing Atom-based Windows 10 and dual-boot Android/Windows tablet computers. An Intel x86 processor, not ARM-based, is the go-to System-on-Chip ((SoC)) for dual-boot tablets.
The race-to-the-bottom pricing in Android phones is forcing firms like Cherry Mobile to sell Intel-powered, 2-in-1 Windows/Android computers. The unique ability of x86 Atom processors to run almost any operating system gave Intel a monopoly on dual-boot computers. The dual-boot Atom x5-equipped Cherry Mobile Cubix Morph Windows 10/Android 5.1 computer is just an easy example why Intel has to keep producing better and more powerful Atom processors.
Why Intel Has Compelling Reason To Sustain Its Atom Tablet Processor Business
Advanced Micro Devices (NYSE:AMD) is still absent from the tablet application processor market. It is up to Intel to keep supplying the x86 processors for Windows-based tablet/notebook computers like the revolutionary Lenovo Yoga Book.
The Android and Windows 10 versions of the very unique Yoga Book both use Intel's Cherry Trail Atom x5-Z8550 processor. The multi-OS versatility of Atom processors made them very important in the tablet application processor market. No ARM-based processors can run the full Windows 10 operating system that is usually required for business productivity.
The emergence of dual-boot Windows/Android tablet/notebook hybrid computers should also help Intel to sustain its Atom processors. I believe dual-boot Windows/Android 2-in-1 tablets are the future iterations of the old clamshell laptop concept. The versatility of a dual-booting laptop, which could transform into a touch-enabled tablet, makes perfect sense to me.
It could be used as a full-fledged Windows productivity tool that has a real keyboard to quickly create documents or edit pictures with Adobe (NASDAQ:ADBE) Photoshop CC. Once done with work/tasks, an Intel-powered 2-in-1 laptop could be rebooted to Android to play games or watch movies.
Why The New Atom T5700/T500 Is Better For New Tablet Computers
My takeaway is that it will be a mistake for Intel to not offer its more powerful Atom T5700 and Atom T5500 processors to Windows 10 and dual-boot tablet computers. The evolution of the laptop into a 2-in-1 tablet/notebook productivity machine requires it to keep getting better processor/GPU.
Yes, it was possible to run Photoshop CC on an Intel Atom Z3740-equipped VivoTab 8 tablet. However, it struggles in CPU-tasks like multi-layer photo editing and large-format poster design. Intel made the Atom T5700 and T5500 up to 50% faster than the old Cherry Trail Atom x5-Z8500. A faster CPU is very desirable for $499 2-in-1 tablets like the Lenovo Yoga Book.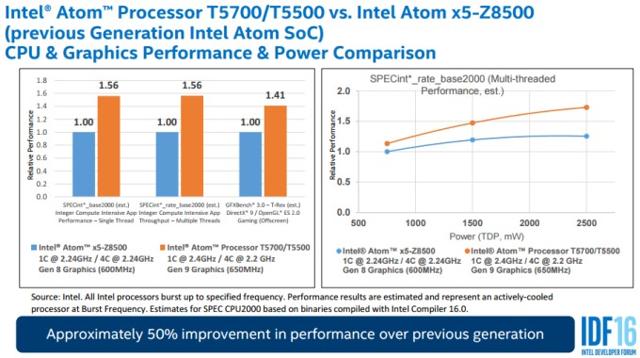 Click to enlarge
(Source: Intel)
Lenovo, Asus, Acer, and other Chinese white-box tablet manufacturers will also find the low-power Gen9 Intel graphics of the Atom T5700/T5500 very attractive. These new Goldmont-based Atom processors support GPU hardware-accelerated 4K video encoding and decoding. They could make 2-in-1 tablets into decent video/image editing machines that could also run most modern 3D Windows and Android games.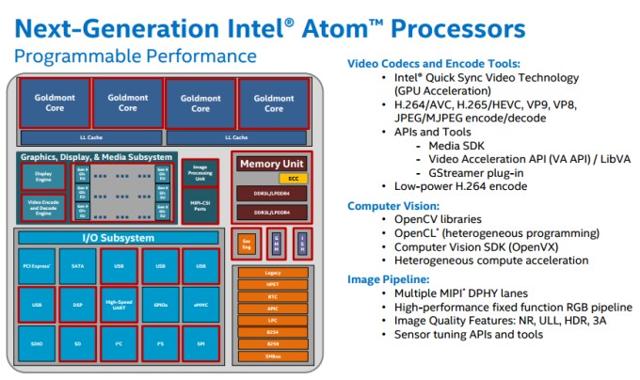 Click to enlarge
(Source: Intel)
One of the reasons for Liliputing's speculation that Intel won't use the T5700/T500 inside tablets is the higher 6-12 Watt TDP. Cherry Trail and Bay Trail Atom processors have 4-6W TDP. However, it is time we stop thinking of tablets as mere entertainment devices. Productivity-focused 2-in-1 tablet computers could tolerate a higher energy consumption.
They could always come with a bigger battery. The Atom x5-equipped Lenovo Yoga Book already has a 8,500 mAh battery rated for 15-hour battery life. Putting a T5500 will likely only reduce the battery life to around 8 hours. A reduced battery life in exchange for 50% faster CPU and more powerful Gen9 Intel GPU is fair trade.
Furthermore, the focus on very energy-efficient mobile processor is no longer a pressing issue. There are now dozens of sub-$25 50,000 mAh pocket-worthy power banks to complement a 6-to-12 Watt TDP-rated Atom T5700.
Conclusion
I suspect the Atom 1.7 GHz T5700 and 1.5 GHz T5500 quad-core processors are the Goldmont Apollo Lake Atom processors that Intel is reportedly prepping for tablets and 2-in-1 laptops. They are not exclusively meant for Intel Joule Internet-of-Things developer kits.
Intel has already released its first batch of Pentium and Celeron Apollo Lake processors. They have TDP ratings of 6-10 Watts. However, they are all priced above $100 per unit. Three of these are for desktop computers and three for mobile computers (laptops).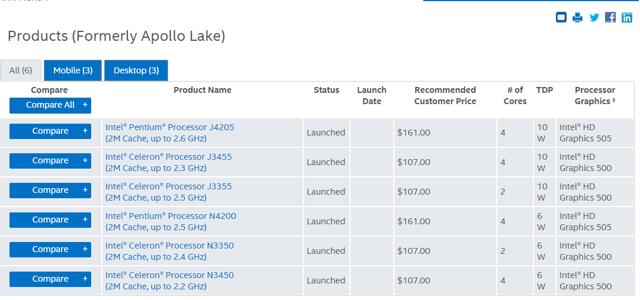 Click to enlarge
(Source: Intel)
Tablet and 2-in-1 computer manufacturers will likely prefer a sub-$100 Apollo Lake Atom. Cherry Trail processors sells for $21-37 per tray. A less powerful Apollo Lake for tablets with a retail price of $50 has a bigger total addressable market than the Apollo Lake $167 Pentium N4200 notebook processor.
I remain long INTC. It is my firm belief that the company will remain a leader in tablet application processors. Unless AMD gets design wins for its Zen processors from manufacturers of Windows and dual-boot tablet/2-in-1 notebook computers, Intel will continue to monopolize this growing niche.
Disclosure: I am/we are long INTC, AMD, ADBE.
I wrote this article myself, and it expresses my own opinions. I am not receiving compensation for it (other than from Seeking Alpha). I have no business relationship with any company whose stock is mentioned in this article.