Click to enlarge
Many readers follow my page strictly for the military and retirement focused content, however, I like to do a little moonlighting so to speak. Every so often, I find something that catches my eye that I believe deserves some research. As I've noted below, this is incredibly rudimentary, and deserves further due diligence, but I think it will steer some in the right direction.
"This Reminds Me Of Magellan":
While sifting through Seeking Alpha articles and news, I stumbled upon EQM. I haven't really been "shopping" in the sector lately and, frankly, it was easy to forgot about this not-so-sexy company. It's in essentially one play, gets 54% of throughput from EQT, and it's dividend doesn't set it apart from its peers (RMP, AM, CPPL, SMLP or CNNX). After checking out the financials and performance, I immediately thought: "this reminds me of Magellan". That may not be everybody's first thought, and why would it be?
Magellan Midstream Partners (NYSE:MMP), a Tulsa based, refined products pipeline company that's been trading since 2001 seems to be totally different from a Pittsburgh based, natural gas gathering and transmission company that's been trading since 2012. Aside from moving commodities through pipeline, these companies couldn't be more different. To prove to myself that I hadn't lost my mind, I took an elementary approach to this article and the associated analysis. I compared current and historical financial data and unit performance to get a better idea. This is what it looked like:
Stock Performance: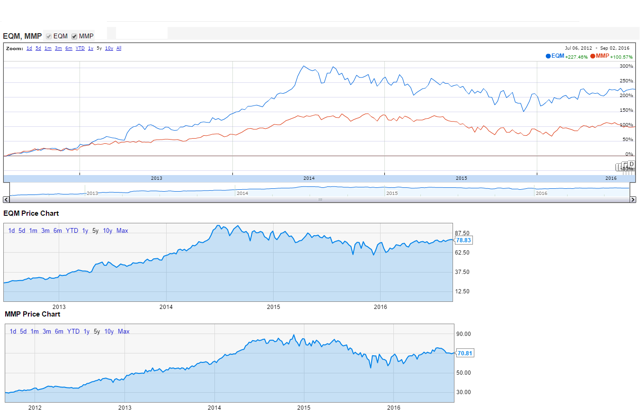 Click to enlarge
I wanted to know what kind of price fluctuation I was dealing with, so I looked for the difference between each company's 52 week high and low.
EQM: 29.902% change, using: $80.63 and $56.52
MMP: 29.619% change, using: $77.45 and $54.51
Their performance may have been incredibly similar during the downturn, but how did they perform over the past 5 years? While market cap is far from the only metric used to determine a companies growth potential, it is often used as a benchmark. With higher market cap, lower growth is expected and vice versa. Magellan has a market cap of $16.13B, while EQM has a market cap of $6.35B. MMPs market cap is 154% larger than EQM.
In a 5 year period, EQM has returned (an incredible): 227.46%
In the same 5 year period, MMP has returned: 100.57%
That means that EQM, whose market cap is 154% smaller than MMP, returned 126.17% more.
A note: Magellan completed a 2-for-1 split in late 2012.
Dividend Yield: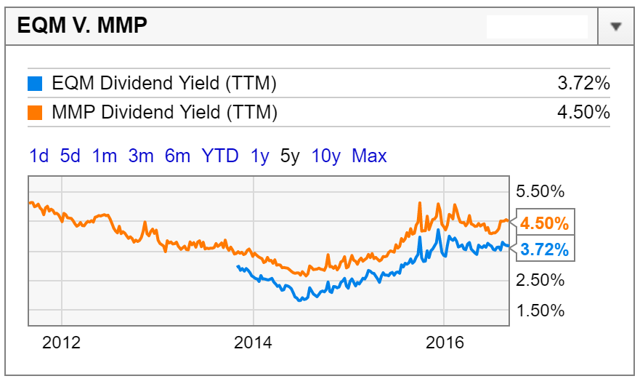 Click to enlarge
EQM: 3.72%, $3.12 p/s annualized payout
MMP: 4.50%, $3.28 p/s annualized payout
Dividend Cover: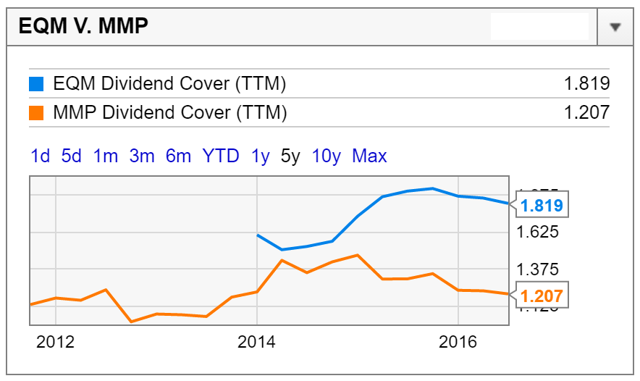 Click to enlarge
Both companies are well covered; EQM has fantastic coverage at 1.819 and it doesn't look like they'll have any issues maintaining it through the downturn. MMP is holding steady at 1.207; however, it seems that they've been stuck in a perpetual loss of FCF since Q1 2015 and investors should monitor this.
EBITDA: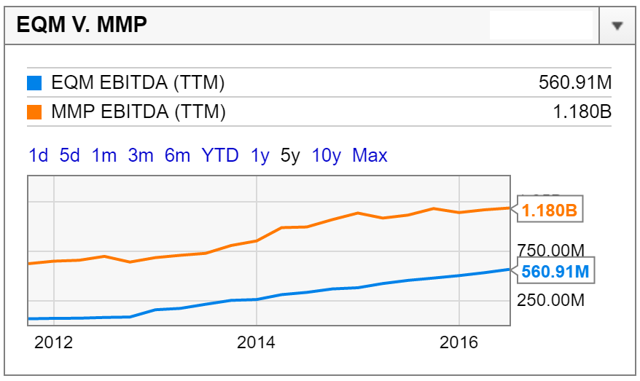 Click to enlarge
EBITDA has continued to increase drastically for both companies over the past 5 years.
Free Cash Flow: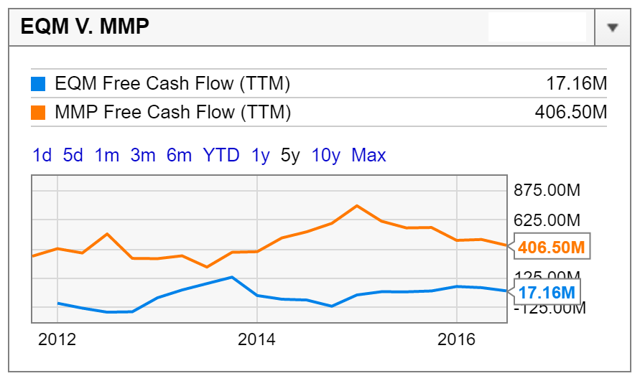 Click to enlarge
FCF over the past 5 years has remained steady. MMP has been exposed to the run up and downturn a little more than EQM, but they have still generated some serious cash flow.
Price to Free Cash Flow: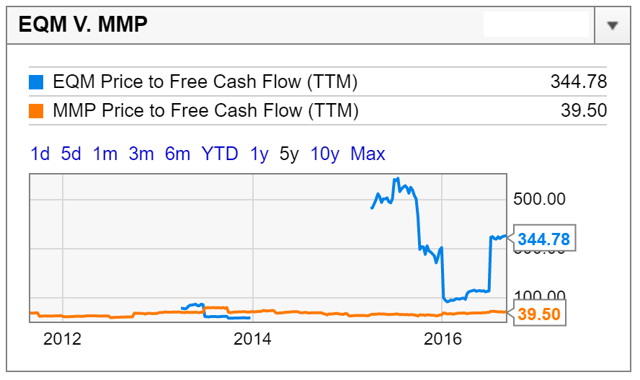 Click to enlarge
This is where all correlation stops. The last time that EQM saw reasonable p/fcf was around it's IPO at 13.08. It's average p/fcf is 113.
For those unaware, P/FCF is a metric used in evaluating MLPs rather than P/E. The idea is the same; we're looking for high, or increasing FCF, but a low unit price. A low P/FCF ratio typically indicates that units are undervalued and will correct higher. EQMs P/FCF is so high, that it is ranked lower than 100% of the 57 other companies in the Global Oil & Gas Midstream sector, according to gurufocus. For reference, the sector median is 9.2.
While EQT Midstream Partners may be a conservative and financially sound company, it is absolutely overvalued.
Similar to other overvalued stocks, it doesn't necessarily mean you should sell or steer clear. Like Magellan, EQT Midstream has found its place in the sector and traders have acted accordingly. It's not often we find conservatively managed MLPs due to the nature of their structure. When investors do find a company that has fantastic distribution growth (and coverage), low debt, and growing EBITDA during a bust, they buy. That's what we're seeing here today.
Summary:
The company may be overvalued, but as long as the dividend is paid, increased according to guidance, and the coverage remains solid, I think we see EQM ride higher. We've seen this kind of action in Magellan. MMP is consistently overpriced, but due to its well-managed nature, conservative outlook and steady growth, it has enjoyed significant unit price appreciation. I think that EQT Midstream shares this sentiment and will look to maintain this approach because it has been working.
It's also worth noting that natural gas season is nearly upon us, and that generally bodes well for producers. Due to the partnerships exposure (54%) to EQT production, they'll likely see a boost.
Keep in mind that while the companies aim to take a conservative approach, the nature of the sub-sectors (refined products & natural gas), do vary in volatility and natural gas is inherently riskier than refined products. If you're looking to maintain lower risk, but still have some skin in the MLP game, I recommend you consider one, or both of these companies for the long haul.
Disclosure: I am/we are long MMP.
I wrote this article myself, and it expresses my own opinions. I am not receiving compensation for it (other than from Seeking Alpha). I have no business relationship with any company whose stock is mentioned in this article.