The defense and aerospace industry is a wonderful segment of the stock market and a relatively safe place to invest for the long-term. There are dozens of companies to choose from in this space with varying strengths and weaknesses and today I take a look at Northrop Grumman (NYSE:NOC).

Click to enlarge
Company History
The company can trace it's roots back to 1930 when Leroy Grumman, Jake Jake Swirbul, Bill Schwendler, E. Clint Towl and Ed Poor created Grumman Aeronautical Engineering. Northrop Aircraft Corporation was founded by John Northrop nine years later and in 1994 they finally became one after Northrop purchased Grumman.
Grumman and Northrop both have many milestones in the aerospace industry. Notable achievements include the Grumman Wildcat which revolutionized carrier-borne fighter planes with the stow-wing design. That design gave birth to the F6F Hellcat which gave the Navy and Marines air superiority in the Pacific in WWII. Just one year after the end of WWII Northrop successfully tested the XB-35 flying wing which of course is the predecessor to the B-2 stealth bomber. Their product line-up through the years has planes like the F-14, F-18, EA-6B Prowler, and even the Apollo Lunar Module.
The company we have today is a collection of several that have been acquired over the years such as Westinghouse Electrical, Ryan Aeronautical, and TRW among others. In 2011 Northrop spun-off their Newport News Shipbuilding segment into Huntington-Ingalls (NYSE:HII) which has performed well in its own space.
Company Segments
Northrop Grumman operates in five segments: Cyber, Logistics, Autonomous Systems, C4ISR (Command, Control, Communications, Computers, Intelligence, Surveillance and Reconnaissance), and Strike. Inside those capabilities are sub-segments that include advanced electronics, commercial aviation, directed energy, health, IT enterprise and solutions, manned aircraft, military aviation, missile defense, naval systems, navigation systems, and finally space. The company is well diversified and offers many highly sought after solutions to modern defense and aerospace challenges.
Notable Products
Defense and aerospace is really no different than any other industry in the respect that what a company makes must be in demand and necessary. Geopolitical dynamics rapidly shift and certain platforms can come in and out of demand. Looking at Northrop Grumman and what they offer to their customers shows me they have a solid understanding of their end-markets.
The most visible and well-known product of NOC is the B-2 Spirit Bomber. This flying wing is a modern achievement that has no equal in capabilities anywhere in the world. With a 6,000 nautical mile range (10,000 with an aerial refueling) this aircraft can slip in and strike a target with 20 tons of munitions and slip out without the enemy having any idea what happened. The US has 20 of these in operation and is constantly being upgraded. With our adversaries such as China and Russia improving their anti-air capabilities alongside their Anti-Access/Aerial Denial (A2/AD) weaponry the reach the B-2 has and ability to pummel those defenses undetected is invaluable and gives the Pentagon an ace up their sleeve.
Missile defense is a huge industry and growing. The Missile Defense Agency forecasted to spend $38 billion through 2020 and that is only for the United States. Northrop Grumman of course would like a chunk of those billions and is involved in many regards. Currently they offer integrated missile defense command and control systems. They don't offer a kinetic PATRIOT or MEADs system like Raytheon (NYSE:RTN) and Lockheed Martin (NYSE:LMT) do but they are on the cutting edge of missile defense with a joint project known as the Airborne Laser Testbed. Partnering with Boeing (NYSE:BA) and Lockheed they have successfully placed a laser on a 747 and intercepted a ballistic missile in it's boost stage. Northrop provided the two lasers on board, Boeing the aircraft and management and computer systems and Lockheed the beam and fire control systems. As the technology is scaled down and improved Northrop could place this on their X-47B drone or into space for orbiting missile defense.
Fundamentals
Operating in the defense industry has its ups and downs but for Northrop the revenue stream has been dropping since the Huntington Ingalls spinoff. That slow bleeding of revenues has been plugged recently and 2016 should show growth in revenue for the first time since the spinoff.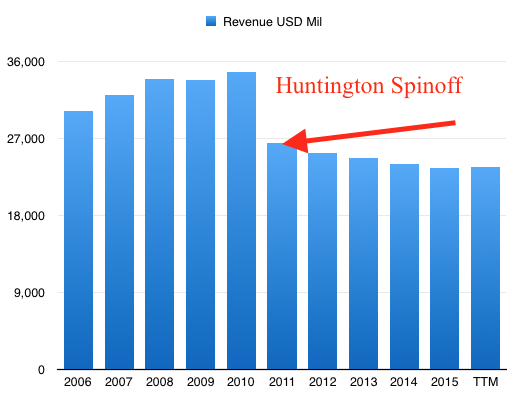 It would be nice to see the revenue rising but the company has been improving their margins to make up for it.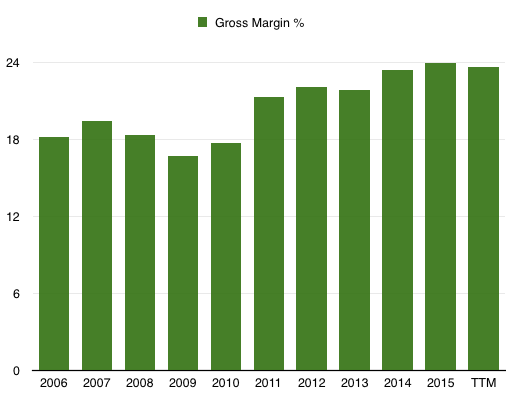 The share price has performed remarkably well despite lagging revenues mostly thanks to the rising earnings per share on the back of aggressive share repurchasing by the company.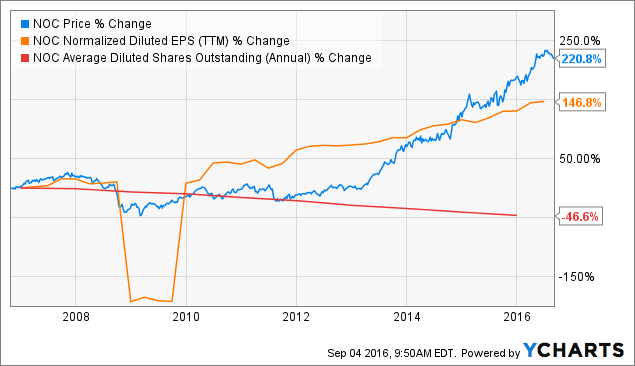 Share price has certainly outpaced the growth of earnings which is discouraging if looking to purchase shares now but there are always other aspects to consider.
As far as dividend growth is concerned Northrop Grumman is a great pick. The company typically announces a raise in May and the last one was 12.5%. Even with a 5 year growth rate of 11% the yield is only at 1.7%. The payout ratio is safe as well at 30% of free cash flow so the company can afford to continue the double digit raises.
The balance sheet has $1.14 billion in cash with $6.4 billion in long-term debt. The company has been adding leverage and expending their cash in recent years.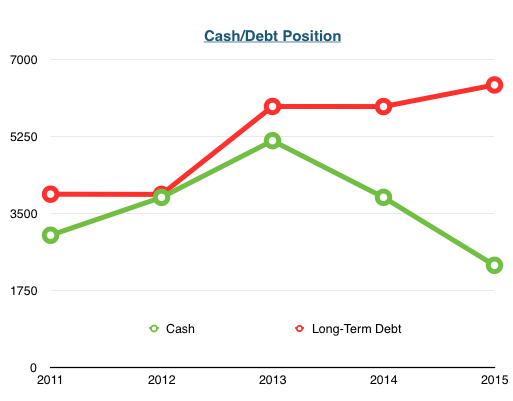 Concerns
Personally I am most concerned with the revenue over the past few years and the climb in share price. It does look like the share price has been stretched a bit on a P/E valuation basis. There is more than one way to view the share price but unless the company can grow it's revenues the valuation looks too rich. If the company cannot grow the top line organically the bottom line will begin to suffer without the share buybacks. With a ten year P/E average of 11.7 and now trading at 19.18 times earnings it is hard to feel safe buying shares here.
The increase in leverage is also concerning, especially when looking at the declining cash reserves. The company has been burning through their cash to fund the share buybacks, spending $3.2 billion in 2015 on that endeavor while only generating $2.16 billion in cash from operations. The difference of course was made up from cash and they burned through $1.5 billion.
If the company isn't able to organically grow their bottom line the share price will ultimately suffer. That great growth in EPS has been engineered by share buybacks and the company simply doesn't have the cash reserves to continue this for much longer.
Conclusion
Northrop Grumman is a great company with great leadership that has done a wonderful job staying relevant in a tough environment. The defense and aerospace landscape is constantly shifting and competition is always fierce. The company is even about to post an increase in annual revenue despite US defense spending leveling out.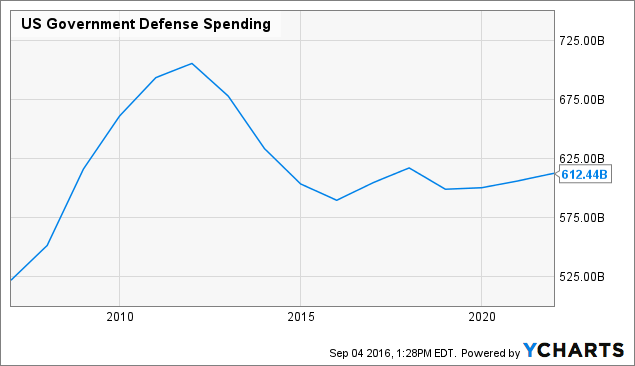 US Government Defense Spending data by YCharts
Personally I would not buy shares at these prices and I'd be more interested around $200. I hate saying that because obviously we all want to buy shares at a lower price than what they are today, but the company is just expensive no matter how I look at it. If I owned shares I wouldn't sell, especially considering the company has won the long-range strike bomber contract, but that contract won't begin having an effect on earnings until 2020 or so.
The company is still a solid pick in the defense and aerospace industry despite the concerns. The products and solutions they offer are in demand and that demand will increase as our adversaries continue to increase their own defense spending.
I hope you all got something out of this article. I do appreciate the time you took reading it. If you are one of those who follows me here, I appreciate it; if you'd like to include yourself amongst those individuals, please hit the "Follow" button next to my name as well as following other contributors whose work you enjoy. As always, please leave any feedback and questions you may have in the comments below. Best of luck to you all.
Disclosure: I am/we are long RTN.
I wrote this article myself, and it expresses my own opinions. I am not receiving compensation for it (other than from Seeking Alpha). I have no business relationship with any company whose stock is mentioned in this article.