Alphabet (NASDAQ:GOOG) trades at a forward PE of around 19, 6 times sales, 4 times book value, and a price/cash flow ratio of around 26x. In the past couple years shareholders have been well rewarded, as the company's core advertising business continues to grow.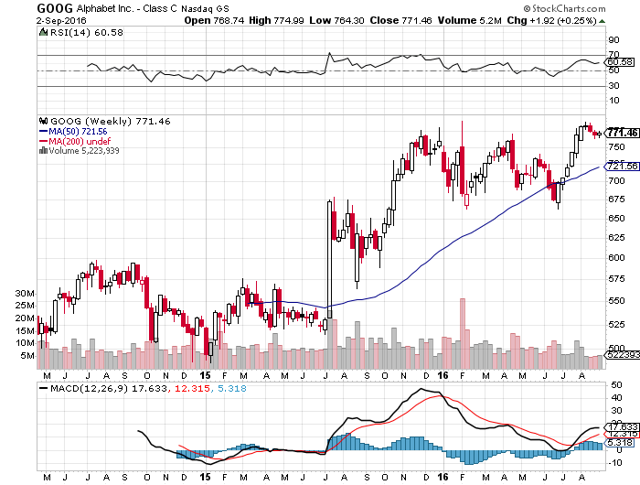 Source: Stockcharts.com
In the most recent quarter revenue grew 21% year over year to $21.5 billion with earnings per share of $8.42, beating analyst estimates handily. They have a cash position of $78.460 billion versus $69.780 billion with 61% of it held overseas. Revenue was up 7% sequentially as well, reflecting a possible accelerating trend that looks to continue. In the conference call we see that mobile growth is showing particular strength, YouTube revenue growing significantly, while traffic acquisition costs were up 18% year over year.
Based on the above, I wouldn't be surprised to see the stock price hitting low to mid $800s in the next year, indicating moderate upside. However, there are several points of the business that I'm highly skeptical of and believe investors should take into account.
Buybacks and Stock-Based Compensation
Stock based compensation for the quarter was up 33% year over year to $1.5 billion, while the company repurchased 2 million class C shares for $1.4 billion. I expect the company to initiate another share repurchase plan of a larger size in the future, but I wish they wouldn't.

Source: Alphabet 10-Q
Utilized correctly, a company repurchases shares when management considers them significantly undervalued, and near 52 week highs and wasting shareholder funds on moon shots (more later) that's not the case. Share repurchases are just covering for stock based compensation, the latter being necessary for keeping talent. Many critics argue that such compensation is excessive, but it's a common practice in Silicon Valley which if not utilized results in an exodus of key talent to wherever the money is flowing.
Failed Acquisitions and Batty Moon Shots
Google's record of successfully integrating acquisitions is checkered to say the least, with Nest standing out as a particularly memorable disaster. While being in the smart home market looked great on paper, the way things unfolded show that a strategy of acquiring a business and giving it virtually unlimited funding doesn't guarantee success. Nest ex CEO Tony Fadell stepped down a couple months ago, as corporate infighting hit new highs and a culture clash with also-acquired Dropcam did not pan out as planned. After increasing headcount and positioning the company for success, Google didn't get any new groundbreaking products from a supposedly creative team, instead settling for slight upgrades and rebrands.
For an investment that really could pay off in the smart home market, investors might want to look instead at Alarm.com (NASDAQ:ALRM), which after a slight pullback looks to be in a sweet spot, just as new home sales in the United States hit a 9 year high of 654,000 annualized.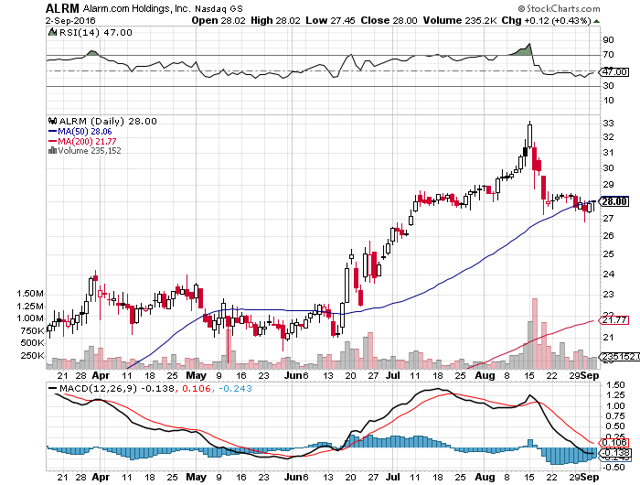 Source: Stockcharts.com
Google Fiber- Doubling Down on a Sunk Cost?
To me Google Fiber looks like a failed pet project, interesting in theory but competition and high ongoing capital expenditures make it unappealing. Alphabet's "other bets" segment posted operating losses of $802 million during the period, with $280 million spent on Fiber and expecting additional losses of $3.5 billion due to Fiber's capex.
What does the company have to show for all of its efforts? Potentially around 100k subscribers, much lower than management forecasts by this point. The company makes sweeping projections of reaching 2.4 million homes by 2018, which is nothing special when taking into account Comcast's 23 million subscribers. With 53,390 pay TV subscribers at 2015 year end, it grew 136% in the second half of 2014 and 78.8% in 2015. With so much press about Google Fiber, one would think they'd be making much more inroads into the market, but in reality they have a long way to go and I question their commitment as well as ability to capitalize on the market. Additionally, is targeting such a capital intensive industry really in shareholder's best interests, not to even mention other such moon shots that have a low probability of panning out?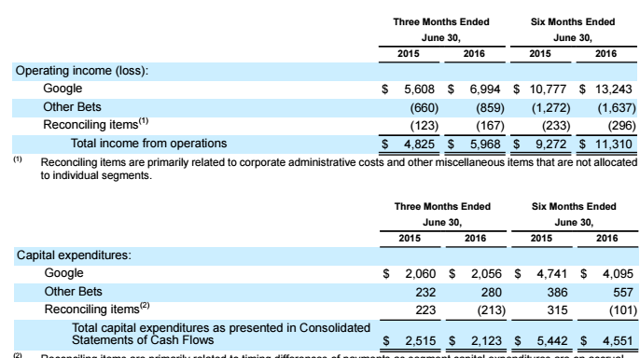 Source: Company 10-Q
Instead of pulling a "Google Glass" and calling it quits, management seems intent on doubling down with its purchase of Webpass, which provides high speed internet connections for residential and commercial buildings in the US. Like Fiber, it offers speeds of up to 1 gigabyte per second, and Webpass president Charles Barr believes the combined company can "accelerate the deployment of superfast Internet connections for customers across the U.S".
Google Fiber has been good for consumers, giving them more options and challenging existing monopolies, encouraging dialogue with local and municipal governments to more efficiently build out and install these technologies. For the company and shareholders, it seems to be one giant sinkhole that continues to suck money that could be alternatively be invested in the core business or used for more shareholder friendly purposes. The burden of proof is on management to prove this is a worthwhile venture, and they have a long way to go to silencing skeptics.
Other Moon Shots
Tight lipped bioventure Calico is in my opinion the most promising venture, even though the division flies under the radar and has little to show for its efforts to date. While Calico probably won't allow us to live forever, a drug treatment that allows humans to live significantly longer lives could be the biggest blockbuster of all time. Calico doesn't lack talent, with former Genentech superstar CEO Arthur Levinston at the helm and Hal Barron of Hoffman La-Roche fame as president of research and development. What they do lack is public evidence of significant advances and showing shareholders this wild goose chase isn't a waste of time and funds. I hope for their sake within the near future significant advances are made and presented.
Google's cloud efforts were described as "too little, too late" by ex EMC CTO (and CSO) Mark Lewis, who believes Amazon is so far ahead of competition in its offerings that other competitors have little chance. Google management, on the other hand, believe their cloud business could be bigger than ad business by 2020. If that's the case, why won't management break out numbers for the segment for us now?! From sheer embarrassment perhaps? This continued lack of transparency for various business segments is something analysts should address in future conference calls, pressuring management to be more forthcoming.
Daydream, the company's venture in the virtual reality market, looks promising. Management hopes to create their own ecosystem of phones, controllers, and headsets with its Android partners. By 2020 Trendforce expects the VR market to hit $70 billion and Google hopes to take its share, but the majority of revenue will be generated from software and they have a tough task of convincing developers that Android will work out for them better than Facebook's Oculus Rift, Playstation VR, HTC Vive, and other competitors. Being late to the party once again (sound familiar), color me skeptical that they will be able to do so.
Analyst James Cakmak points out that "Google hasn't had a breakthrough success on hardware, despite owning the operating system ­Android". While I don't believe Daydream will be an epic failure along the lines of Google Glass's flop and could potentially be a moderate success for the company, once again the burden of proof is on management to show they can actually deliver.
Conclusion
Based on promising quarterly results, Alphabet could be a cautious buy on pullbacks for investors who believe in the continued success of the core business. If however management competency is added to the equation, I believe staying on the sidelines until significant changes take place in the transparency and direction of their "Other Bets" and management puts their cash to a better, more shareholder friendly use.
Risks include failure to follow through on core advertising's current growth trajectory, continued lack of results in Other Bets, management's perpetual lack of transparency, inability to successfully incorporate recent and ongoing acquisitions, and lack of judgment in choosing the right markets to compete in where they have more probabilities of out maneuvering competition.
Disclosure: I/we have no positions in any stocks mentioned, and no plans to initiate any positions within the next 72 hours.
I wrote this article myself, and it expresses my own opinions. I am not receiving compensation for it (other than from Seeking Alpha). I have no business relationship with any company whose stock is mentioned in this article.