Verizon Communications (NYSE: VZ) is an industry leader, with a fat dividend yield and a strong balance sheet. The company has been pushing the boundaries in technological advancement for years, and I believe it may be looking for an absolute kill in the next big growth market: Internet Of Things.
Verizon's IoT technology sees significant traction in its telematics segment. In Q2 earnings call, the company revealed that its revenue from IoT grew 25% to $205 million (yoy), led by strong demand for telematics product, including Hum.
Verizon Telematics, a subsidiary of Verizon, has a fleet management solution called NetworkFleet.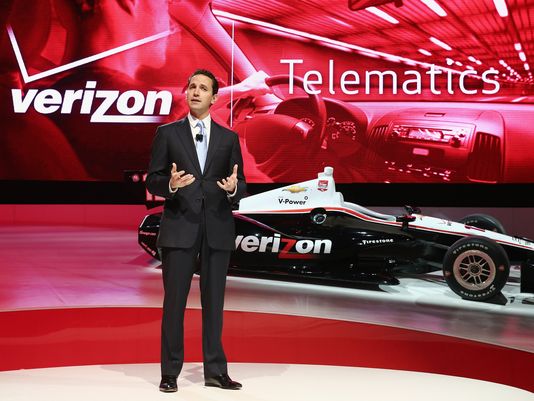 I have reasons to assert that after its acquisition of Telogis and Fleetmatics (NYSE: FLTX), the company may be staring at billions of dollars in potential future revenues. Verizon has already become the largest fleet management solution provider worldwide.
According to a research report on Connected CarTech, the commercial telematics market is set to grow from $20.42 billion in 2015 to $55.14 billion by the end of 2021, at a CAGR of more than 18% between 2016 and 2021.
Commercial applications of telematics can be seen in infotainment, insurance, fleet/asset management, satellite navigation, tele-health solutions, and others including emergency warning systems. Of these, fleet and asset management occupies a significant 28% market share, as of 2015. Transporation and logistics segment dominated with a market share of 54%. Other industries are expected to witness strong growth too.
Verizon Telematics boasts of several products which cover almost the entire growth sectors.
Berg Insight, a market research firm specializing in IoT verticals such as fleet management and car telematics recently released some research reports stating that the fleet management market in Americas, Europe, New Zealand and Australia is set to boom by 2020.
Why does this matter to Verizon? Verizon's latest purchases, Telogis and Fleetmatics have a good presence in these regions.
In a report on August 25, the research group said that the fleet management systems in Europe would swell to 10.6 million units by 2020 from 5.3 million in Q4, 2015, at a CAGR of 14.9 percent. Verizon currently has more than 1.6 million units under its management.
Although I strongly believe that Verizon will make aggressive strides in this market in the coming years, yet it may not be a walk in the park. The industry consolidation has been taking place for quite some time now, with some major players taking strong steps to increase their market share. TomTom acquired Finder in Poland in December 2015, which added another 60,000 vehicles to its installed base.
Similarly, for Australia and New Zealand, the number of fleet management systems is forecast to grow from 0.5 million in Q4, 2015 to 1.1 million by 2020 at a CAGR of 16%.
At this juncture, I would also like to add the growth scenario for Americas. By 2020, at a CAGR of 17%, the number of units deployed should cross 12.7 million from 5.8 million in Q4, 2015. Fleetmatics is the market leader in North America.
Verizon's investments in the telematics market is beginning to look smart with billions of dollars in potential future revenues, and expanding and establishing a global presence with the two recent acquisitions.
I have explained in another article why Verizon has made a smart choice in acquiring Fleetmatics in the simplest possible terms. Fleetmatics is a high-margin, growth business with superior fundamentals, which will boost VZ's revenue figure. VZ has been struggling for some time, due to one reason or the other, to maintain its revenue growth.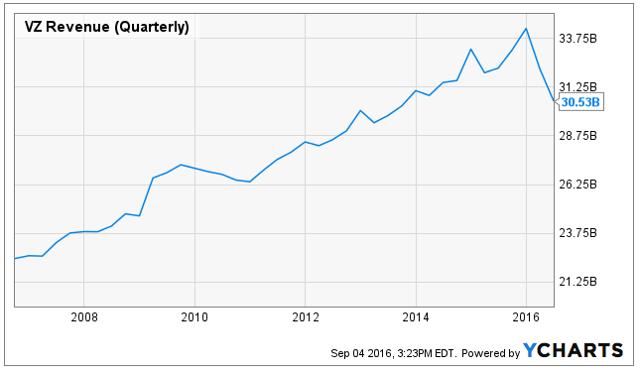 Click to enlarge
The telematics business, evidently, has the potential to act as the next support for falling revenues.
Another reason why Verizon forayed into the telematics segment is because of its vast wireless network, which can come in very handy. From Fleetmatics' Annual Report 2015, I was able to find out some important information.
"Our solutions rely on cellular and GPS networks and any disruption, failure or increase in costs could impede our profitability and harm our financial results. Two critical links in our current solutions are between in-vehicle devices and GPS satellites and between in-vehicle devices and cellular networks, which allow us to obtain location data and transmit it to our system. Increases in the fees charged by cellular carriers for data transmission or changes in the cellular networks, such as a cellular carrier discontinuing support of the network currently used by our in-vehicle devices, requiring retrofitting of our in vehicle devices could increase our costs and impact our profitability. We have migrated new installations to the next generation of cellular network compatibility in order to maximize expected useful life of our in-vehicle devices, however, cellular carriers could in the future migrate allotted bandwidth from one network to another. Also, while we have included the ability to store GPS data in our in-vehicle devices in case of temporary cellular network connectivity failure, widespread disruptions or extended failures of the cellular networks would adversely affect the timeliness of our solutions' functionality and utility and harm our financial results. Our field service job management and scheduling application utilizes the field worker's smartphone and communicates over their cellular networks."
Verizon understands its existing infrastructure, along with that of the purchased companies, can result in high cost savings, and ensure smooth transmission of data and high-quality service, which has been the objective of the company.
Conclusion
In my opinion, Verizon is going to make big leaps in the IoT segment, preferably the telematics market going forward. It has the balance sheet to support its growth, as well as the products.
It will probably go for the kill: to destroy the competition. It might not be that easy, but definitely easier than for most.
Verizon is one of the solid investments that an investor can make for the long term. I do not recommend that one buys this immediately, but it can definitely be considered on declines. I believe that the risks of a downside are slightly higher at this time.
Disclosure: I/we have no positions in any stocks mentioned, and no plans to initiate any positions within the next 72 hours.
I wrote this article myself, and it expresses my own opinions. I am not receiving compensation for it (other than from Seeking Alpha). I have no business relationship with any company whose stock is mentioned in this article.