"Everybody should stop acting like the world is going to end," or so we read in a headline on Business Insider. And indeed, it isn't. Yet there is plenty of bearish sentiment:
A lot of commentary, however, seems to be weighted to the downside. From permabears to market skeptics, commentators seem to be waiting for a shoe to drop and the market to crash.

Even retail investors, as measured by the American Association of Individual Investors, are more bearish than bullish. In fact, bullish sentiment has been below its long-term average for 43 straight weeks.

This downtrodden outlook is unwarranted, according to Scott Colyer, the CEO and chief investment officer at Advisors Asset Management.
This has been good for stocks, which have climbed the proverbial wall of worry. Since we were one of the worriers, to such an extent even that we liquidated everything in the wake of the Brexit vote, we might have to revisit that thesis.
Basically our thesis consisted of three parts:
The upside for stocks is limited, given fairly full valuation, the earnings recession, tepid growth and productivity declines.
There are a number of risks in the world economy.
These risks, when metastasizing into actual crisis, will have serious consequences and could trigger one another.
The issue of stock valuation is still there, combined with the tepid growth, and the productivity decline is real. It doesn't mean there is no upside, it does mean there is not a whole lot of upside, unless something changes.
However, things are a bit less serious than many thought, according to Scott Colyer (link above):
You had projections that [S&P 500 aggregate] earnings were going to be down 7% or so for the second quarter," Colyer said. "They were down just 2%, which is much better than last quarter, and we expect that they will go positive next quarter.
But the tepid growth and productivity crisis are still there. Valuations are still very high, for instance, here is Shillers CAPE for US stocks: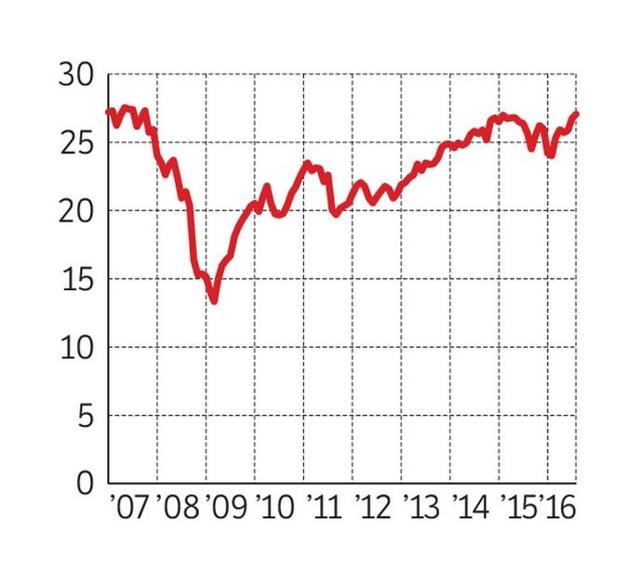 Click to enlarge
More than $13 trillion in bonds trade at negative yields. This remains curious, to put it mildly. Bonds indicate deep secular stagnation, which should be bad for stocks. The state of the world economy seems to confirm the secular stagnation, although not to the extreme extent that is captured by bonds.
However, bonds are so high as to make stocks a valuable alternative. This still seems a dangerous world to us; in fact, valuations have gotten higher. So what about those risks?
What about the risk?
We singled out several, in no particular order:
Brexit triggering a slowdown in eurozone (and UK) economic growth
Brexit triggering a political crisis in the eurozone
Chinese debt deleveraging or even debt crisis
Chinese devaluation risk
US job market is tightening in the midst of an earnings recession
The first, so far, hasn't happened. Economic figures out of the UK have been surprisingly strong even, and those in the eurozone have held up fairly well. This was always going to be a slow burner. We wouldn't rejoice too early though (BBC):
Japan's government has warned that Brexit could result in the country's firms moving their European head offices out of Britain. The strongly worded report from Japan's foreign ministry says the firms might want to move "if EU laws cease to be applicable in the UK". It calls on Theresa May's government to behave in a "responsible manner". Downing Street received the report earlier this week, the BBC's Laura Kuenssberg understands. Japanese firms employ an estimated 140,000 workers in the UK, with Nomura bank, manufacturing giant Hitachi and carmakers Honda, Nissan and Toyota all having major bases in the country.
The British government hasn't even coalesced upon a plan how to leave the EU, let alone when Article 50 will be triggered.
The implications of the uncertainty about the shape of the final deal will still manifest themselves in trade, investment, housing and a host of other variables, but this is a gradual process and no acute confidence crisis has been triggered to accelerate any downside.
In fact, the decline of the pound, the swift reaction of monetary and especially budgetary authorities (a complete reversal of austerity has been announced by the new UK Prime Minister) have been able to prop up confidence.
It hasn't happened so far, and it might not happen at all. However, economically the eurozone still comprises an enormous risk. We can't stress enough that the system is dysfunctional, creating a huge deflationary bias because all the adjustment costs are forced on the deficit countries without any reflation in the surplus countries to compensate.
Not only does this slow growth, it worsens debt dynamics and this results in a situation in which many economies will enter the next economic downturn in far worse condition.
And then there are the political risks. While so far the political fallout from Brexit is limited, but we'll have to get passed the Italian referendum next month. If Renzi loses that, he has promised he will resign, triggering new elections which could very well be won by an anti-euro party.
There are other countries where anti-euro and anti-EU forces are already high and/or rapidly rising. France for one. Finland, the Netherlands, Spain and Portugal, Greece. Even in Germany, the country which has obviously gained the most from the euro is rumbling because of the refugee crisis.
The 'Alternatieve für Deutschland' (AfP) is a right-wing anti-EU and anti-migrant protest party and it is set to win elections this weekend in Mecklenburg-Vorpommern, a German state. It can even win outright, and that in a state where there are few migrants, as it happens.
The AfD has been on the rise throughout Germany and it's far from certain whether it will gain sufficiently on a national level. For now, that seems not very likely as it has forced a grand coalition of Christian Democrats and Social Democrats.
We remain really quite concerned about both the economic and especially the political condition of the eurozone.
Where we're growing a tad more optimistic is about China. The devaluation pressure seems to have subsided, at least for now. The People's Bank of China (its central bank) seems to steer the yuan on such a mild gradual decline that it isn't setting off any alarm bells in financial markets.
In fact, it's even necessary, as the yuan is likely to be overvalued through years of rising, the real exchange rate has increased 30% in just the last four years, according to Jason Thomas, economist of the Carlyle group (Business Insider.)
The rise of the yuan was compounded by rapidly rising Chinese wages. The latter also help in the shift towards an economy that's more led by domestic demand and services, away from insane levels of investment and export.
But China seems to have successfully shifted away from the risk that it could embark on (or forced to) a big surprise devaluation that would rock world markets to their core. Interest rates have come down, producer price deflation is much less than it was before, the real estate sector is more balanced and debt service burden on Chinese companies have declined: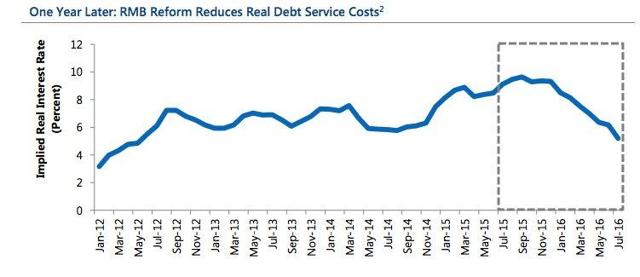 Click to enlarge
China is even beginning to tackle the mountain of corporate debt, standing at 247% of GDP at the end of 2015 (Bloomberg.) China has already started to bail out its banks. While this is just a start and much more needs to be done, it's nevertheless good news.
So we could argue that of the risks we feared, only the Chinese risk has diminished. Then there is the US. Here, our worry was that a tightening labor market forces the Fed to hike interest rates.
This would raise the dollar, sink commodity prices, probably produce a significant bond market selloff and all this is likely to be too much for stocks to digest, as stocks already experience an earnings recession.
Growth in the US economy seems just sufficient to keep the economy going, but not sufficiently high to bring this scenario much closer. We, therefore, argued that the US is experiencing something like a new goldilocks phase.
But this seems a rather narrow path and the odds of the US careering off it by either slowing down too much or accelerating and triggering rate hikes seem rather good to us.
Stock markets have kept rallying as these risks are just that, risks. It's stuff that people like us worry about, but until the risks don't actually become manifest, there are few alternatives to stocks.
And then there is the US election approaching rapidly.
It's not a comfortable investment climate, but one which investors will have to navigate. For us, sitting on solid returns until the Brexit vote, the risks outweighed the possible gains. While we have bought some stuff back, by and large we still hold this opinion.
The alternative would be hedging, but since we expect markets to make only modest returns at best, this is relatively expensive.
We read somewhere that there was a bank trying to design a volatility ETF which would only decay very little in a stable or rising market, but would rise significantly with a substantial increase in the VIX.
We can't find the link anymore, maybe that product never materialized; but if it did, it would be something that would fit these circumstances perfectly, in our view.
Meanwhile, an alternative is to buy VIX futures with long maturities when the VIX is low. The time decay in these futures is much lower than those with short maturities. One can sell a few when the VIX has rallied.
Disclosure: I/we have no positions in any stocks mentioned, and no plans to initiate any positions within the next 72 hours.
I wrote this article myself, and it expresses my own opinions. I am not receiving compensation for it (other than from Seeking Alpha). I have no business relationship with any company whose stock is mentioned in this article.