I am a big fan of resource investor and commentator Rick Rule. Mr. Rule has been speculating in the resource markets for over forty years. He began a small brokerage in southern California that specialized in resource stocks and grew it until it was acquired by Sprott Inc. back in 2010.
One of the key statements of Mr. Rule's that has stuck with me regarding resource market investing is that "you are either a contrarian or a victim". What he means by this is summed up in another quote from an article he wrote back in 2011.
"The reality is that volatility is good because it represents a series of 40% off sales. It's up to you whether you take advantage of volatility or whether volatility takes advantage of you. Common sense is the real determinant, over time, of whether you will do well. If something doesn't make sense, very often it's because it doesn't make sense.

My approach is very simple. It comes down to this: "Hit them where they ain't." Know this: A trade that's popular, a perception that's popular, an idea that's popular is very likely overpriced. I've come to prefer underpriced. That's why I concentrate on stuff that's unpopular. Fortunately for me, unpopular stocks are in fairly good supply. It's an orientation that has served me well over the long term. "
This is pretty much the same advice any of the serially successful investors such as Buffet, Munger, Greenblatt, etc... would give. However in the resource markets, which are extremely cyclical,volatility is a constant. The inherent nature of cycles of under and over supply mean extreme price swings in commodities and the share prices of the companies that produce commodities. Case in point Teck Resources (NYSE:TCK).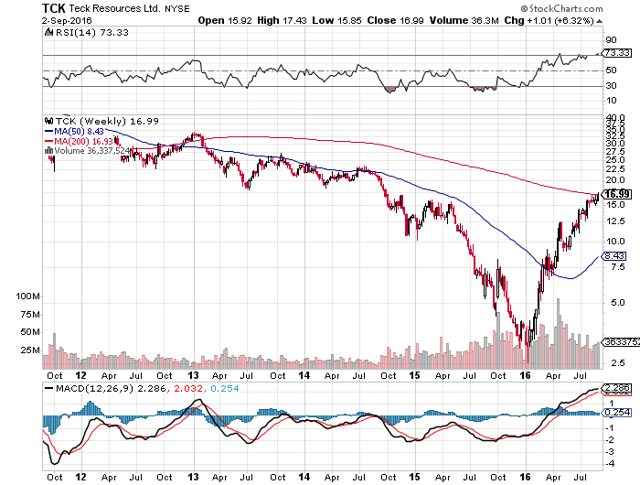 Click to enlarge
Buy and hold is not going to work with these stocks. Extreme losses can be experienced just buying and holding a commodity producer. Buying Teck Resources back in 2011 meant you lost a lot money if you held it. Most people would not have taken the pain but sold well before the bottom in early 2016.
However when the inevitable reversal comes with the next up cycle, as is happening today, large profits can be made. As you can see Teck has went from around a low of $2.50 to a recent high of $17.
Being able to understand the cycles that resources go through and positioning oneself correctly is the key to success and large profits in these markets. Many of these resource stocks are the equivalent of a burning match. If you hold it long enough you will get burned.
The key then is master the understanding of these continous cycles and make them and the volatility they cause work for you. Unfortunately this is easier said than done.
Fortunately there is a company and management team that has as its business model the buying of resource assets in down cycles and reaping the benefits during the up cycles.
Altius Minerals (OTCPK:ATUSF) is a Canadian based royalty and project generator that follows a contrarian methodology. A presentation the management gave in January 2016 succinctly describes their model as:
"Proven contrarian ability to capture long term value from sector cyclicality"

Buy diversified mining royalties and accumulate exploration lands during down cycles
Achieve royalty purchase paybacks and monetize exploration holdings during up cycles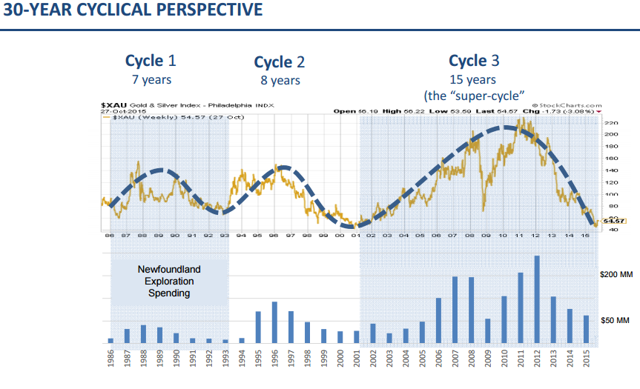 Mining has been a zero sum game
Cyclical volatility has been extreme-meaning only contrarians have profited
The management of Altius has shown over the eighteen year life of the company that they understand resource markets and cycles. They are patient and wait until the low point of a cycle when companies are desperate for cash and are willing to give excellent terms in order to get Altius's cash.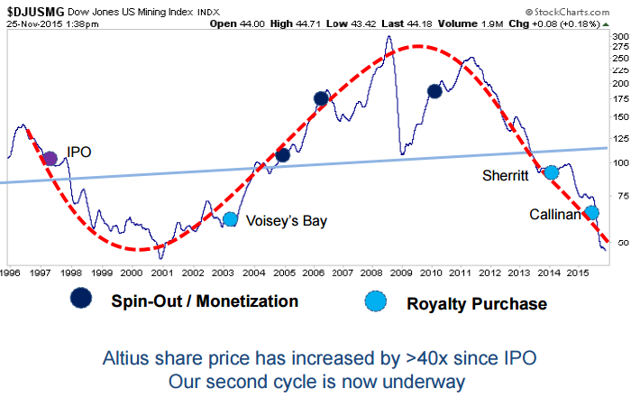 Click to enlarge
My view and one shared by the management of Altius is that we have reached the low point of the current resource market cycle. The company has spent the last several years expanding their royalty portfolio and is expecting it to generate $40 million per year in revenue going forward. That is up from $3 million per year in 2013.
The company has royalties covering a plethora of commodities as outlined below which gives them diversity across the sector.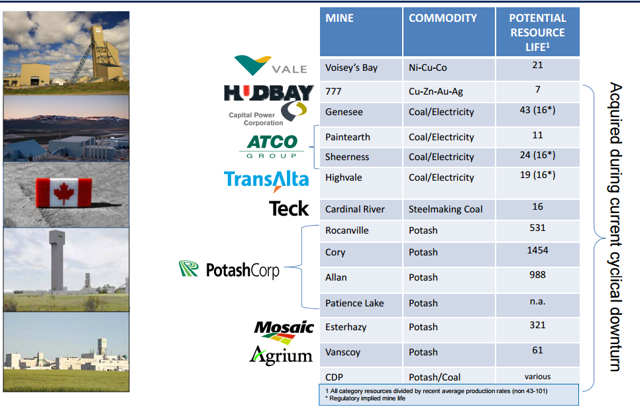 Click to enlarge
This is important as all commodities do not necessarily move at the same time in the same direction. As can be seen from the chart above most of the royalties are with major and known producers which lowers risk.
The recent annual letter to shareholders is important for prospective investors in Altius to read. The President of the company, Brian Dalton, lays out the philosophy that Altius follows for resource market success. I have included a few excerpts that are important:
(skip)

At the heart of our operating strategy lies a recognition that the entire minerals sector is highly cyclical and will likely always remain so. It is characterized by wonderfully alternating periods of mass investment euphoria (which leads to production growth and oversupply) and then by complete sector disdain (which shuts off production growth and causes undersupply).

We believe that the secret to success is to take the opposite course of action to most companies in the sector ‐ meaning that we don't stick our heads in the sand when it's "ugly out there" and that we don't become over confident when the sentiment is strong.

(skip)

While there are signs that the worst may be behind us, the past 5 years have been absolutely brutal for the broader minerals sector.

Thankfully, we took a very strong balance sheet into this phase of the cycle that allowed us, beginning two years ago, to deploy capital and take advantage of dramatically reduced asset valuations and the bleak collective sentiment of competing capital sources.

As a result, we have increased the number of production stage royalties held in our portfolio from one to fourteen while increasing royalty revenue from less than 10 cents to more than $1 per share. Most of the acquired interests feature long remaining production lives and strong option value related to potential resource life expansions and increased production rates on a medium to long term basis, and higher cyclical commodity prices in the short to medium term.
The company also has been very nimble in its history of using other peoples' money to explore and generate projects. This is blue sky optionality that will not become evident until the current down cycle ends and we are firmly entrenched in the next up cycle. Major mining companies have cut back on their in house exploration teams and therefore the pipeline is increasingly going to become bare as current reserves are mined out. Altius will help fill the void as a project generator for larger mining companies.
I am reminded of the quote from founder and former CEO of Franco-Nevada Pierre Lassonde as applies to optionality in mining. He said if you control a lot of land and it is being explored by other people at some point don't you get lucky. The point is that eventually with enough effort on enough land a discovery will be made.
My view is that we are at the bottom of one of the worst down cycles in resource markets ever. If this is true than Altius Minerals has positioned itself to take advantage of the up cycle. If you have a similar view than Altius Minerals may be of interest to you as a potential speculation. I would note that the company initiated a dividend last year and has resumed its share buyback as it continues to pay down its modest debt.
Disclosure: I am/we are long ATUSF.
I wrote this article myself, and it expresses my own opinions. I am not receiving compensation for it (other than from Seeking Alpha). I have no business relationship with any company whose stock is mentioned in this article.
Editor's Note: This article discusses one or more securities that do not trade on a major U.S. exchange. Please be aware of the risks associated with these stocks.