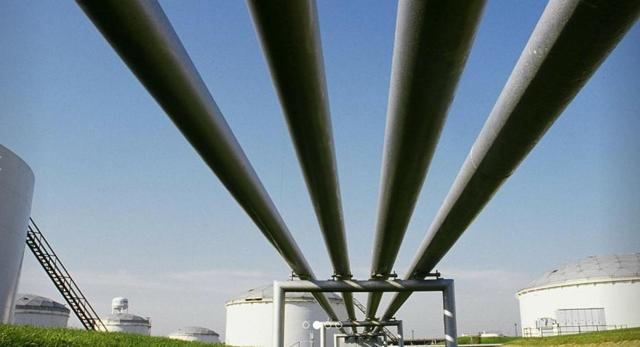 Click to enlarge
Midstream MLPs such as Enterprise Products Partners (NYSE:EPD), and Spectra Energy Partners (NYSE:SEP), have long been a favorite of high-yield, dividend growth investors, thanks to their reliable track records of consistent distribution growth.
However, when it comes to combining reliable payout growth, and market-thumping total returns, few do it better than Magellan Midstream Partners (NYSE:MMP).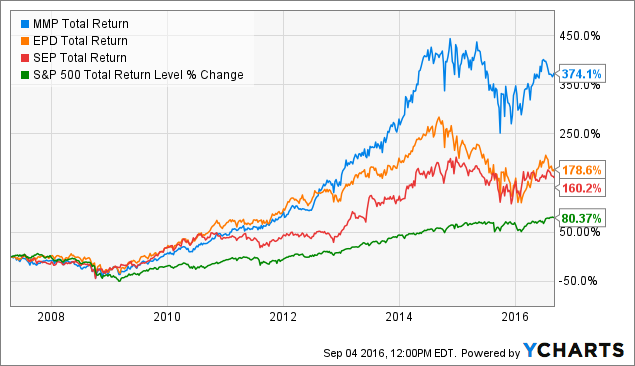 MMP Total Return Price data by YCharts
Find out the three reasons why Magellan Midstream has become such a standout money printing machine. But more importantly, learn why this pipeline blue chip is likely to continue thrilling dividend lovers for many years, and potentially, decades to come.
Toll-booth business model, but with a twist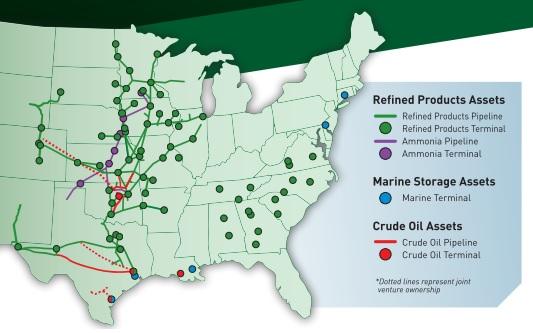 Source: Magellan Midstream investor presentation
The key to Magellan's long-term success, including its ability to generate such incredible payout growth consistency, is its toll booth business model.
Click to enlarge
Source: SimplySafeDividends.com
In other words, almost all of its cash flow is provided by long-term contracted, fixed fees, with only 15% of operating margins exposed to the vagaries of commodity prices.

Better yet, with America's largest refined product pipeline system, connected to almost 50% of America's refining capacity, Magellan's business model is not just highly insensitive to crashing oil prices, but can actually benefit from them.
That's because, while oil producers suffer from low prices, refiners benefit from lower input costs, and fatter margins. Which means higher demand for oil, as well as an increased supply of refined products to flow through Magellan's pipelines.
In addition, the current oil glut means that Magellan's oil storage terminals remain at record high capacities, further insulating its cash flow from the downturn.
One of the best management teams in the industry
At the end of the day, the biggest factor in whether or not an income investment will succeed is the quality of the management team.
In this case, Magellan's executive team is led by Michael Mears, who has been with Magellan for 31 years, and has served in several functions throughout the company, including COO.
Why am I such a fan of Magellan's management? Several reasons. First, they are extremely disciplined at allocating investor capital, choosing to invest where profits are fattest, instead of where growth is easiest to be found.
Which explains why Magellan's margins and return on investor capital is among the best in its industry.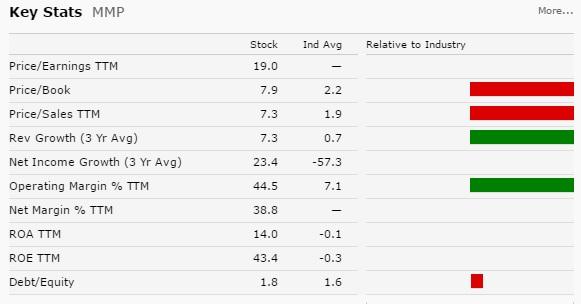 Source: Morningstar
Better yet, Magellan's management has shown itself the master of opportunistic acquisitions. For example, back in 2009, at the bottom of the financial crisis, Magellan bought out its general partners, simplifying its cost structure, and eliminating its incentive distribution rights, or IDRs.
IDRs typically result in 50% of all DCF above a certain point going to the general partner rather than directly to investors. Not just does that mean that Magellan is more profitable than the competition, thanks to lower costs of capital, but it means that all of the MLP's marginal DCF can go towards rewarding investors with continued, strong, and sustainable distribution growth.
Conservative payout profile means steady wealth compounding
| | | | | |
| --- | --- | --- | --- | --- |
| MLP | Yield | YTD 2016 Distribution Coverage Ratio | 10-Year Projected Distribution Growth | Long-Term Expected Total Return |
| Magellan Midstream Partners | 4.6% | 1.15 | 7.6% | 12.2% |
| Enterprise Products Partners | 6.0% | 1.26 | 4.5% | 10.5% |
| Spectra Energy Partners | 5.8% | 1.65 | 6.3% | 11.8% |
| S&P 500 | 2.0% | 2.56 | 6.2% | 9.1% |
Sources: Yahoo Finance, Earnings Releases Fastgraphs, Factset Research, Multpl.com, Moneychimp.com
Long-term academic studies have shown that a good rule of thumb for projecting total returns from dividend growth stocks is yield + dividend growth. Which is why MLP investors need to always focus, not just on current yield, but more importantly payout security, as well as realistic distribution growth potential.
Distribution security is best seen by the distribution coverage ratio, or DCR, which shows how many times an MLP's distributable cash flow, or DCF, can cover its quarterly payout. You always want to see a DCR of at least 1.0, which indicates a sustainable distribution, but in order for long-term growth to continue safely, you want to see a DCR of 1.1 or higher.
Not only does Magellan Midstream currently offer a generous yield, it's also one that is highly secure. Better yet, management's forward guidance, which calls for 10% distribution growth in 2016, and "at least" 8% in 2017, is planned to coincide with a DCR of "at least" 1.2.
Not just does that mean that management continues to conservatively manage its payout growth, but it also allows Magellan to retain more excess DCF with which to fund its future growth efforts.
Speaking of which, management is currently planning on $1.3 billion in growth capex between 2016 and 2018, with another $500 million in potential projects under consideration.
Fortunately, management's highly conservative strategy of maintaining one of the cleanest balance sheet in the industry means that Magellan has plenty of liquidity to fund such projects as the recently announced $335 million Pasadena Marine terminal.
Specifically, Magellan has over $1 billion in available funds, mostly from its untapped $1 billion revolving credit facility, which allows it to borrow money through 2020 at just LIBOR + 1%. That means Magellan is currently enjoying borrowing costs of just 2.56%.
Those borrowing costs are so low, thanks to Magellan's BBB+ credit rating, which is tied with Enterprise Products Partners as the highest in the entire MLP industry. It also stands as a testament to management's foresight to limit borrowing during the boom times so that the MLP would be flush with liquidity during this current industry downturn.
Risks to consider
No matter how solid an investment appears, nonetheless, there are always risks current and potential investors need to consider.
In this case, there are two fundamental risks to Magellan's business model, the largest of which is the potential for several more years of low oil prices to decrease the need for aggressive petroleum infrastructure expansion, and thus long-term demand for Magellan's refined products pipelines, and oil storage terminals.
This could potentially limit management's ability to find new growth projects into which to invest unit holder capital. Remember that Magellan, unlike many other less disciplined midstream MLPs, doesn't reach for growth at any price; in either organic growth opportunities, or asset acquisitions.
While that may mean some of the best margins in the industry now, it may mean that management will have to make the difficult choice of either allowing its historically strong DCR to shrink in order to allow continued payout growth, or, more likely, bring future distribution growth down to a more Enterprise Products like 5% to 6% a year.
Keep in mind that with Magellan's current 4.6% yield, that kind of growth would still be expected to beat the market's historical returns; just perhaps by not as much as investors have become accustomed to over the years.
A second potential threat is Magellan's minimal (15% of operating margins in full-year 2015), but not insignificant commodity exposure; such as via its butane blending business. Butane is a natural gas liquid or NGL, whose price has cratered due to America's shale gas revolution, and the resulting massive supply glut.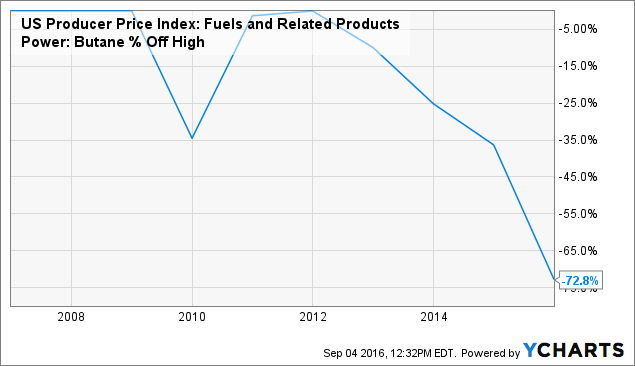 US Producer Price Index: Fuels and Related Products Power: Butane data by YCharts
As a result, Magellan's butane blending business could begin acting as an anchor on performance, especially once Magellan's butane hedges begin rolling off in April of 2017. That's because the cost of the butane Magellan buys in order to blend it into fuel may end up rising over time, potentially squeezing its margins.
Bottom line: Magellan Midstream represents one of the best high-yield "Sleep Well At Night" income growth stocks you can buy
The world of dividend growth investing usually forces you to choose between attractive yield today, and strong long-term payout growth tomorrow.
Thanks to its rock solid balance sheet, a management team that's second to none, and a high-margin niche, Magellan Midstream Partners is likely to remain a stellar core holding for any dividend growth portfolio; no matter what oil prices do in the short term.
Disclosure: I am/we are long MMP, EPD, SE.
I wrote this article myself, and it expresses my own opinions. I am not receiving compensation for it (other than from Seeking Alpha). I have no business relationship with any company whose stock is mentioned in this article.