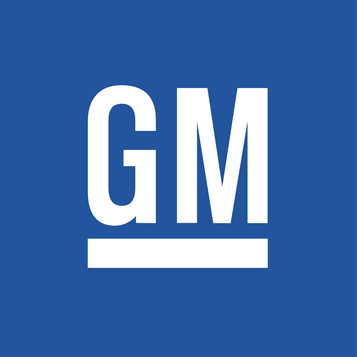 U.S. automakers are in a tough spot: U.S. monthly sales data suggests that automakers are past their peak, and that sales growth will be increasingly hard to come by, at least over the short haul. General Motors (NYSE:GM) and Ford Motor (NYSE:F) both released monthly sales figures for the U.S. market at the beginning of the month, and they did not look good. Ford Motor said that its U.S. sales in July cratered 8.4 percent Y/Y, with weakness hitting all major segments, including the usually well-to-do truck business where sales slumped 1.6 percent. Ford Motor's weak August sales come after the automaker said that its U.S. sales fell 2.8 percent in July, and after the company warned that its guidance was at risk when it released 2nd quarter earnings.
Read also: 'Ford Motor - You Only Have 2 Options At This Point'.
General Motors' monthly sales for August in the U.S. were better than Ford's, but not by much. The auto company said that its sales were down 5.2 percent Y/Y to 256,429 vehicles, whereas GM's U.S. retail sales in August fell 5.4 percent Y/Y to 212,915 vehicles.
GMC and Buick recorded the largest percentage declines in retail sales in August, with declines of 12.8 percent and 12.4 percent respectively. Only GM's Cadillac retail sales saw positive growth of 0.3 percent compared to last year.
Year-to-date, General Motors' total sales in the U.S. have slumped 4.2 percent to 1,962,602 vehicles, with all major brands Chevrolet, GMC, Buick, and Cadillac losing ground this year, underscoring that U.S. automakers will not return to the high sales growth rates that we have seen in 2014 and 2015.
Time To Ditch General Motors?
General Motors has held its ground in light of the very weak monthly sales release at the beginning of September, but investor concerns over a continued slump in U.S. auto sales can be expected to weigh on the auto company over the short haul.
Investors essentially have two choices at this point: If they are concerned with a continued cyclical drop-off in U.S. auto sales, and if they think that they won't sleep well at night with GM shares in their portfolios, the best course of action is to just sell automakers, and be done with it.
On the other hand, General Motors is a nice income play for the long haul in my opinion: GM is everything but expensive at ~5.6x next year's earnings, and the automaker's shares are throwing off a 4.7 percent dividend.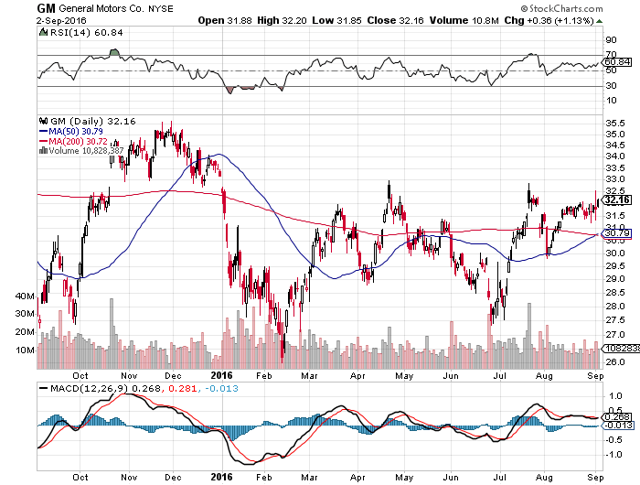 Click to enlarge
Source: StockCharts.com
Your Takeaway
The release of U.S. sales in August shines a light on the growing top line risks for U.S. auto companies. Sales weakness is spreading in the auto sector, affecting all segments, including trucks, which is a concerning factor.
You should ditch GM if a continued slump in U.S. sales will cause you restless nights. On the other hand, GM is a high quality S&P 500 company with an exceptionally high dividend yield approaching 5 percent.
If you like to read more of my articles, and like to be kept up to date with the companies I cover, I kindly ask you that you scroll to the top of this page and click 'follow'. I am largely investing in dividend paying stocks, but also venture out occasionally and cover special situations that offer appealing reward-to-risk ratios and have potential for significant capital appreciation. Above all, my immediate investment goal is to achieve financial independence.
Disclosure: I am/we are long F.
I wrote this article myself, and it expresses my own opinions. I am not receiving compensation for it (other than from Seeking Alpha). I have no business relationship with any company whose stock is mentioned in this article.