Another week is over, and it's been another uneventful one for the markets. The S&P-500 SPY traded in a range of 1% for the week, and stayed within it's 2% range that it's inhabited for the past 30 days. There is no shortage of people calling this a boring market, and they are completely right in doing so. Statistician Ryan Detrick has noted that this is the only time in the past 20 years the market has not had a 1% move. In addition to this statistic, Ryan Detrick has put last month's action in context compared to historical ranges. August 2016 traded in a range of only 1.54% using closing prices and this is the 7th smallest range since 1928. This lack of volatility is unheard of and we can expect volatility to return soon and with a vengeance.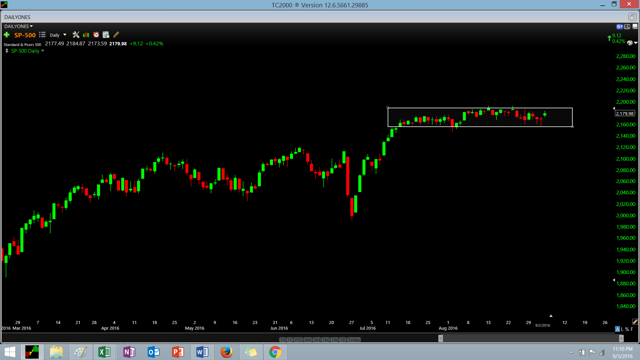 Click to enlarge
The bears continue to cite this sideways range as bearish, as their belief is that sideways markets are "toppy". The fact is, this could not be less true. The last time we had a market trade in such a tight range was 1995, and this set up one of the most explosive stock market rallies in history. The market climbed from 460 to 1280 between 1995-1999, a 180% gain in just over 4 years. This is the strongest 4 year performance in the past 50 years and it was on the back of a 35% annual performance in 1995. If the bears are looking for a time to be short, this is the one year in history that being short caused you to get run over by a freight train. The fact that bears are ignoring this history lesson is a huge mistake in my opinion, and it will make for another painful lesson if history repeats itself.
Tightest Range in 50 Years Within 1% Of All Time Highs
So we are in one the tightest range in 50 years for the S&P-500 within 1% of all time highs. So what? How do I profit from this? What happens when we finally break out of this range?
Interestingly enough, Dana Lyons has found that ranges this tight in the past 70 years have all ended the exact same way. The initial break from the range has resulted in a down day, with a median loss of 1% over the past 14 occurrences.

Click to enlarge
So why am I writing another bullish article on the S&P-500 if 100% of the time we are in this tight a range the market drops 1%?
The reason for this bullish article lies in the fact that the initial move is not indicative of the future direction of the market. After the range has been broken, over 90% of the time the market is higher 3 weeks later. On average the market is up nearly 2% over the next 3 weeks, and nearly 9% higher over the next year. In the current market environment, this means we can expect a pullback to 2150 if history repeats itself. Assuming this pullback happens in the next two weeks, we will see the market touch 2145, but end the month above 2180. We can then expect the market to be at 2370 by this time next year if this signal resolves itself similarly to the past 14 signals.
This information is valuable as it lets us know that we should not be worried if the next 2% move in the market is to the downside. Instead, investors should embrace this weakness and see it as an opportunity to add to long positions.
Higher Weekly Closes, More Bearish Sentiment
This week the AAII Investors Intelligence Survey chart showed yet another increase in bearish sentiment, resulting in those bearish the market moving to 29.6%. This reading placed bearish sentiment marginally higher than bullish sentiment, which currently sits at only 29.4%. The amazing part about this statistic is that this jump in bearish sentiment by 3 basis points (26.3 to 29.6) was on a week when the S&P-500 was up over 0.4%. Neutral readings continue to hover above the 40% level, which places those bearish stocks or unsure about stocks above the 70% level. The fact that the market is up nearly 10% since the Brexit vote demonstrates that the trend is very clearly up and there is no reason for such pervasive bearishness or indecision. For those looking to call a top, this does not bode well for them, as tops occur on euphoria and when everyone is long the market. "Bull markets grow on pessimism, grow on skepticism, mature on optimism, and die on euphoria"- Sir John Templeton. Based on the current market we are in the skepticism phase despite having several pessimists still left to convert to skeptics or optimists. I believe this bull market resumption is in its very early stages and see zero signs of a top at this current juncture.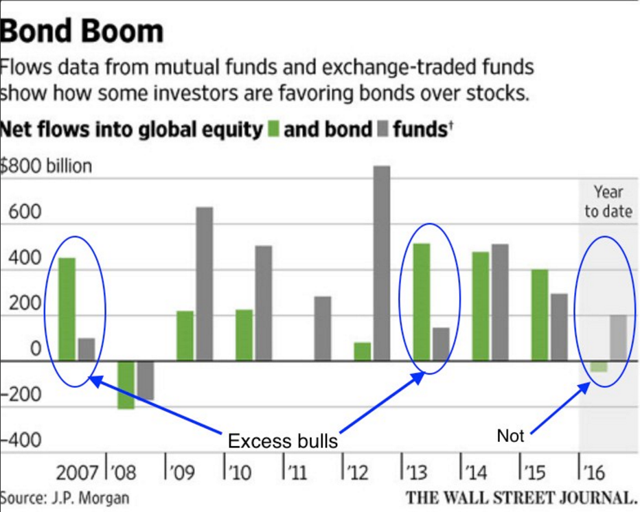 Click to enlarge
Many people are skeptical of trying to make inferences about a market based on purely sentiment. This is understandable as sentiment does not indicate how money is positioned in the market. Fortunately for those skeptics, there are stats available which show us whether sentiment is being confirmed by how money is positioned in the market. The above chart shows what excessive bulls in the market looks like and this year, we are nowhere near past readings. In 2007 we had reason to worry as net flows into equities were nearly 5 times the level of inflows into bonds. This exuberance let to a stock market top in 2008 which washed out several of these speculators and those who were chasing a late stage bull market. As we can see this also occurred in 2014 and 2015 and the market essentially went nowhere for these 2 years. The market started 2014 near 1800 on the S&P-500 and touched an intraday high of 2100 in early 2015. While this does represent a 15% gain, those in the market had to sit through several drawdowns of 5-7% along the way. While there was money to be made holding through 2014 and 2015, this was not the most attractive 2 years to be long the market.
Looking at the current scenario, we have seen negative outflows into equities year to date and bonds inflows are nearly 4 times the level of negative outflows from equities. This week saw another $0.7 billion flow out of equities, which has seen outflows for 29 of the past 35 weeks. This paints the picture of money that does not want to be in the market and confirms what sentiment is showing us, people are scared to be in stocks.
Technical Outlook and Summary
Based on the past 14 signals when the market has traded for 30 consecutive closes within 1% of an all time high, it's not unlikely to expect short term weakness going forward. While past scenarios are not indicative of future scenarios, 100% of past signals have traded to the downside briefly once the range has broken.
I have laid out a technical road map for what we can expect going forward, if the market plays out like it has the past 14 times we have seen this setup.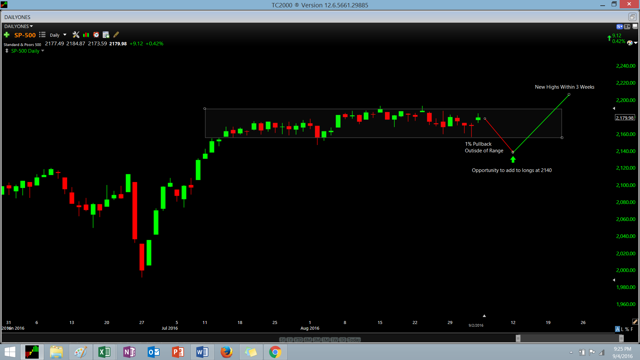 Click to enlarge
Based on the above chart and past scenarios, it would make sense for investors to buy into weakness at 2130-2140 where significant support lies. While it's unlikely this chart plays out exactly as I have laid out and we see the pullback this week, this chart is simply an example of how to approach this current scenario based on how it's played out the past 14 times.
I am already long this market from 2055 average cost and would add to my long positions into 2130-2140 to give myself an average cost of roughly 2080. I posted several articles stating the market would make new all-time highs in April of this year so my positioning is clearly documented. If I was not long this market, I would not be relying on us getting a dip to 2140 and would instead be getting long a partial position, and looking to add to that position into weakness if this scenario unfolds.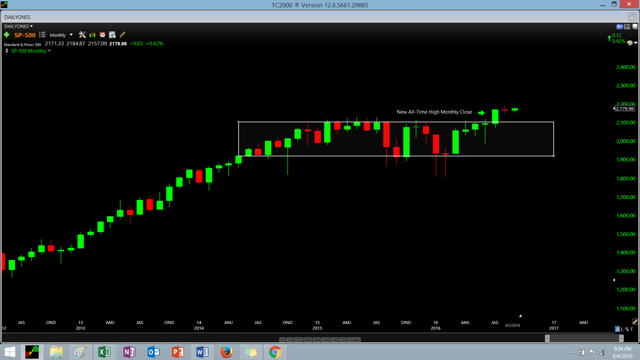 Click to enlarge
Looking at the monthly chart, it is very easy to see the massive breakout on the chart. The S&P-500 spent nearly 2 years in a sideways range and has finally resolved itself with a powerful breakout to the upside. The most impressive part about this breakout is that the bears stated all year we would see a failed breakout due to all of the resistance at 2130, and this has not come to fruition. Instead the market has traded in a historic range, holding onto all of its gains while it allows its moving averages to catch up.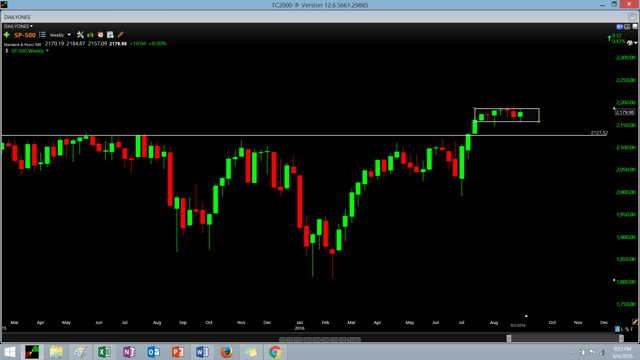 Click to enlarge
Zooming into the weekly chart, we can see a bull flag forming roughly 2% above all-time high resistance. This is a very bullish sign as bull flags are continuation patterns and represent commitment to the previous move. If we were to see a breakdown to the 2130 level, I believe this would represent a great buying opportunity as previous resistance often becomes new support.
Finally, looking at the daily chart we can better pinpoint buy zones going forward. The 200-day moving average continues to slope up and currently sits at 2055 level, as it inches up approximately half a point per day. The 50-day moving average has almost caught up to price and sits just below us at 2153. The 50-day moving average is a gauge for how strong the trend is and the fact we are above both the 20 and 50-day moving averages is a great sign. All of the key moving averages continue to slope up and show us that we are without a doubt in a very clear uptrend.
The first buy zone I have highlighted on the chart is an area where I believe SPY will find strong support. Not only is 2130 a back-test of the previous 2 year resistance (which should become support), it is also the level where the up-trend lines comes in based on this year's rally. In addition to both of these support levels (horizontal and trend-line), this is just below the level where the past 14 signals have resolved the first day after price breaks out of the current range. I believe SPY will be caught at the 2130-2140 level and should see a bounce if we do pullback here in the coming weeks. This is the level where many longs who have entered the market in the past month will get nervous as they are now down on their positions, and also where bears will claim victory as they will assume it's a "failed breakout".
The second buy zone I have highlighted would be an extreme buy zone and I do not expect to see us get to this level. This buy zone lies in the 2065-2070 range and would be a 2nd test of the 200-day moving average for the market. In all bull markets the 200-day moving average is the line in the sand and as long as price remains above that level, there is no reason to question the up-trend. Buying at the 2065 level with a stop below 2055 would represent a great risk/reward trade, with a risk of 10 points and a potential reward of a move back to the highs.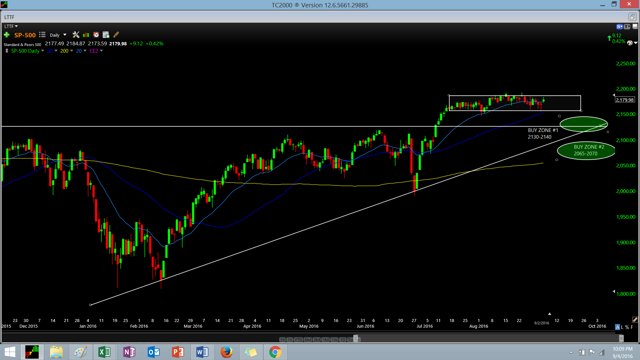 Click to enlarge
The market continues to defy gravity and flash very rare signals which have bullish implications going forward. First it was the semiconductors index breaking to new highs. Next the Nasdaq QQQ made a new all-time high, and we have the Russell 2000 IWM within 4% of making a new all-time high. The bears stated that the small caps underperformance was a sign to be cautious of the market. Next they said the banks lack of participation was a sign to be cautious the market. And we can't forget all their warnings about Brexit being the beginning of the end of the world. Banks are one of the strongest performing sectors, Brexit came and went like a rainstorm and the small caps are outperforming both the QQQ and SPY.
You can choose to listen to the bears with their doom and gloom projections, or you can look at the S&P-500 without the noise and determine what the market is doing. Trend following only requires that you avoid the noise and determine the overall direction of the market. There is no question looking at the past 3 charts (monthly, weekly, daily) that the S&P-500 is in an uptrend. Once you have established that the market is in an up-trend, you place your stop at the point the up-trend is broken (below the 200-day moving average) and define your risk accordingly.
Speculating on jobs reports, who will be the next president and what implications it will have, or what Yellen will say, is all noise. Moving averages and price are black and white and provide no room for subjectivity. I do not fault people for listening to the bears for most of this year as fear sells and they have done a great job with all their scary charts of conjuring fear in the average investor. However, I do fault people for continuing to listen to the bears as it's very easy to see that they are not adaptive and are fighting the trend. If the bears can be wrong for the past 200 points on the S&P-500, then what is the use in following them to help you determine in which direction the next 200 points will be? If they were telling you to sell at 1900, then why do they have any validity to tell us once again to sell at 2180?
The bears all want to be heroes and call the next crash but both sentiment and positioning in equities are working against them. Tops are formed on euphoria and tops are formed when everyone is long. Currently we have the opposite of both of these scenarios yet the bears are still out in full force warning us about being in this market. Let's pretend we're not talking about the market for a second and pretend we're talking about professions. If you had a fellow employee who constantly warned you about applying for a promotion and told you "you better be careful" and you're better to stay in your current position, would you listen to them? Say you did happen to get the promotion and they were completely wrong about the caution they had towards your actions. Would you then listen to them again when you applied to get a further promotion a year later?
Someone who is consistently wrong and is not willing to change their mind has problems. Whether it be ego or a lack of willingness to change, this is not a positive trait. This is similar to someone doing the exact same thing over and over again and expecting to get different results. Albert Einstein himself called this insanity. This is exactly what the bears are doing, yet no one calls them out for it. Every month they have a new reason why the market will top, despite the fact that all of their other past reasons have been negated. The common denominator is that the bears continue to fight the dominant trend and continue to fight price.
The market is bullish on every single time frame and anyone that tells you different is lying. There is nothing bearish about new highs and nothing bearish about up-trends, but the bears would have us believe differently. I do not care why the market is going up, all I care about is making money. The bears care more about being right and this is why they continue to ignore the only thing that matters price, and make new excuses, with the hope that one of their claims will eventually stop the market dead in its tracks.
Ed Seykota gave us two very famous quotes which perfectly sum up the current market situation which I will leave you with.
"It can be very expensive to convince the markets that you are right."
"If you want to learn everything about the market, go to the beach. Push and pull your hands with the waves. Some are bigger waves, some are smaller. But if you try to push the wave out when it's coming in, it'll never happen. The market is always right."
Disclosure: I am/we are long UPRO.
I wrote this article myself, and it expresses my own opinions. I am not receiving compensation for it (other than from Seeking Alpha). I have no business relationship with any company whose stock is mentioned in this article.
Additional disclosure: If you liked this article and found it useful, please feel free to follow me by clicking on my name next to my avatar at the top of this article. I also invite you to check my performance at TipRanks.com where I am ranked in the Top 100 Contributors for performance with an average return this year of 60% on new long positions.