We wrote August 30th, "Until we see it close above $49.50 for now, we'd be on the sidelines." As oil (NYSEARCA:USO)(NYSEARCA:OIL)(NYSEARCA:UWTI) dropped we hear Saudi Arabia and Russia in support of a production freeze. We pointed out August 30th that $40 was a floor. As oil approaches $40 OPEC nations seem to come out to jawbone oil higher. That continues to tell us the downside may be limited. We lower our confirmation breakout point to $47 for now.
In The Last Week Major Oil Players Align
Russia-Saudi Arabia
*At G20 Russia came to an agreement today with Saudi Arabia to help steady oil prices. That is important because Russia may act as a bridge between Saudi Arabia and Iran. The two Middle East nations have been at opposite sides in wars in Yemen and Syria. That may have hurt their desire to agree on OPEC limits. Russia has been fighting on the side of Iran in Syria. Russia can bring these two warring nations to agree on oil.
Russia
*Russian President Vladimir Putin also said recently he would support an OPEC deal. That was a change from a previous official that said Russia would not support a deal. As oil drops, more are aligning with a potential freeze.
President Putin told Bloomberg,
"I would very much like to hope that every participant of this market that's interested in maintaining stable and fair global energy prices will in the end make the necessary decision."
Saudi Arabia
*Saudi Arabia said they would not flood the market ahead of a meeting of OPEC members at the International Energy Forum in Algiers September 26th-28th.
They said, "The market is now saturated with stored crude at beyond usual levels and we don't see in the near future a need for the kingdom to reach its maximum capacity."
We had previously thought that OPEC members would rush to produce more ahead of the meeting in Algiers. They may have initially attempted such a move but after oil fell further OPEC members may have backed off.
Iran
Iran appeared to say that as long as they can get back to their pre-sanction levels of 4 mm barrels per day ("bpd") output they would be willing to hold production from that level.
We're not sure they can meet that level by the September Algiers gathering.
Here is Iran's production per day.
| | | | | | |
| --- | --- | --- | --- | --- | --- |
| | Q1 | Q2 | May | June | July |
| Iran | 3096 | 3545 | 3560 | 3617 | 3629 |
| Chg Mo-Mo | 74 | 150 | 103 | 57 | 12 |
Source: OPEC PDF Page 61
We show Iran's output and the month-to-month change. After sanctions were lifted in Q1 Iran saw a big jump in production. Q1 averaged an increase of 74bpd each month versus Q4. Q2 saw another big jump. July's pickup slowed meaningfully.
Iran may still need time to reach their goal of 4mm.
Russia said that Iran should be given the time to reach that level and that shouldn't hold back an agreement.
It appears that Saudi Arabia is willing to deal knowing Iran's desire to reach 4mm bpd.
There Is Still A Lot Of Back And Forth
Saudi Arabia Needs Credibility Ahead Of Their IPO
Saudi Arabia seems to change its public position frequently. We can't know how the meeting later in the month will turn out.
It's possible that every time oil dips Saudi Arabia sneaks out another comment publicly that lifts oil.
If Saudi Arabia proves to be more talk than action in late September they may not be believed on follow up comments. Traders may not react to Saudi Arabia comments as much down the road. If Saudi Arabia realizes their credibility is at stake they may have to deal later this month and agree with the rest of OPEC.
They need that verbal credibility ahead of their potential IPO of a piece of their oil business in 2017. Jawboning is a powerful tool they don't want to lose. That power moves oil prices which can help them get better prices in front of an IPO.
If Saudi Arabia hurts their jawboning credibility now they will have lost an important tool that can help them ahead of their IPO.
That's why they may be forced to deal late September.
Next Catalyst: September 12th OPEC Production Report
The key for this report will be where Iran is in their trajectory to 4mm bpd. It's a strange setup where more production could be good for oil because it means they are closer to a production freeze agreement.
Technicals
Because of the jawboning by OPEC nations we still want to see a breakout of oil to get excited. There may be a floor of $40 based on a 40 year support-resistance line. OPEC members all seem to wake up in unison now as oil approaches $40. That makes the downside appear limited.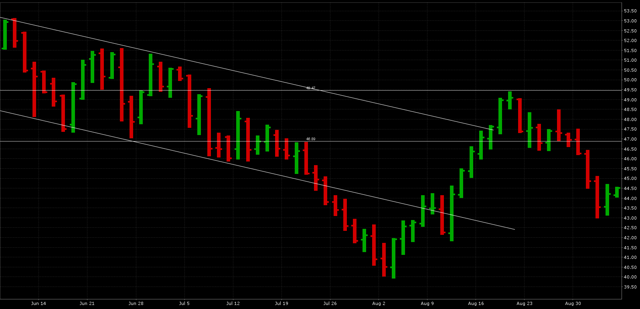 Click to enlarge
There are a couple of issues with this chart. Oil could be back in the downtrend that we drew. Our bias is that it has a strong support under it at $40 and ultimately can start moving higher. That said we'd want oil to prove itself.
We wrote on August 30th that we liked the level $49.50. Topside to that can prove a change in trend.
We drew another horizontal line below at about $47. If oil were to close and hold above that level it can also mean an uptrend has formed breaking the downtrend.
While we want to get bullish ahead of that we want to wait for confirmation by letting the price confirm it wants to go up.
The Fed
The jobs report Friday was lower than expectations. If the Fed remains on hold that can hold the dollar back which can be good for oil. We don't know how the Fed views Friday's jobs report yet. That's another factor we need to watch.
Conclusion
Oil appears to have a more bullish story forming. The $40 floor helps picture support below. OPEC has a meeting later in the month and more players appear to be aligned. Russia may help. An OPEC deal probably has a better chance to close the more Iran production shows on September 12th. In the meantime because of Saudi Arabia's back-and-forth, we'd want to see oil prices confirm higher. $47 would be a good level to confirm a change in trend. Closing and holding above that level would likely mean a new trend higher.
If you want Elazar's analysis on Seeking Alpha, scroll to the top of the article and hit "Follow." Elazar also writes real-time pieces as news is reported. If you want to be among the first updated check the box for "Real-time alerts on this author" under "Follow."
Letting The Market Dictate
Just as important as a fundamental thesis is entering when the market agrees. We started "Your Trading Team" on Seeking Alpha to help traders line up timing with a simple disciplined approach where the market itself lets you know if its time to enter and get big or hold off. Discipline and market mind games constantly challenge traders. We designed an elegant methodology that removes complexity to allow you to emphasize when the market agrees with your plans. To find out more please message us or to sign up click here. Good luck.
Disclaimer: All investments have many risks and can lose principal in the short and long term. This article is for information purposes only. By reading this you agree, understand and accept that you take upon yourself all responsibility for all of your investment decisions and to do your own work and hold Elazar Advisors, LLC and their related parties harmless.
Disclosure: I/we have no positions in any stocks mentioned, and no plans to initiate any positions within the next 72 hours.
I wrote this article myself, and it expresses my own opinions. I am not receiving compensation for it (other than from Seeking Alpha). I have no business relationship with any company whose stock is mentioned in this article.