The Energy Information Administration (EIA) reported actual crude production for June averaged 8.701 million barrels per day (mmbd). That figure is 71,000 b/d higher than it had estimated and reported production in its Weekly Petroleum Status Report (WPSR).
This was a drop of 193,000 b/d from May, but the drop is misleading as a trend. More than half of the decline resulted from temporary reductions from the Gulf of Mexico and Alaska.
I have been assessing the EIA's crude production model that it uses to prepare its weekly estimates and monthly Short-Term Energy Outlook (STEO). I have found that the model has become increasingly flawed. Errors from the WPSR have trended higher, but STEO error estimates have become even larger.
A month ago, I wrote that a Big Correction Coming For Weekly Crude Production Estimates and the EIA next reported an increase in its weekly number of 152,000 b/d. With this weekly estimate, production was nearly 400,000 b/d higher than the EIA had forecast just last month.
Monthly

Change

Weekly

Diff

Jan-15

9345

9180

165

Feb-15

9456

111

9278

178

Mar-15

9653

197

9398

255

Apr-15

9694

41

9381

313

May-15

9479

-215

9431

48

Jun-15

9315

-164

9599

-284

Jul-15

9433

118

9520

-87

Aug-15

9407

-26

9324

83

Sep-15

9460

53

9121

339

Oct-15

9347

-113

9126

221

Nov-15

9329

-18

9182

148

Dec-15

9246

-83

9189

57

Jan-16

9191

-55

9222

-31

Feb-16

9133

-58

9117

16

Mar-16

9127

-6

9041

86

Apr-16

8947

-180

8922

25

May-16

8894

-53

8769

125

Jun-16

8701

-193

8630

71

Average

9287

9191

96

Standard Deviation

148

95% Confidence

290
The EIA last projected that September production will average 8.290 mmbd, and I estimate that will be about 300,000 b/d too low. The EIA made a big revision in its model estimates in August, but it still has further changes to make, in my opinion.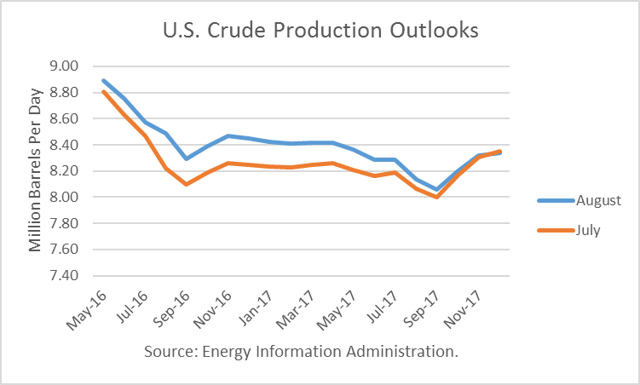 Click to enlarge
I now believe we will see total U.S. oil production - crude plus other supplies - begin to rise starting by October. Production from the GOM is projected to increase, and Other Supplies have continued to trend higher.
Gulf of Mexico
The four fields for 2016 and two fields for 2017 are shown in the EIA charts below. The total contribution of the fields will put GOM production up to 2.0 mmbd. That is almost 500,000 b/d higher than the EIA reported production at in June.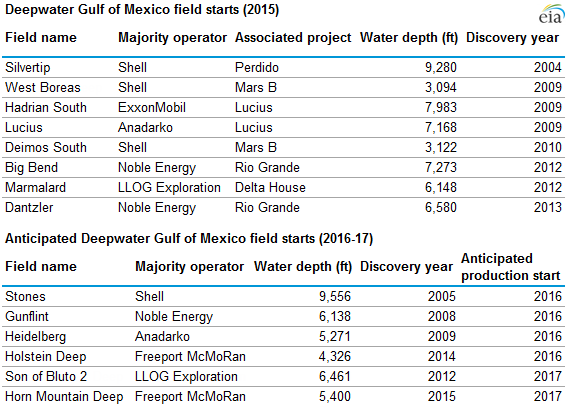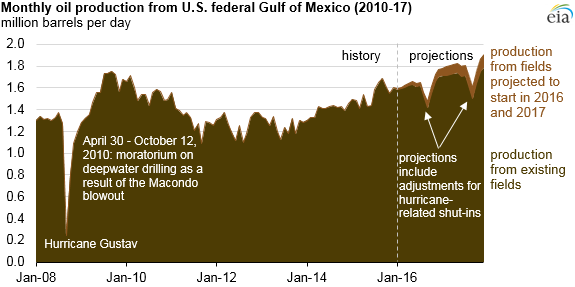 Source: Energy Information Administration.
Other Supplies
I have explained the contribution "other supplies" (primarily natural gas liquids and renewables) make to U.S. oil production and why they are included in oil production. The trend in these supplies shows unrelenting growth.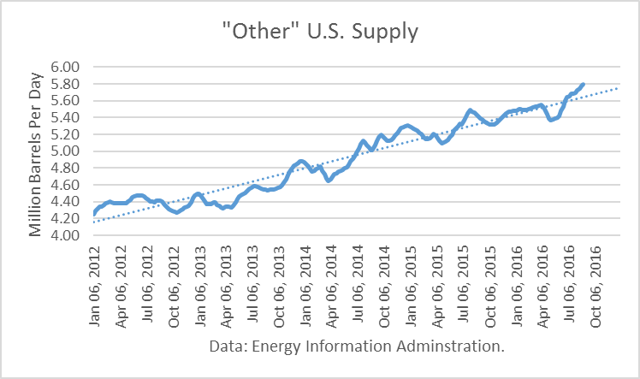 Click to enlarge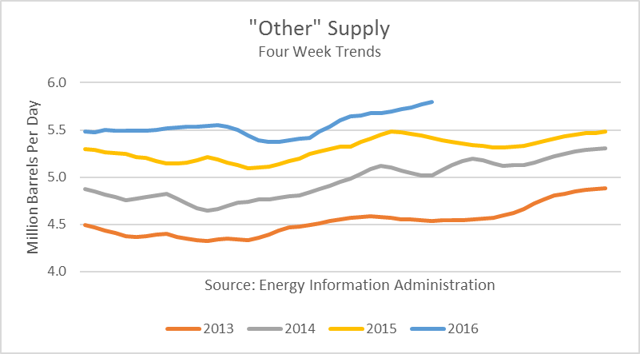 Click to enlarge
When adding this production to crude production, the weekly data show that total production has bottomed. And I note that is even with using the flawed weekly data, which includes the underestimation of production as discussed earlier.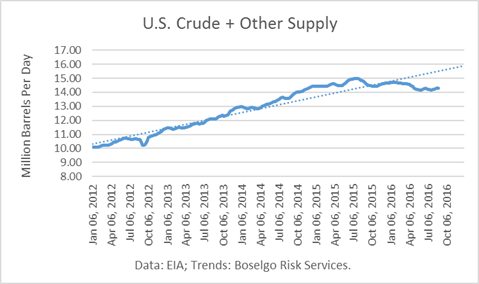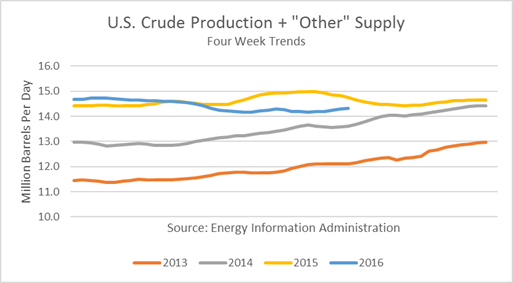 Conclusion
There are many oil producers that plan to increase production for the balance of the year and 2017. It's time to include the U.S. as another.
Disclosure: I/we have no positions in any stocks mentioned, and no plans to initiate any positions within the next 72 hours.
I wrote this article myself, and it expresses my own opinions. I am not receiving compensation for it (other than from Seeking Alpha). I have no business relationship with any company whose stock is mentioned in this article.